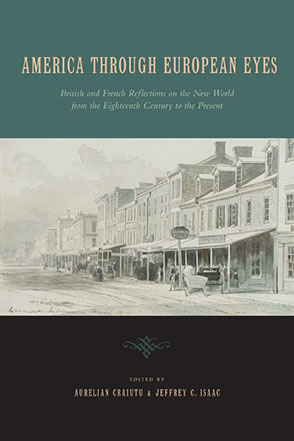 America Through European Eyes
British and French Reflections on the New World from the Eighteenth Century to the Present
Edited by Aurelian Craiutu and Jeffrey C. Isaac
BUY
America Through European Eyes
British and French Reflections on the New World from the Eighteenth Century to the Present
Edited by Aurelian Craiutu and Jeffrey C. Isaac
"Many have read Tocqueville's observations of Jacksonian America, but how did other visitors from Europe respond to early American institutions and customs? This excellent volume discusses fine and highly varied insights from European visitors such as Gustave de Beaumont, George Berkeley, James Bryce, Michel Chevalier, G. K. Chesterton, Victor Jacquemont, and Frances Trollope. This volume is a superb introduction to the topic of European reactions to America's new democracy."
Description

Reviews

Bio

Table of Contents

Sample Chapters

Subjects
George W. Bush's foreign policy touted America as the model of democracy worth exporting to the four corners of the globe. Osama bin Laden has painted a picture of our society as soulless and materialistic, representing values that are the antithesis of his version of Islam. Such starkly contrasting images of America fuel much heated debate today and drive conflicts around the world. But foreigners have long had a love/hate relationship with the United States, as this book reveals.
Contributors from comparative literature, history, philosophy, and political science combine their talents here to trace the changing visions of America that foreign travelers to our shores from England and France brought back to their contemporaries over the course of the eighteenth and nineteenth centuries. Novels and letters, political analysis, and philosophy are mined for perceptions of what America meant for these European visitors and how idealistic or realistic their observations were. Major writers such as Tocqueville play an important role in this dialogue, but so do lesser-known thinkers such as Gustave de Beaumont, Michel Chevalier, and Victor Jacquemont, whose importance this volume will help resurrect.
"Many have read Tocqueville's observations of Jacksonian America, but how did other visitors from Europe respond to early American institutions and customs? This excellent volume discusses fine and highly varied insights from European visitors such as Gustave de Beaumont, George Berkeley, James Bryce, Michel Chevalier, G. K. Chesterton, Victor Jacquemont, and Frances Trollope. This volume is a superb introduction to the topic of European reactions to America's new democracy."
"This lively and enjoyable volume offers striking new insights into the ways that Europeans have conceptualized America and made it part of the social imaginaries that define us today. Moving beyond the typical focus on Tocqueville as a keen observer of the United States, the volume's essays show us how other great thinkers from Britain, Ireland, and the European continent have read the contested place of 'America' in Western modernity."
"In addition to offering new perspectives on some of the major contributors to European constructions of America (Hegel, Tocqueville, Heidegger, etc.), America Through European Eyes examines the works of lesser-known French and British figures such as Jacquemont, Trollope, Chevalier, and Bryce, whose influential accounts of life in the United States have helped shape the ongoing debate about the New World as both a promise and a threat. Detailed readings of a particular author combine with historical narratives to provide both depth and breadth to this excellent volume on transatlantic relations."
"America Through European Eyes [is] an indispensable starting point for anyone wishing to understand how British and French attitudes to America have changed, and yet, paradoxically, have remained consistent since at least the early 19th century. . . . [Craiutu and Isaac] have performed a salutary service in deepening our understanding of just how profoundly Tocqueville reflected on the relation between human motivation, social mores and political institutions."
"In America Through European Eyes, Aurelian Craiutu and Jeffrey Isaac have assembled a stellar group of thinkers from across the political spectrum to examine the question: what does America mean to Europe? . . . The authors explain in careful detail some of the most essential and neglected works of the nineteenth century. That this collection is valuable goes without saying. That it is worth reading is incontestable."
Aurelian Craiutu is Associate Professor of Political Science at Indiana University, Bloomington. He is the author of Liberalism Under Siege: The Political Thought of the French Doctrinaires (2003) and editor/translator of Tocqueville on America After 1840 (2009).
Jeffrey C. Isaac is James H. Rudy Professor of Political Science at Indiana University, Bloomington. His books include Democracy in Dark Times (1998).
Contents
Acknowledgments
Introduction: Europeans in Search of America
Aurelian Craiutu and Jeffrey C. Isaac
Part One: America's Many Faces
1. The Idea of America in the History of European Political Thought: 1492–9/11
Alan Levine
Part Two: America and the Enlightenment
2. Notes on Bishop Berkeley's New World
Costica Bradatan
3. From Voltaire to Raynal and Diderot's Histoire des deux Indes: The French Philosophes and Colonial America
Guillaume Ansart
4. On the Political Efficacy of Idealism: Tocqueville, Schoelcher, and the Abolition of Slavery
Nick Nesbitt
Part Three: French Views of America
5. A Precursor of Tocqueville: Victor Jacquemont's Reflections on America
Aurelian Craiutu
6. Tyranny and Tragedy in Beaumont's Marie
Christine Dunn Henderson
7. French Visions of America: From Tocqueville to the Civil War
Jeremy Jennings
Mailing List
Subscribe to our mailing list and be notified about new titles, journals and catalogs.