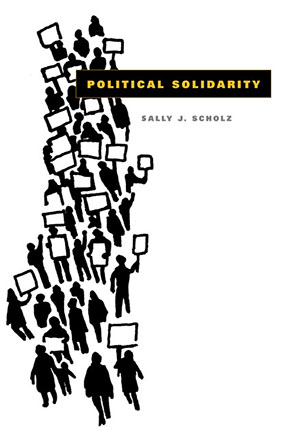 Political Solidarity
Sally J. Scholz
BUY
Political Solidarity
Sally J. Scholz
"The very idea of a theory of solidarity that is akin to a theory of justice is a revelation. Sally Scholz does a marvelous job of presenting hers in this thorough and illuminating work."
Description

Reviews

Bio

Table of Contents

Sample Chapters

Subjects
Experiences of solidarity have figured prominently in the politics of the modern era, from the rallying cry of liberation theology for solidarity with the poor and oppressed, through feminist calls for sisterhood, to such political movements as Solidarity in Poland. Yet very little academic writing has focused on solidarity in conceptual rather than empirical terms.
Sally Scholz takes on this critical task here. She lays the groundwork for a theory of political solidarity, asking what solidarity means and how it differs fundamentally from other social and political concepts like camaraderie, association, or community. Scholz distinguishes a variety of types and levels of solidarity by their social ontologies, moral relations, and corresponding obligations. Political solidarity, in contrast to social solidarity and civic solidarity, aims to bring about social change by uniting individuals in their response to particular situations of injustice, oppression, or tyranny.
The book explores the moral relation of political solidarity in detail, with chapters on the nature of the solidary group, obligations within solidarity, the "paradox of the privileged," the goals of solidarity movements, and the prospects for global solidarity.
"The very idea of a theory of solidarity that is akin to a theory of justice is a revelation. Sally Scholz does a marvelous job of presenting hers in this thorough and illuminating work."
"Lucidly written, theoretically interesting, and closely in touch with the real world, this book should be read by anyone interested in feminism, social ontology, political philosophy, or progressive politics."
"Scholz's book is perhaps the best I have read in dispensing with the vexing problem that has shadowed liberation movements: whether only the victims know best. Yes, Scholz writes, those who have been oppressed have vital knowledge, but others can bring other perspectives and points of view that can connect one movement with other ones."
Sally J. Scholz is Professor of Philosophy at Villanova University.
Contents
Acknowledgments
Introduction
1. Solidarities
2. Toward a Theory of Political Solidarity
3. The Moral Relations and Obligations of Political Solidarity
4. The Solidary Collective
5. The Paradox of the Participation of the Privileged
6. The Social Justice Ends of Political Solidarity
7. On Human Solidarity and the Challenge of Global Solidarity
References
Index