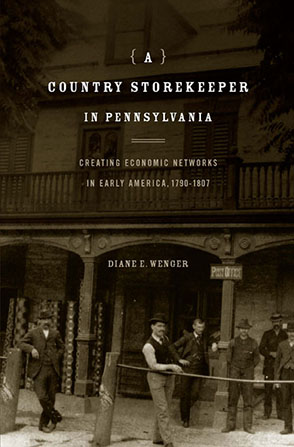 A Country Storekeeper in Pennsylvania
Creating Economic Networks in Early America, 1790–1807
Diane E. Wenger
BUY
A Country Storekeeper in Pennsylvania
Creating Economic Networks in Early America, 1790–1807
Diane E. Wenger
"A very fine piece of work on local Pennsylvania history."
Description

Reviews

Bio

Table of Contents

Sample Chapters

Subjects
In early America, traditional commercial interaction revolved around an entity known as the general store. Unfortunately, most of these elusive small-town shops disappeared from our society without leaving business-related documents behind for scholars to analyze. This gap in the historical knowledge of America has made it difficult to understand the nature of the networks and trade relationships that existed between cities and the surrounding countryside at the time.
Samuel Rex, however, left behind a vastly different legacy. A country storekeeper who operated out of Schaefferstown, Pennsylvania, during the later eighteenth and early nineteenth centuries, Rex left a surprising array of documents exposing just how he ran his business. In this book, Diane Wenger analyzes the part Rex and others like him played in the overall commercial structure of the Atlantic region.
While Wenger's book has a strong foundation as a work of local history, it draws conclusions with much broader historical implications. The rich set of documents that Samuel Rex left behind provides a means for contesting the established model of how early American commerce functioned, replacing it with a more fine-grained picture of a society in which market forces and community interests could peacefully coexist.
"A very fine piece of work on local Pennsylvania history."
"This book rests heavily on the best and most complete collection of business documents I have ever seen. They not only cover every aspect of Samuel Rex's store but also relate it to the people of Schaefferstown, the Rex family of Germantown, the iron forges of Pennsylvania, and the business world of Philadelphia. This provides a picture unavailable elsewhere."
"Diane Wenger's analysis of the economic life of a rural shopkeeper in Schaefferstown, Pennsylvania, exemplifies an excellent use of microhistory to rethink a larger historical phenomenon. . . . Her methodology and exhaustive research . . . [provide] a much-needed complement to interpretations of the early national economy that rely on abstract theories of political economy or aggregate data from hundreds or thousands of historical actors. . . . The book will also be of great use to those with an interest in the Pennsylvania German culture, microhistory, material culture, or archaeology. . . . Wenger is at her best in the detailed analysis she provides of Rex's account books, ledgers, and other business documents. Her extensive appendixes, which painstakingly detail customer visits and goods sold, will prove almost as valuable to scholars as her interpretation. This close reading of documents often glossed over by other scholars sets Wenger's work apart from other studies of the early republican economy that focus on theories of political economy or dwell on the rise of the market. . . . Wenger's work contributes to an emerging literature interpreting the early American economy on its own terms and through the eyes of those who experienced the changes it wrought directly. By taking as evidence material actions, experiences, and artifacts, rather than abstract ideas, [this book provides] a fresh and welcome insight into the complex nature of the early republican economy. . . . A Country Storekeeper in Pennsylvania provides readers with a satisfying interpretation of the role of rural storekeepers in early national Pennsylvania and raises new methodological and conceptual questions for future studies elsewhere."
Diane Wenger is Assistant Professor of History at Wilkes University.
Contents
List of Figures and Tables
Preface and Acknowledgments
Introduction: A Country Storekeeper and His Network of Relationships
1. Beyond "Wild Forest People": Schaefferstown, Pennsylvania
2. The Rex Store and Its Local Customers
3. Feeding the Furnaces: The Iron Community and the Rex Store
4. "Orders Thankfully Received, and Carefully Executed": Rex and the Philadelphia Merchants
5. A Life of "Comparative Ease"
Epilogue: Rex's Network and Its Significance
Appendix A: Rex and Valentine Families
Appendix B: Goods Sold at the Rex Store, 1790–1807
Appendix C: Tradesmen and Craftsmen Who Used the Rex Store
Appendix D: Philadelphia Merchants Patronized by Rex
Appendix E: Samuel Rex's Carters
Appendix F: Location of Samuel Rex Documents
Notes
Bibliography
Index
Also of Interest
Mailing List
Subscribe to our mailing list and be notified about new titles, journals and catalogs.