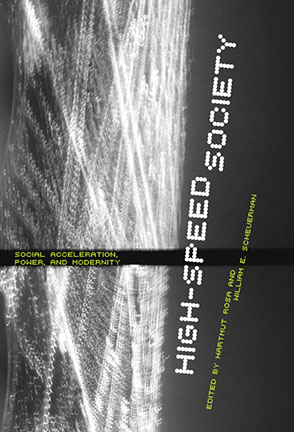 High-Speed Society
Social Acceleration, Power, and Modernity
Edited by Hartmut Rosa, and Edited by William E. Scheuerman
BUY
High-Speed Society
Social Acceleration, Power, and Modernity
Edited by Hartmut Rosa, and Edited by William E. Scheuerman
"

This is an intriguing collection of texts centering on a theme about which social science has had little, and certainly little that is systematic and cumulative, to say. The editors' idea is to try to capture the thought, ever more widespread since the eighteenth century, that more and more aspects of our lives—technological, economic, public and political, private and intimate—are speeding up. To what extent is this true? If true, what are its consequences, for instance, for the quality of individual lives and for the functioning of democratic politics, and for the condition of those marginalized by and excluded from this allegedly accelerating dynamism of modernity? It is an excellently edited collection of interesting essays on an important subject.

"
Description

Reviews

Bio

Table of Contents

Sample Chapters

Subjects
Everywhere, life seems to be speeding up: we talk of "fast food" and "speed dating." But what does the phenomenon of social acceleration really entail, and how new is it? While much has been written about our high-speed society in the popular media, serious academic analysis has lagged behind, and what literature there is comes more from Europe than from America. This collection of essays is a first step toward exposing readers on this side of the Atlantic to the importance of this phenomenon and toward developing some preliminary conceptual categories for better understanding it.
Among the major questions the volume addresses are these: Is acceleration occurring across all sectors of society and all dimensions of life, or is it affecting some more than others? Where is life not speeding up, and what results from this disparity? What are the fundamental causes of acceleration, as well as its consequences for everyday experience? How does it affect our political and legal institutions? How much speed can we tolerate?
The volume tackles these questions in three sections. Part 1 offers a selection of astute early analyses of acceleration as experienced in the late nineteenth and early twentieth centuries. Part 2 samples recent attempts at analyzing social acceleration, including translations of the work of leading European thinkers. Part 3 explores acceleration's political implications.
"

This is an intriguing collection of texts centering on a theme about which social science has had little, and certainly little that is systematic and cumulative, to say. The editors' idea is to try to capture the thought, ever more widespread since the eighteenth century, that more and more aspects of our lives—technological, economic, public and political, private and intimate—are speeding up. To what extent is this true? If true, what are its consequences, for instance, for the quality of individual lives and for the functioning of democratic politics, and for the condition of those marginalized by and excluded from this allegedly accelerating dynamism of modernity? It is an excellently edited collection of interesting essays on an important subject.

"
"Hartmut Rosa and William Scheuerman have fathered a first-rate set of contributions and produced an excellent collection on an unusual yet deeply important topic. I know of no other book quite like it."
"Ever since Paul Virilio coined the term 'dromology' (the study of speed) in 1977, searching for the meaning of ever speedier change has become a progressively more respectable path of scholarship. This anthology of writings dedicated solely to this topic is the first of its kind, and as such has great value, especially for readers who are unfamiliar with the major thinkers to have considered societal celerity seriously. . . . It could serve as a uniquely stimulating text for advanced theory students in the social sciences and humanities."
"Scheuerman's concluding essay thoughtfully assays the problematic effects of social acceleration on civic engagement."
Hartmut Rosa is Professor of Sociology at the University of Jena and Affiliated Professor of Sociology at the New School University.
William E. Scheuerman is Professor of Political Science and Western European Studies at Indiana University.
Contents
List of Illustrations
Acknowledgments
Introduction
Hartmut Rosa and William E. Scheuerman
Part 1. Classical Perspectives on Social Acceleration
1. A Law of Acceleration
Henry Adams
2. The Pace of Life and the Money Economy
Georg Simmel
3. The New Religion-Morality of Speed
Filippo Tommaso Marinetti
4. The Mania for Motion and Speed
John Dewey
5. The Motorized Legislator
Carl Schmitt
Part 2. High-Speed Society: Theoretical Foundations
6. Social Acceleration: Ethical and Political Consequences of a Desychronized High-Speed Society
Hartmut Rosa
7. Is There an Acceleration of History?
Reinhart Koselleck
8. The Spatiotemporal Dynamics of Globalizing Capital and Their Impact on State Power and Democracy
Bob Jessop
9. The Contraction of the Present
Hermann Lübbe
10. Speeding Up and Slowing Down
John Urry
Part 3. High-Speed Society: Political Consequences?
11. The State of Emergency
Paul Virilio
12. The Nihilism of Speed: On the Work of Paul Virilio
Stefan Breuer
13. Temporal Rhythms and Military Force: Acceleration, Deceleration, and War
Herfried Münkler
14. Speed, Concentric Circles, and Cosmopolitanism
William E. Connolly
15. Citizenship and Speed
William E. Scheuerman
List of Contributors
Index