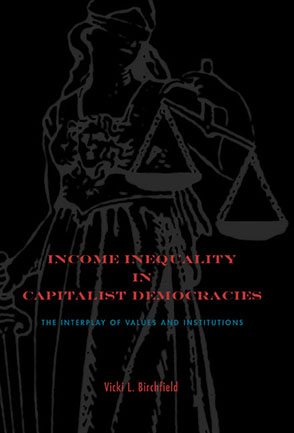 Income Inequality in Capitalist Democracies
The Interplay of Values and Institutions
Vicki L. Birchfield
BUY
Income Inequality in Capitalist Democracies
The Interplay of Values and Institutions
Vicki L. Birchfield
"Employing Brady and Collier's cutting-edge suggestions (in Rethinking Social Inquiry) for combining quantitative and qualitative methods, Birchfield does a stellar job of showing how societal institutions and cultural values interact to foster and justify sharply different levels of economic inequality among advanced industrial societies."
Description

Reviews

Bio

Table of Contents

Sample Chapters

Subjects
There has been much concern about rising levels of income inequality in the societies of advanced industrial democracies. Commentators have attributed this increase to the impact of globalization, the decline of the welfare state, or the erosion of the power of labor unions and their allies among left-wing political parties. But little attention has been paid to variations among these countries in the degree of inequality. This is the subject that Vicki Birchfield tackles in this ambitious book.
Differences in political institutions have been seen by political scientists as one likely explanation, but Birchfield shows institutional variation to be only one part of the story. Deploying an original conceptualization of political economy as applied democratic theory, she makes the compelling case that cultural values—particularly citizens' attitudes about social justice and about the proper roles of the market and the state—need to be factored into any account that will provide an adequate explanation for the observable patterns. To support her argument, she brings to bear both multivariate statistical analyses and historical comparative case studies, making this book a model for how quantitative and qualitative research can be effectively combined to produce more complete explanations of political and socioeconomic phenomena.
"Employing Brady and Collier's cutting-edge suggestions (in Rethinking Social Inquiry) for combining quantitative and qualitative methods, Birchfield does a stellar job of showing how societal institutions and cultural values interact to foster and justify sharply different levels of economic inequality among advanced industrial societies."
"Birchfield sheds a strong and clear light on the institutional and ideological responses to rising income inequality in the world's leading democracies. In an elegant comparative framework, she explores the cultural foundations of enduring differences in those responses. The subject matter is vitally important, and the book could not be more timely."
"Income Inequality in Capitalist Democracies

is a highly original study that breaks new ground as it demonstrates, through both quantitative and qualitative methods, that political ideas and values are just as significant as questions of institutional organization and interest-based calculations are in explaining the trajectory of income inequality in advanced industrialized democracies. The book is certain to have a big impact across a wide range of fields.

"
Vicki L. Birchfield is Associate Professor and Director of the European Union Center of Excellence at The Sam Nunn School of International Affairs, Georgia Institute of Technology.
Contents
List of Figures and Tables
Preface and Acknowledgments
Introduction
1. Theoretical Foundations: Political Economy as Applied Democratic Theory
2. Political Justice Versus Market Justice: Why Values Matter
3. The Power and the Limitations of Political Institutions: Retooling the Consensus-Majoritarian Framework to "Bring Culture In"
4. The Interaction of Institutions, Values, and Income Inequality: A Quantitative Analysis
5. The Exceptions Prove the Rule: Case Studies in Income Inequality in Switzerland and the United Kingdom
Conclusion
References
Index
Mailing List
Subscribe to our mailing list and be notified about new titles, journals and catalogs.