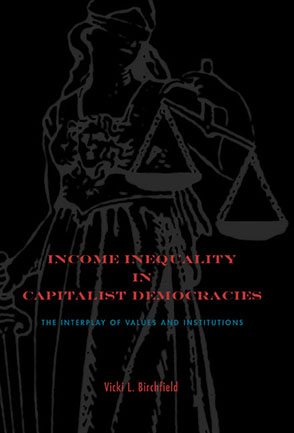 Income Inequality in Capitalist Democracies
The Interplay of Values and Institutions
Vicki L. Birchfield
Buy
Income Inequality in Capitalist Democracies
The Interplay of Values and Institutions
Vicki L. Birchfield
"Employing Brady and Collier's cutting-edge suggestions (in Rethinking Social Inquiry) for combining quantitative and qualitative methods, Birchfield does a stellar job of showing how societal institutions and cultural values interact to foster and justify sharply different levels of economic inequality among advanced industrial societies."
Description

Reviews

Bio

Table of Contents

Sample Chapters

Subjects
There has been much concern about rising levels of income inequality in the societies of advanced industrial democracies. Commentators have attributed this increase to the impact of globalization, the decline of the welfare state, or the erosion of the power of labor unions and their allies among left-wing political parties. But little attention has been paid to variations among these countries in the degree of inequality. This is the subject that Vicki Birchfield tackles in this ambitious book.
Differences in political institutions have been seen by political scientists as one likely explanation, but Birchfield shows institutional variation to be only one part of the story. Deploying an original conceptualization of political economy as applied democratic theory, she makes the compelling case that cultural values—particularly citizens' attitudes about social justice and about the proper roles of the market and the state—need to be factored into any account that will provide an adequate explanation for the observable patterns. To support her argument, she brings to bear both multivariate statistical analyses and historical comparative case studies, making this book a model for how quantitative and qualitative research can be effectively combined to produce more complete explanations of political and socioeconomic phenomena.
"Employing Brady and Collier's cutting-edge suggestions (in Rethinking Social Inquiry) for combining quantitative and qualitative methods, Birchfield does a stellar job of showing how societal institutions and cultural values interact to foster and justify sharply different levels of economic inequality among advanced industrial societies."
"Birchfield sheds a strong and clear light on the institutional and ideological responses to rising income inequality in the world's leading democracies. In an elegant comparative framework, she explores the cultural foundations of enduring differences in those responses. The subject matter is vitally important, and the book could not be more timely."
"Income Inequality in Capitalist Democracies

is a highly original study that breaks new ground as it demonstrates, through both quantitative and qualitative methods, that political ideas and values are just as significant as questions of institutional organization and interest-based calculations are in explaining the trajectory of income inequality in advanced industrialized democracies. The book is certain to have a big impact across a wide range of fields.

"
Vicki L. Birchfield is Associate Professor and Director of the European Union Center of Excellence at The Sam Nunn School of International Affairs, Georgia Institute of Technology.
Contents
List of Figures and Tables
Preface and Acknowledgments
Introduction
1. Theoretical Foundations: Political Economy as Applied Democratic Theory
2. Political Justice Versus Market Justice: Why Values Matter
3. The Power and the Limitations of Political Institutions: Retooling the Consensus-Majoritarian Framework to "Bring Culture In"
4. The Interaction of Institutions, Values, and Income Inequality: A Quantitative Analysis
5. The Exceptions Prove the Rule: Case Studies in Income Inequality in Switzerland and the United Kingdom
Conclusion
References
Index
Preface
Complex ideas, multiple motivations, and challenging circumstances shaped the evolution of this book, which had its origins in early 2000. The complexity of the ideas stems primarily from the nature of the subject itself. Income inequality and how it varies among societies are age-old dilemmas that have preoccupied minds from Aristotle to Adam Smith and continue to be objects of inquiry for almost all the social sciences as well as a problem that elicits commentary from both politicians and philosophers. Although income inequality is treated here with the tools and language of a political scientist, my intellectual curiosities are rarely, if ever, bound by my disciplinary training, which may explain why hard-nosed positivists will dislike my work but also why (I hope) the book may appeal to a broader community of scholars. Indeed, of the many motivations for writing this book, chief among them is the desire to move the problem of income inequality beyond technically sophisticated audiences of econometricians and to reposition it as a fundamentally political issue. As the rather prosaic title suggests, I am interested in examining the roles that both institutions and values play in understanding income inequality and how it varies across the world of capitalist democracies. In essence, this book is about the need to rearticulate income inequality as a sociopolitical issue that is a function of both structural and ideological forces. By studying it in comparative analytical context, my goal is to persuade social scientists that we can and should consider the possibility that ideas and values have causal weight in explaining broadscale economic outcomes and that political institutions facilitate the direction and impact of this significant causal mechanism. More importantly, I will demonstrate that increasing income inequality is not a given across capitalist societies and therefore certainly not an inexorable consequence of globalization. To ensure that this remains the case, the overarching message of this book is that citizens can and should reclaim the economic sphere as a legitimate and necessary realm of democratic deliberation to preserve choices about the kind of society they wish to inhabit.
When I first started this project in the late 1990s, very few political scientists were concerned with the issue of income inequality. Since then it has become a key organizing theme at the annual meetings of both the American Political Science Association and the International Studies Association as well as in a litany of important publications by prominent scholars that have appeared in recent years. I hope this book will serve to continue these debates and will make distribution problems a more central focus of comparative political economy as well as democratic theory. When I say the book emerged from multiple motivations, I mean that I also wanted to speak to several different normative and epistemological concerns. On the one hand, I wanted to address the political nature of income inequality and clearly assert it as a matter of social justice. But on the other hand, I wished to insert the problem of income inequality into the ongoing debates among political scientists—especially comparativists—about the contending roles of culture and institutions and their respective pride of place in our analytical and methodological toolkit. Taking a real-world phenomenon that interests me deeply and exploring it with a goal of assessing some of the most important theoretical concepts and analytical frameworks of my field was only a secondary motivation, but this assessment receives considerable attention in this book. So although the book is an empirical study of cross-national variation in income inequality, it is equally a theoretical exploration of how we can move beyond the culture-versus-institutions or ideational-versus-structural approaches to social scientific inquiry. With an eye to this preoccupation, I hope the book may enjoy a wider readership.
Mailing List
Subscribe to our mailing list and be notified about new titles, journals and catalogs.