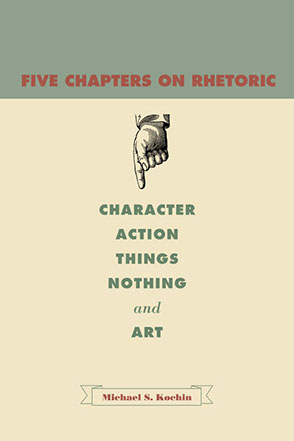 Five Chapters on Rhetoric
Character, Action, Things, Nothing, and Art
Michael S. Kochin
BUY
Five Chapters on Rhetoric
Character, Action, Things, Nothing, and Art
Michael S. Kochin
"Kochin demonstrates the importance of classical rhetoric in making sense of contemporary politics. The book is highly accessible to an audience unfamiliar with rhetorical studies, and the analytic framework will force rhetoricians to rethink their own assumptions about their art and its relationship to truth. The book deserves a wide audience across rhetoric and communication, English, political science, and sociology."
Description

Reviews

Bio

Table of Contents

Sample Chapters

Subjects
Michael Kochin's radical exploration of rhetoric is built around five fundamental concepts that illuminate how rhetoric functions in the public sphere. To speak persuasively is to bring new things into existence—to create a political movement out of a crowd, or an army out of a mob.
Five Chapters on Rhetoric explores our path to things through our judgments of character and action. It shows how speech and writing are used to defend the fabric of social life from things or facts. Finally, Kochin shows how the art of rhetoric aids us in clarifying things when we speak to communicate, and helps protect us from their terrible clarity when we speak to maintain our connections to others.
Kochin weaves together rhetorical criticism, classical rhetoric, science studies, public relations, and political communication into a compelling overview both of persuasive strategies in contemporary politics and of the nature and scope of rhetorical studies.
"Kochin demonstrates the importance of classical rhetoric in making sense of contemporary politics. The book is highly accessible to an audience unfamiliar with rhetorical studies, and the analytic framework will force rhetoricians to rethink their own assumptions about their art and its relationship to truth. The book deserves a wide audience across rhetoric and communication, English, political science, and sociology."
"Political theory and rhetoric are close cousins, even if neither particularly wants to admit its own paternity. Political theorists ought then to pay close attention to Kochin's new book. Students of rhetoric will also find themselves enlightened in ways they may not expect. Kochin's effort is of signal importance for teaching us how to keep the descendants of philosophy sitting down to, if not the same dinner, at least one from the same kitchen."
"This is a significant book that cuts, neatly and insightfully, across the various disciplinary literatures around rhetoric and persuasion. The author opens new pathways for social scientists, humanists, and professionals to think together about rhetoric and persuasion. It's heartening to see a book grounded in a classical perspective on rhetoric incorporate not only the social science persuasion literature, but public relations as well."
"Is it possible to say something new about one of the oldest topics of political philosophy, the question of rhetoric? Michael Kochin's penetrating book proves that it is. He does so by taking seriously a whole range of sources on political speech, communication, and persuasion, from Aristotle and Demosthenes to social science on the nature of public opinion to Bruno Latour's sociology of knowledge, and by reflecting on the topic in unusual depth. His book is original and it has a provocative simplicity."
Michael S. Kochin is Senior Lecturer in Political Science at Tel Aviv University and has held visiting appointments at Toronto, Princeton, and Yale. He is the author of Gender and Rhetoric in Plato's Political Thought (2002), which was named an Outstanding Academic Title by Choice.
Contents
Acknowledgments
Introduction
1. Character
2. Action
3. Things
4. Nothing
5. Art
Postscript: How to Begin to Analyze a Speech
Select Bibliography
Index