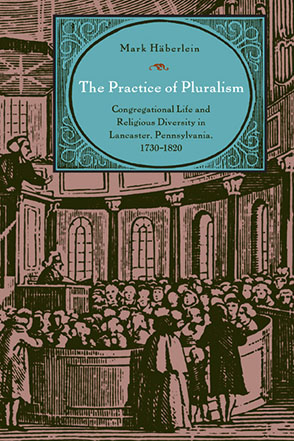 The Practice of Pluralism
Congregational Life and Religious Diversity in Lancaster, Pennsylvania, 1730–1820
Mark Häberlein
BUY
The Practice of Pluralism
Congregational Life and Religious Diversity in Lancaster, Pennsylvania, 1730–1820
Mark Häberlein
"Thorough and persuasive. The people of Lancaster come across as devoted and essentially conservative, supporting their churches and attached to their ways of worship, even if individuals among them occasionally changed their minds. Häberlein persuasively shows that the laity provided the true continuity of the church."
Description

Reviews

Bio

Table of Contents

Sample Chapters

Subjects
The clash of modernity and an Amish buggy might be the first image that comes to one's mind when imagining Lancaster, Pennsylvania, today. But in the early to mid-eighteenth century, Lancaster stood apart as an active and religiously diverse, ethnically complex, and bustling city. On the eve of the American Revolution, Lancaster's population had risen to nearly three thousand inhabitants; it stood as a center of commerce, industry, and trade. While the German-speaking population—Anabaptists as well as German Lutherans, Moravians, and German Calvinists—made up the majority, about one-third were English-speaking Anglicans, Catholics, Presbyterians, Quakers, Calvinists, and other Christian groups. A small group of Jewish families also lived in Lancaster, though they had no synagogue. Carefully mining historical records and documents, from tax records to church membership rolls, Mark Häberlein confirms that religion in Lancaster was neither on the decline nor rapidly changing; rather, steady and deliberate growth marked a diverse religious population.
"Thorough and persuasive. The people of Lancaster come across as devoted and essentially conservative, supporting their churches and attached to their ways of worship, even if individuals among them occasionally changed their minds. Häberlein persuasively shows that the laity provided the true continuity of the church."
"No other recent scholarly study provides as thorough an account of the diversity of religious practice in a single community in eighteenth- and early nineteenth-century America."
"One of the book's major strengths is its research. Häberlein has meticulously assembled biographic and economic data on a large portion of the pastors, deacons, elders, vestrymen, and other lay leaders in Lancaster during this period. This excellent book adds much to the understanding of religion in the early mid-Atlantic and the maturation of backcountry American society."
"This meticulously researched book explores the complex religious landscape of Lancaster, Pennsylvania, during the long eighteenth century."
Mark Häberlein is Professor of Early Modern History at the University of Bamberg, Germany.
PREFACE AND ACKNOWLEDGMENTS
INTRODUCTION
1
A Quest for Order:
The German Reformed Congregation, 1733–1775
2
Growth and Disruption: Lutherans and Moravians
3
The English Churches of Colonial Lancaster
4
Religious Pluralism in an Eighteenth-Century Town
5
Lancaster's Churches in the New Republic
6
The Transformation of Charity, 1750–1820
Conclusion
BIBLIOGRAPHY
INDEX