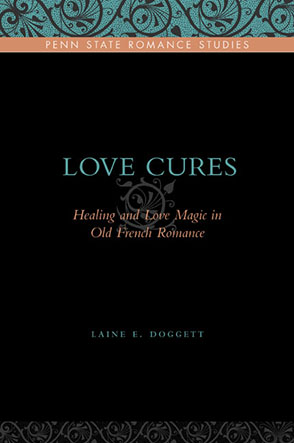 Love Cures
Healing and Love Magic in Old French Romance
Laine E. Doggett
GET
Love Cures
Healing and Love Magic in Old French Romance
Laine E. Doggett
"In this appealing study, [Laine Doggett] traces romantic love as a form of intoxication back to the Middle Ages and endeavors to demystify the concept of love magic through an analysis of several romances in which love and healing are intertwined."
Unlocked

Description

Reviews

Bio

Sample Chapters

Subjects
An Open Access edition of Love Cures is available through PSU Press Unlocked. To access this free electronic edition click here. Print editions are also available.
What is love? Popular culture bombards us with notions of the intoxicating capacities of love or of beguiling women who can bewitch or heal—to the point that it is easy to believe that such images are timeless and universal. Not so, argues Laine Doggett in Love Cures. Aspects of love that are expressed in popular music—such as "love is a drug," "sexual healing," and "love potion number nine"—trace deep roots to Old French romance of the high Middle Ages. A young woman heals a poisoned knight. A mother prepares a love potion for a daughter who will marry a stranger in a faraway land. How can readers interpret such events? In contrast to scholars who have dismissed these women as fantasy figures or labeled them "witches," Doggett looks at them in the light of medical and magical practices of the high Middle Ages. Love Cures argues that these practitioners, as represented in romance, have shaped modern notions of love. Love Cures seeks to engage scholars of love, marriage, and magic in disciplines as diverse as literature, history, anthropology, and philosophy.
"In this appealing study, [Laine Doggett] traces romantic love as a form of intoxication back to the Middle Ages and endeavors to demystify the concept of love magic through an analysis of several romances in which love and healing are intertwined."
Laine E. Doggett is Associate Professor of French at St. Mary's College, Maryland.
Also of Interest
Mailing List
Subscribe to our mailing list and be notified about new titles, journals and catalogs.