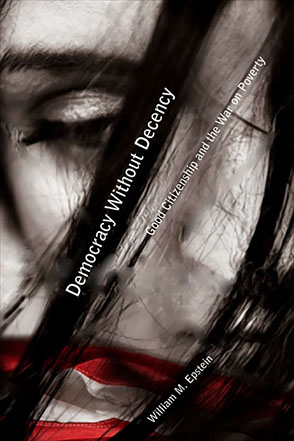 Democracy Without Decency
Good Citizenship and the War on Poverty
William M. Epstein
BUY
Democracy Without Decency
Good Citizenship and the War on Poverty
William M. Epstein
"What is it like to fly back in time and then to move forward to the present, stopping off at various agencies, state-funded programs, and other service-providing organizations that have fought poverty? A careful reading of William Epstein's book allows one to do just that. It is an exciting journey, one that is full of meaning and social importance. This is an engrossing study for social-change makers, policy and program creators, sociologists, and students from various disciplines. There is a great deal of knowledge to be gained here. And there are many lessons to be learned by those who address inequalities in social services, health care, and education, and by those who work to end the polarization of classes. This book has the potential to change social policy."
Description

Reviews

Bio

Table of Contents

Sample Chapters

Subjects
The conservative attacks on the welfare system in the United States over the past several decades have put liberal defenders of poverty relief and social insurance programs on the defensive. In this no-holds-barred look at the reality of American social policy since World War II, William Epstein argues that this defense is not worth mounting—that the claimed successes of American social programs are not sustained by evidence. Rather than their failure being the result of inadequate implementation or political resistance stemming from the culture wars, these programs and their built-in limitations actually do represent what the vast majority of people in this country want them to be.
However much people may speak in favor of welfare, the proof of what they really want is in the pudding of the social policies that are actually legislated. The stinginess of America's welfare system is the product of basic American values rooted in the myth of "heroic individualism" and reinforced by a commitment to social efficiency, the idea that social services need to be minimal and compatible with current social arrangements.
"What is it like to fly back in time and then to move forward to the present, stopping off at various agencies, state-funded programs, and other service-providing organizations that have fought poverty? A careful reading of William Epstein's book allows one to do just that. It is an exciting journey, one that is full of meaning and social importance. This is an engrossing study for social-change makers, policy and program creators, sociologists, and students from various disciplines. There is a great deal of knowledge to be gained here. And there are many lessons to be learned by those who address inequalities in social services, health care, and education, and by those who work to end the polarization of classes. This book has the potential to change social policy."
"This masterfully conceptualized book turns policy debates upside down. Economists from Adam Smith to Larry Summers have ignored the facts that breed poverty in the land of plenty. William Epstein's critique highlights the inanity of the poorly designed programs of the War on Poverty as well as subsequent antipoverty efforts and their consistency with mass preferences. Not many social scientists, especially economists, realize that poverty is not an economic issue. The roots of poverty lie in a political climate. It's the 'poverty of culture' that sustains inequality as a national character. In this case, American individualism and its rituals of affirmation of good citizenship perpetuate the corruption of rationality.
"Epstein's brilliant analysis brings home the stark realities of the nation's unfortunate preferences—which usually escape the attention and ability of most policy thinkers—in a very engaging discussion. Students, academics, and policy makers will find this book refreshingly useful in their professional deliberations."
"William Epstein's Democracy Without Decency is a shattering of shibboleths, an exercise in iconoclasm, and a sober and in-depth critical analysis of the lamentable failures of many large-scale American social welfare programs. He effectively demonstrates that hugely expensive programs intended to materially assist the poor and oppressed within the United States have accomplished very little—except, all too often, to add to the burdens of those they are aimed at helping. This volume should be required reading for all students of social welfare, government, public policy, and public administration. It would also make an excellent gift for your congressional representatives and senators. Epstein dissects the supposed accomplishments of major welfare programs—those dealing with poverty, unemployment, malnutrition, and housing—one by one. Using both government and independent research studies, he shows how these programs have failed to produce their anticipated gains. This is a steep and thorny path, and not for the faint of heart, but those who undertake this admirable and exceptionally scholarly intellectual journey will be well rewarded."
"Appearing during the Great Recession, Democracy Without Decency is a timely indictment of the nation's failure to address the poverty experienced by millions of Americans. Despite the advent of the welfare state, social programs that evolved during the New Deal and the War on Poverty are notable for their inadequacy. Nor do complementary efforts by voluntary private groups compensate for the failure of government social programs. Epstein attributes protracted poverty and widening inequality to Americans' philosophical romanticism, managers' adherence to a cult of social efficiency, and patronage on the part of stakeholders, all bound by popular consensus. Required reading for Obama supporters worshipping at the altar of hope and change."
"Despite a screen of self-deceiving rhetoric, the United States remains one of the most ruthlessly unequal societies in the world. William Epstein's disturbing argument—constructed so powerfully that effective rebuttal seems at times impossible—is that this is so because that's the way the American people want it. Anyone seeking to understand the nature of Western societies needs to engage with this book."
"Epstein makes an interesting case for seeing public policy, in a relatively open society such as the United States, as a generally reliable indicator of popular wishes. His arguments are always vigorously expressed. . . . This book will be of interest to students of American social policy, and will give food or thought to readers in countries, such as the UK, that have looked to the US for social policy ideas."
"This is a compelling work. Epstein is a wordsmith. The writing is concise and prickly. The reader will remember his words and thoughts. . . . It is one of the great social welfare muckraking books of all time."
William M. Epstein is Professor of Social Work at the University of Nevada, Las Vegas. His previous books include Psychotherapy as Religion: The Civil Divine In America (2006) and Welfare in America: How Social Science Fails the Poor (1997).
Contents
Acknowledgments
Preface
Introduction: The Good Citizen and American Social Welfare
1. The Programmatic Precursors to the War on Poverty
2. The War on Poverty: Programs of the Office of Economic Opportunity
3. Other War on Poverty Programs
4. The Social Insurances and Welfare
5. Charity and Community Organization
Conclusion: The Iron Sculpture
Tables
References
Index