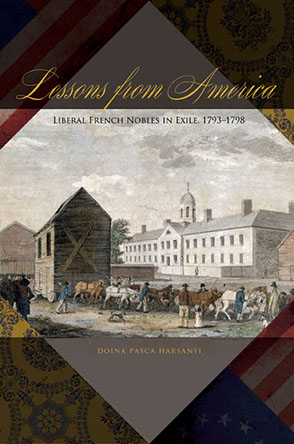 Lessons from America
Liberal French Nobles in Exile, 1793–1798
Doina Pasca Harsanyi
BUY
Lessons from America
Liberal French Nobles in Exile, 1793–1798
Doina Pasca Harsanyi
"Lessons from America contributes a fresh dimension to the classic story of how the French Revolution became the touchstone of political life in the early American republic. To this well-known theme, it brings the European individuals who actually played a key role in the debate through their keen intellects, high social status, and personal connections with leading American political figures. Although based on meticulous research, this is no narrow monograph seeking to ram home a very fine point. Rather, it is a richly textured account that reads as fluently as a novel without sacrificing intellectual rigor and historiographical engagement."
Description

Reviews

Bio

Table of Contents

Sample Chapters

Subjects
Every war has refugees; every revolution has exiles. Most of the refugees of the French Revolution mourned the demise of the monarchy. Lessons from America examines an unusual group who did not. Doina Pasca Harsanyi looks at the American experience of a group of French liberal aristocrats, early participants in the French Revolution, who took shelter in Philadelphia during the Reign of Terror. The book traces their path from enlightened salons to revolutionary activism to subsequent exile in America and, finally, back to government posts in France—illuminating the ways in which the French experiment in democracy was informed by the American experience.
"Lessons from America contributes a fresh dimension to the classic story of how the French Revolution became the touchstone of political life in the early American republic. To this well-known theme, it brings the European individuals who actually played a key role in the debate through their keen intellects, high social status, and personal connections with leading American political figures. Although based on meticulous research, this is no narrow monograph seeking to ram home a very fine point. Rather, it is a richly textured account that reads as fluently as a novel without sacrificing intellectual rigor and historiographical engagement."
"This is a first-rate study of the transmission and transformation of ideas and experiences across the Atlantic. Working from the experience of a group of refugee French liberal nobles in America, Harsanyi addresses the development of French political culture during and after the Revolution with insight and intelligence. Lessons from America sheds new light on the formation of French liberalism. It will be important reading for scholars in many fields."
"This study offers insights into the world that confronted a small group of Frenchmen as it was reflected in their biographies and correspondence. . . . Doina Pasca Harsanyi has . . . produced a book that makes a delightful read and a solid contribution to the emigration experience during the French Revolution."
"[Lessons from America is] meticulously documented and persuasively argued. . . . Harsanyi's talents for synthesis and interpretation truly shine."
"By providing the fullest, smartest, and most judicious account of French liberal nobles in the United States, Harsanyi has written a book that will be of keen interest to scholars of the French Revolution, the early American republic, the Atlantic world, and the development of modern political ideologies."
"Elegantly written and amply documented in thirty pages of footnotes. . . [Lessons from America] is a helpful contribution to the history of liberal ideas."
Doina Pasca Harsanyi is Associate Professor of History at Central Michigan University.
Contents
Acknowledgments
Introduction
1. Aristocrats and Liberal Nobles on the Eve of the Revolution
2. Moreau's Circle of Friends
3. What to Expect When Landing in America
4. The American Home Away from Home
5. Politics, Business, and the Future of France
6. American Influences Under the Directory
Conclusion
Notes
Selected Bibliography
Index
Mailing List
Subscribe to our mailing list and be notified about new titles, journals and catalogs.