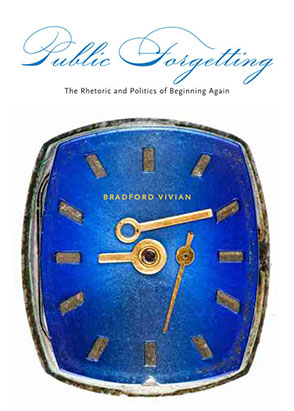 Public Forgetting
The Rhetoric and Politics of Beginning Again
Bradford Vivian
BUY
Public Forgetting
The Rhetoric and Politics of Beginning Again
Bradford Vivian
"Public Forgetting offers readers a new conceptual approach, analytical vocabulary, and evaluative framework with which to recast forgetting in [a] more favorable light. . . . [The book] ably tackles more than two millennia of bias against forgetting. This study of a neglected and constitutive dimension of memory suggests new directions for research in the interdisciplinary field of memory studies. The signal contribution of Public Forgetting is its reminder of the intimate relationship of remembrance and forgetting. Appeals to remember are simultaneously, implicitly or explicitly, appeals to forget (and vice versa). By inviting readers to adopt this more complex appreciation of their interplay, Vivian sets a new critical standard for future scholarship in the field."
Media

Description

Reviews

Bio

Table of Contents

Sample Chapters

Subjects
Visit the Facebook page for this book
here
.
Winner of the 2011 James A. Winans-Herbert A. Wichelns Memorial Award for Distinguished Scholarship in Rhetoric and Public Address award as sponsored by the National Communications Association.
Forgetting is usually juxtaposed with memory as its opposite in a negative way: it is seen as the loss of the ability to remember, or, ironically, as the inevitable process of distortion or dissolution that accompanies attempts to commemorate the past. The civic emphasis on the crucial importance of preserving lessons from the past to prevent us from repeating mistakes that led to violence and injustice, invoked most poignantly in the call of "Never again" from Holocaust survivors, tends to promote a view of forgetting as verging on sin or irresponsibility. In this book, Bradford Vivian hopes to put a much more positive spin on forgetting by elucidating its constitutive role in the formation and transformation of public memory. Using examples ranging from classical rhetoric to contemporary crises like 9/11, Public Forgetting demonstrates how, contrary to conventional wisdom, communities may adopt idioms of forgetting in order to create new and beneficial standards of public judgment concerning the lessons and responsibilities of their shared past.
"Public Forgetting offers readers a new conceptual approach, analytical vocabulary, and evaluative framework with which to recast forgetting in [a] more favorable light. . . . [The book] ably tackles more than two millennia of bias against forgetting. This study of a neglected and constitutive dimension of memory suggests new directions for research in the interdisciplinary field of memory studies. The signal contribution of Public Forgetting is its reminder of the intimate relationship of remembrance and forgetting. Appeals to remember are simultaneously, implicitly or explicitly, appeals to forget (and vice versa). By inviting readers to adopt this more complex appreciation of their interplay, Vivian sets a new critical standard for future scholarship in the field."
"Vivian's first two chapters fill a gaping hole in contemporary theories of public memory and as such should be required reading in all graduate seminars on the subject. The concluding chapter, furthermore, is highly valuable as a theoretical guide to discerning the possibilities and limits of forgetting as a rhetorical strategy. . . . Vivian's study provides an original and well-argued scholarly challenge to both academic and public understandings of memory as a cultural master term. As such, it is likely to provoke a new line of thinking on the virtues of public forgetting and engender many more theoretically and critically sophisticated accounts of it."
"Vivian's attention to the historical understandings of the relations of memory and forgetting ground his study while his astute textual readings of instances of public forgetting offer nuanced and textured elaborations of his theoretical concerns."
"In his sustained meditation on forgetting, Bradford Vivian makes a singular and extremely valuable contribution to the field of memory studies. He substantially advances the theoretical discussion of memory and forgetting with his extended critiques (rhetorical analyses, really) of both ancient and recent formulations of collective public memory and forgetting. The conclusion is almost poetic in its lightness of touch. It pulls all the strands of the book into a single compelling case for forgetting as part of memory."
"Bradford Vivian's Public Forgetting: The Rhetoric and Politics of Beginning Again is a critical and provocative contribution to rhetorical inquiry, communication studies, and memory studies. Considering the ever-expanding inquiry into the nature of memory across various disciplines and areas of study, Vivian presents a challenge to memory studies by centering forgetting as a co-constitutive factor in the act of remembering a communal and public past. . . . Offering an engaging and complex discussion about the relationship between memory and forgetting, as well as a convincing presentation of historical and contemporary examples of forgetting the past, Public Forgetting will be valuable to scholars studying memory, rhetoric, and history—especially scholars interested in exploring rhetorics of difference."
Bradford Vivian is Associate Professor of Communication and Rhetorical Studies in the College of Visual and Performing Arts at Syracuse University.
Contents
Acknowledgments
Introduction
Part 1. Forgetting in Public Life: An Idiomatic History of the Present
1. The Two Rivers, Past and Present
2. Forgetting Without Oblivion
Part 2. Public Forgetting: Alternate Histories, New Heuristics
3. Hallowed Ground, Hollow Memory: Rhetorical Form and Commemorative Politics on September 11, 2002
4. Historical Forgetting: John W. Draper and the Rhetorical Dimensions of History
5. Cultural Forgetting: The "Timeless Now" of Nomadic Memories
6. Moral and Political Forgetting: Abraham Lincoln's Gettysburg Address and Second Inaugural
Conclusion
Notes
References
Index