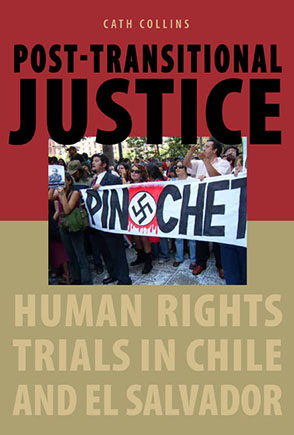 Post-transitional Justice
Human Rights Trials in Chile and El Salvador
Cath Collins
Buy
Post-transitional Justice
Human Rights Trials in Chile and El Salvador
Cath Collins
"This book is indispensable for understanding how Latin America evolved from a region of dictatorships, gross human rights violations, and rampant impunity to one defined by greater accountability and the rule of law. Collins goes beyond analyzing the transitional justice models of the 1980s and provides a comprehensive overview of the actors, strategies, and institutions that led to the emergence of 'post-transitional accountability trajectories.' Collins's framework will undoubtedly be useful to study and advise other countries that are undergoing similar transitions."
Description

Reviews

Bio

Table of Contents

Sample Chapters

Subjects
Latin America is still dealing with the legacy of terror and torture from its authoritarian past. In the years after the restoration of democratic governments in countries where violations of human rights were most rampant, the efforts to hold former government officials accountable were mainly conducted at the level of the state, through publicly appointed truth commissions and other such devices. This stage of "transitional justice" has been carefully and exhaustively studied. But as this first wave of efforts died down, with many still left unsatisfied that justice had been rendered, a new approach began to take over. In Post-transitional Justice, Cath Collins examines the distinctive nature of this approach, which combines evolving legal strategies by private actors with changes in domestic judicial systems. Collins presents both a theoretical framework and a finely detailed investigation of how this has played out in two countries, Chile and El Salvador. Drawing on more than three hundred interviews, Collins analyzes the reasons why the process achieved relative success in Chile but did not in El Salvador.
"This book is indispensable for understanding how Latin America evolved from a region of dictatorships, gross human rights violations, and rampant impunity to one defined by greater accountability and the rule of law. Collins goes beyond analyzing the transitional justice models of the 1980s and provides a comprehensive overview of the actors, strategies, and institutions that led to the emergence of 'post-transitional accountability trajectories.' Collins's framework will undoubtedly be useful to study and advise other countries that are undergoing similar transitions."
"Cath Collins has written a meticulous and balanced study of the internal and external factors that lead to changes in the judiciary's attitude toward prosecuting human rights–related crimes, especially those of the powerful. . . . Collins looks carefully and deeply at the trends within Chile that opened up space for investigations and eventually prosecutions of military officers. She makes room for external factors like Pinochet's arrest in London, but argues that external seeds will only effectively advance a justice agenda if they fall in fertile domestic soil. She uses El Salvador, where an anti-impunity agenda has not advanced, to prove her point. Altogether a fascinating read and a well-argued perspective that enriches the debates around transformational justice in Latin America."
"Cath Collins provides an in-depth study of the struggle to obtain justice for human rights violations in two countries that have adopted very different strategies, both during conflicts and after transition. The comparison demonstrates the importance of domestic efforts, carried out by local actors, in advancing the cause of justice. By analyzing the efforts made in both countries over a substantial period of time, Collins provides evidence not only of the difficulties faced in obtaining justice for past violations committed by regimes that retain power and influence after they leave office, but also of the ways in which many of those obstacles can eventually be overcome. This book is a significant contribution toward understanding these struggles in El Salvador and Chile, but it also provides important lessons applicable to other countries facing similar challenges."
"This is a well-written, thoughtful study that advances our understanding of human rights and comparative politics. It draws ably on newer literature on the 'justice cascade' and the importance of judicial autonomy and jurisprudence. . . . Post-transitional Justice is an able analysis of two important struggles for justice that introduces a stimulating and useful new model of the forces that facilitate the rule of law."
"This book should be required reading for scholars interested in the transitional justice debate."
Cath Collins is Professor and Researcher in the School of Political Science at the University of Diego Portales in Santiago, Chile. She is also an Associate Fellow of Chatham House, London, a member of the University of London Human Rights Consortium, and a Research Associate at Trinity College, Dublin.
Contents
Acknowledgments
List of Acronyms and Abbreviations
Introduction
1. Transitional Justice: Why We Need a New Framework
2. Post-transitional Justice
3. Studying Post-transitional Justice
4. Chile's Human Rights Challenge: The Pinochet Years
5. No One Writes to the General: Post-transitional Justice in Chile
6. El Salvador's Long War
7. Changing to Stay the Same: Post-transitional Justice in El Salvador
8. Comparative Analysis and Conclusions
Appendix: List of Interviews
References
Index
Introduction
International Human Rights Day, December 10, will forever carry a peculiar charge for many observers of Latin American affairs, since it now marks the anniversary of the 2006 death of former Chilean military strongman Augusto Pinochet. Although never formally convicted of a crime, the archetypal and once all-powerful Latin American dictator died while under investigation for dozens of counts of murder, torture, tax fraud, and corruption. In neighboring Argentina, former junta leaders were meanwhile under house arrest for kidnapping and forcible adoption of the children of the "disappeared." Fifteen hundred miles to the north in Lima, Peru, lawyers were busy seeking the extradition of disgraced autocrat Alberto Fujimori, finally handed over by Chile to become the first former head of state ever extradited to stand trial at home for human rights crimes. In Uruguay, first steps were being taken toward the imprisonment of half a dozen military officers for similar offenses. The country's two living former presidents were already in jail. In each of these countries, dozens of high-level former regime agents were worriedly revising their foreign travel arrangements and calling their lawyers. The trend toward calling former torturers to account now seems unstoppable, and yet it represents a major turnaround for a continent that for most of the 1980s and 1990s had been a byword for impunity. Why this seismic shift? Are these changes being willed by the societies themselves, or are they, as some claim, the result of meddling by former colonial powers? Are the new trials a symptom of crisis or a sign of the robust good health of Latin America's fledgling democracies?
Overview of the Argument
This book is among the first serious efforts to account for the recent "re-irruption" of attempted prosecutions over past human rights violations in Latin America. It suggests that the classic transitional justice school of thought is no longer adequate for understanding the resurgence of justice claims in post-transitional societies. The book proposes a new, "post-transitional justice" framework for describing and understanding post-transitional accountability trajectories. This framework is then applied to justice politics and the fate of emblematic legal cases in post-transitional Chile and El Salvador. These in-depth studies help to establish why and under what conditions transitional impunity outcomes can be expected to break down. They also show what particular combination of actors, strategies, and judicial-institutional arrangements seem to favor or inhibit post-transitional justice. In particular, the book tests the supposed demonstration or domino effects produced by transnational networks, whereby prosecutions in third countries—such as the frustrated 1998 attempt to extradite former Chilean dictator Augusto Pinochet to stand trial in Spain—are believed to spur domestic judicial activity.
The central question addressed by the book is: "what happens to human rights accountability after transition?" and, in particular, "what are the conditions under which transitional human rights settlements are likely to change?" A subsidiary question is how, how much, and how successfully national groups, norms, and initiatives have interacted with international ones in recent attempts to bring about this kind of change. Based on the experiences of Chile, which has recently seen substantial accountability change, and El Salvador, which has not, the book argues that recent developments need to be distinguished from earlier, state-level efforts to resolve outstanding justice dilemmas. This early transitional justice thinking and practice foregrounded the role of state-led truth-telling exercises and amnesties in resolving the "human rights question" in democratic transitions. Justice in the form of trials was generally considered unlikely or unwise, for a whole host of theoretical as well as practical reasons. In the words of one longtime human rights professional, "They told us the options were democracy or justice because we couldn't have both."
This book analyzes how these early constraints on justice shift over time, responding to national political trends as well as changes in international law and the end of cold war geopolitics. It proposes the new conceptual framework of "post-transitional justice" for understanding contemporary domestic justice outcomes. This framework focuses specifically on the continued pursuit of justice for past human rights violations via legal systems—henceforth termed "judicial accountability" or simply "accountability." It asks who, if anyone, acts in favor of this type of accountability after political transition, and draws attention to particular institutional and actor configurations that stimulate or constrain the ongoing pursuit of criminal or civil liability. Comparing and contrasting outcomes to date in Chile and El Salvador, the book concludes that strategic action by legally literate, domestic, pro-accountability actors, plus domestic judicial change over time, have been the primary drivers of the reinvigoration of domestic accountability in the Southern Cone of Latin America since the late 1990s. While acknowledging the growing internationalization of civil society activism on this issue, the book suggests that it is important not to overemphasize the relative contribution of international, or "outside-in," dynamics to national change. Accordingly, post-transitional accountability is approached through close attention to domestic trajectories, seeking to identify the specific role(s) played by national, international, and transnational actors in particular domestic outcomes.
Mailing List
Subscribe to our mailing list and be notified about new titles, journals and catalogs.