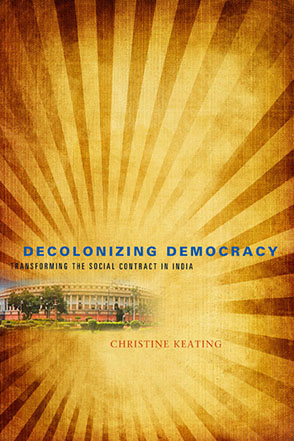 Decolonizing Democracy
Transforming the Social Contract in India
Christine Keating
BUY
Decolonizing Democracy
Transforming the Social Contract in India
Christine Keating
"Christine Keating has made me think afresh about not only Locke and Hobbes but even Pateman. This rich exploration of the deals made and resisted as British colonial elites and Indian nationalists and feminists crafted the new Indian state will be valuable for anyone interested in democracy, postcolonial politics, and the gendering of both."
Description

Reviews

Bio

Table of Contents

Sample Chapters

Subjects
Most democratic theorists have taken Western political traditions as their primary point of reference, although the growing field of comparative political theory has shifted this focus. In Decolonizing Democracy, comparative theorist Christine Keating interprets the formation of Indian democracy as a progressive example of a "postcolonial social contract." In doing so, she highlights the significance of reconfigurations of democracy in postcolonial polities like India and sheds new light on the social contract, a central concept within democratic theory from Locke to Rawls and beyond. Keating's analysis builds on the literature developed by feminists like Carole Pateman and critical race theorists like Charles Mills that examines the social contract's egalitarian potential. By analyzing the ways in which the framers of the Indian constitution sought to address injustices of gender, race, religion, and caste, as well as present-day struggles over women's legal and political status, Keating demonstrates that democracy's social contract continues to be challenged and reworked in innovative and potentially more just ways.
"Christine Keating has made me think afresh about not only Locke and Hobbes but even Pateman. This rich exploration of the deals made and resisted as British colonial elites and Indian nationalists and feminists crafted the new Indian state will be valuable for anyone interested in democracy, postcolonial politics, and the gendering of both."
"If you think you've seen every variation of social contract theory, think again. In this innovative work—which both draws upon and goes beyond Carole Pateman's 'sexual contract' and my 'racial contract'—Christine Keating shows what illuminating insights can be generated when the classic contract model is critically revised to theorize gender, caste, and religious domination in colonial and postcolonial India. The result is a book that should be of interest not just to comparativists but to all those political theorists seeking to develop a contractarianism more relevant to and useful for the world we actually live in."
"[Decolonizing Democracy] is a rich exploration of British colonial legacies in India. . . . Keating's call for political action and constitutional reforms [is] certainly progressive and this book can contribute towards the rise of such movements in India. This is a recommendable book for many reasons and students of Indian history and Asian colonialism can find it an interesting piece of historical examination."
"This book is a clearly written, thought-provoking inquiry into India's democracy. . . . Decolonizing Democracy makes one think. It offers a refreshing framework for understanding power, and it raises many questions. For anyone interested in the complex nature of India's contemporary democracy and its swelling resistance movements, this is an important and fascinating book."
Christine Keating is Assistant Professor of Women's Studies at The Ohio State University.
Contents
Acknowledgments
Introduction: Decolonizing Democracy
1 Fraternalist and Paternalist Approaches to Colonial Rule
2 Resistant Convergences: Anticolonial Feminist Nationalism
3 Framing the Postcolonial Social Contract
4 Challenging Political Marginalization: The Women's Reservation Bill
5 Legal Pluralism and Gender Justice
Conclusion: Building a Nondomination Contract
Notes
Bibliography
Index