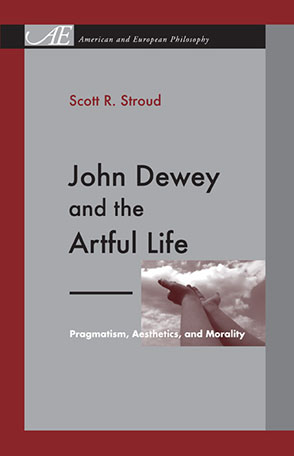 John Dewey and the Artful Life
Pragmatism, Aesthetics, and Morality
Scott R. Stroud
BUY
John Dewey and the Artful Life
Pragmatism, Aesthetics, and Morality
Scott R. Stroud
"

Scott Stroud's fine volume is the most complete and wide-ranging treatment of Dewey's aesthetics ever to appear. In the best pragmatist spirit, it uses its comprehensive scholarship to help us reconstruct not only art but many dimensions of our shared human experience.

"
Description

Reviews

Bio

Table of Contents

Sample Chapters

Subjects
Aesthetic experience has had a long and contentious history in the Western intellectual tradition. Following Kant and Hegel, a human's interaction with nature or art frequently has been conceptualized as separate from issues of practical activity or moral value. This book examines how art can be seen as a way of moral cultivation. Scott Stroud uses the thought of the American pragmatist John Dewey to argue that art and the aesthetic have a close connection to morality. Dewey gives us a way to reconceptualize our ideas of ends, means, and experience so as to locate the moral value of aesthetic experience in the experience of absorption itself, as well as in the experience of reflective attention evoked by an art object.
"

Scott Stroud's fine volume is the most complete and wide-ranging treatment of Dewey's aesthetics ever to appear. In the best pragmatist spirit, it uses its comprehensive scholarship to help us reconstruct not only art but many dimensions of our shared human experience.

"
"John Dewey and the Artful Life carefully reconstructs John Dewey's account of aesthetic experience, links it to forms of moral cultivation, and extends pragmatism's meliorist project. Joining philosophy and practice, Scott Stroud both advances our understanding of pragmatist aesthetics and points us toward ways of everyday living that would adjust us better to our circumstances and work, call us to greater mindfulness about the moral possibilities of our situated presents, and help us communicate in a fuller manner aesthetically and ethically."
"Scott Stroud's John Dewey and the Artful Life is an attempt to respond to our contemporary lives of Thoreauvian quiet desperation. Though he trades heavily on the aesthetics of John Dewey, Stroud does more than present a historical analysis. He engages Dewey's ideas in the work of bringing artfulness to the full range of our everyday experiences as a mode of self-cultivation. The upshot is that, for Stroud, philosophy can direct us to the sorts of aesthetic experiences that can help ameliorate our social inertia and cynicism. Through argument and example, Stroud builds a strong case for his pragmatic uses of Dewey's thought."
"Stroud's book is admirable in stressing the importance of subjective melioration within one's own life. Indeed, reading this book has led me to try to change some of my own habits: to be more present-oriented, for example. In sum, this is an exceptionally impressive book. It not only adds to contemporary reinterpretations of Dewey's thought in aesthetics and ethics but also raises serious issues concerning fundamental assumptions predominant in contemporary aesthetics. Moreover, it provides new material in the growing field of everyday aesthetics, especially in the area of communication and in the role that everyday aesthetics plays in the good life. Anyone interested in aesthetics or ethics, and particularly in the relation between the two, will benefit from reading it."
"Scott Stroud's innovative investigations of the intimacies of aesthetic and moral experience invite his readers to engage a type of artful mindfulness that is at once integrative and melioristic."
"Educators interested in art and aesthetics, for example, will likely find his discussion of the importance of attentiveness and orientation intellectually stimulating. Similarly, readers interested in the relationship between education and moral cultivation will probably value his discussion of orientational meliorism. Finally, rhetoric and communications scholars should appreciate Stroud's argument for the aesthetics of everyday communication. All in all, the book is a first-rate contribution to the literature on Dewey's theory of art, art education, and his philosophy of art."
Scott R. Stroud is Assistant Professor of Communication Studies at the University of Texas at Austin.
Contents
Acknowledgments
1 The Problems of Art and Life
2 The Value of Aesthetic Experience
3 Dewey on Experience, Value, and Ends
4 Aesthetic Experience and the Experience of Moral Cultivation
5 Reflection and Moral Value in Aesthetic Experience
6 Orientational Meliorism and the Quest for the Artful Life
7 Practicing the Art of Living: The Case of Artful Communication
8 Beginning to Live the Artful Life
Notes
Bibliography
Index
Mailing List
Subscribe to our mailing list and be notified about new titles, journals and catalogs.