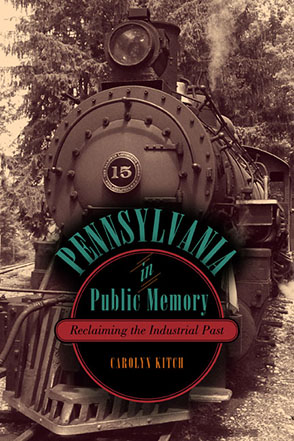 Pennsylvania in Public Memory
Reclaiming the Industrial Past
Carolyn Kitch
BUY
Pennsylvania in Public Memory
Reclaiming the Industrial Past
Carolyn Kitch
"This is a fascinating book that will make a major original contribution to the overlapping fields of public history, deindustrialization, and tourism studies."
Description

Reviews

Bio

Table of Contents

Sample Chapters

Subjects
What stories do we tell about America's once-great industries at a time when they are fading from the landscape? Pennsylvania in Public Memory attempts to answer that question, exploring the emergence of a heritage culture of industry and its loss through the lens of its most representative industrial state. Based on news coverage, interviews, and more than two hundred heritage sites, this book traces the narrative themes that shape modern public memory of coal, steel, railroading, lumber, oil, and agriculture, and that collectively tell a story about national as well as local identity in a changing social and economic world.
"This is a fascinating book that will make a major original contribution to the overlapping fields of public history, deindustrialization, and tourism studies."
"Pennsylvania is widely known for being at the center of the nation's industrial rise, and upon its fall, factories once devoted to the production of goods turned to issuing memories. Carolyn Kitch opens readers' eyes to the profound, intriguing questions, conflicts, and implications raised by this move to heritage. Her account has insightful narratives of destinations such as Hershey's theme-park replica of a factory experience, a harrowing descent into a defunct coal mine, and Keystone State Park, which frames an industrial landscape as a recreational site. She provides a needed panorama of the messages and meanings with which communities, and the nation, wrestle in a postindustrial age."
"As Kitch incorporates many colorful examples and writes eloquently but without pretense, undergraduate as well as graduate students would enjoy this book, which easily could be incorporated into media history, American studies, public history, tourism, and labor history classes."
"Kitch offers up a fascinating survey of industrial historic sites and interpretation in this volume. Pennsylvania, deeply embedded in the history of industry and energy extraction, provides an excellent case study for her analysis. Given the vast array of sites that she visited, Kitch weaves together a discussion that is logically organized and clearly argued. My only problem with this book is deciding whether to assign it to students in my public history course or to those who take my class on Pennsylvania history. Given her valuable critical insights, it would be worth it to assign Pennsylvania in Public Memory in both."
Carolyn Kitch is Professor of Journalism in the School of Communications and Theater at Temple University.
Contents
Acknowledgments
Introduction: Public Memory and the Legacies of Labor
1 "Almost a Nation": The History of Industrial Heritage in Pennsylvania
2 "A Journey That Will Inspire": Regions, Routes, and Rails
3 "Overcomin' What Nature Put in Your Way": Rural Heritage and Pioneer Mythology
4 "Where I Came From, How I Got Here": Ethnic Diversity, Cultural Tourism, and the Memory of Immigration
5 "Deep Veins of Loss": Sacrifice and Heroism in Coal Country
6 "From Our Family to Yours": Personal Meanings of Work in Factory Tourism
7 "Steel Made This Town": An Unfinished Story in Uncertain Times
8 "What's the Use of Wond'rin'?": The Questions of Industrial Heritage
Epilogue: The Future of Pennsylvania's Past
Notes
Bibliography
Index
Mailing List
Subscribe to our mailing list and be notified about new titles, journals and catalogs.