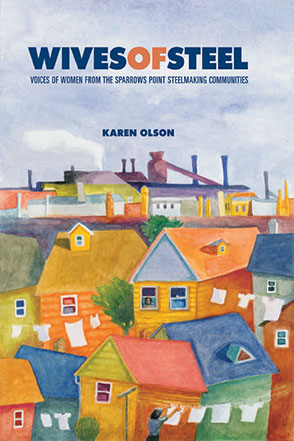 Wives of Steel
Voices of Women from the Sparrows Point Steelmaking Communities
Karen Olson
Buy
Wives of Steel
Voices of Women from the Sparrows Point Steelmaking Communities
Karen Olson
"Wives of Steel addresses a key failure of most studies of industrial communities. Too often scholars assume that male-dominated industries and their communities are shaped by men who hold the industrial jobs. By placing women at the forefront of the Sparrows Point story, Olson shows how women experienced deindustrialization differently than men. Forced to join the workforce to help families survive the loss of well-paying union jobs, many women discovered the rewards of increased independence and autonomy. The result is a more complicated, and more persuasive, picture of America's postindustrial communities. Wives of Steel will find an eager audience among labor, women's, community studies scholars; students; and the general public."
Description

Reviews

Bio

Table of Contents

Sample Chapters

Subjects
During its heyday in the 1950s and 1960s, the Bethlehem Steel mill at Sparrows Point near Baltimore was one of the world's largest steel plants, employing as many as 30,000 workers. But these glory years were short-lived, as the American steel industry soon collapsed, taking with it the high-income industrial jobs that many Sparrows Point workers had come to enjoy. This familiar tale of decline in America's industrial heartland is only part of the story, however. In response to downsizing and job loss at Sparrows Point, many women entered the workforce to fulfill the needs of their families living in the adjacent communities of Turners Station and Dundalk.
Wives of Steel
tells the story of these women who broke traditional gender roles and, in the process, contributed to the economic survival of their communities.
Wives of Steel is based on more than eighty formal interviews conducted over a fifteen-year period with women and some men, both white and black, all of whom were part of Sparrows Point as workers, spouses, or longtime residents of the local communities. Through the stories they tell, we see how a male-dominated industry has influenced personal, family, and social experiences over several generations. We also see the distinct differences and surprising similarities between the lives of black and white women, which often reflect the complicated relationships among black and white steelworkers in the plant.
Deindustrialization has transformed many of America's cities and communities, often in devastating ways. For women in particular, the changes in family and work life have been far more complex and in many ways more positive in their consequences than many studies have led us to expect. Combining consummate research with vivid firsthand accounts, Wives of Steel tells a story that continues to be played out in communities across America as working-class families are forced to cope with a globalizing economy.
"Wives of Steel addresses a key failure of most studies of industrial communities. Too often scholars assume that male-dominated industries and their communities are shaped by men who hold the industrial jobs. By placing women at the forefront of the Sparrows Point story, Olson shows how women experienced deindustrialization differently than men. Forced to join the workforce to help families survive the loss of well-paying union jobs, many women discovered the rewards of increased independence and autonomy. The result is a more complicated, and more persuasive, picture of America's postindustrial communities. Wives of Steel will find an eager audience among labor, women's, community studies scholars; students; and the general public."
"Wives of Steel makes a compelling and sure-to-be-noticed contribution to a very rich and lively literature on the community experience of deindustrialization. Employing rich ethnographic and interview data, Olson demonstrates forcefully the need for a more gendered appreciation of the impact of large-scale economic transformation."
"Olson examines, within the context of a manufacturing community, the profound social changes brought about by economic upheaval. After reading her book, you'll never hear news about downsizing and lay-offs as simply an economic abstraction."
"In all, Olson's study is an informative, rigorous, and interesting exploration of a complex workplace community over time."
"[Olson's] findings are an important contribution to debates about the postindustrial economy."
Karen Olson is Professor of History and Anthropology at the Community College of Baltimore County.
Contents
Introduction
1. Sparrows Point, Turners Station, and Dundalk: The History of the Mill's Communities
2. The Gendered World of Steel: It's a Man's World Inside the Sparrows Point Mill
3. Boarders and the Long Turn in a Company Town: Sparrows Point Wives, 1887–1945
4. The Family Works the Schedule: Steelworkers' Wives, 1945–1970
5. Women Steelworkers at the Point: Interlopers in a Man's World
6. Deindustrialization at Sparrows Point: Disappearance of the Breadwinner-Homemaker
7. Renegotiating Families with Two Breadwinners: Partnership and Divorce
8. A Larger Circle of Neighbors: Deindustrialization and the Web of Class, Race, Gender, and Location
Conclusion
Bibliography
Index
Introduction
My husband has always been the breadwinner. He made twenty dollars an hour as a steelworker at Sparrows Point, and in twenty years we'd never had a problem. Eight months ago my husband came home and said that everybody had to cut their days back to two or three days a week. I knew I was going to have to go to work full-time.
—Patricia Giordano, September 1988
In the spring of 2003 a Baltimore Sun headline announced, "The Rise and Fall of Life and Steel at the 'Point'," and went on to describe the end of a tradition of generations of steelworkers earning wages at the Sparrows Point, Maryland, steel mill that propelled their families into the middle class. Journalistic accounts of deindustrialization in the United States have consistently used the "rise and fall" analytical framework, following the growth of the steel industry through the first half of the twentieth century, and then documenting its steady, ultimately disastrous decline beginning in the 1970s. These accounts emphasize the Golden Age of steelmaking in the 1950s and 1960s, and bemoan the loss of high-income industrial jobs through the last three decades of the twentieth century. What emerges is a stereotypically tragic view of the ways in which deindustrialization has resulted in the loss of a world of steelworker prosperity.
When the focus is on Sparrows Point in the '50s and '60s, and on the fortunes of white men who earned high incomes, and black men who were about to claim the legal right of access to better jobs, the story of deindustrialization appears as a calamitous collapse of the good life in steelmaking communities. The context that is obscured by the rise and fall scenario presented by the media is the larger picture over the long view. Between 1887 and 2003 there have been only three decades, the 1940s, 1950s, and 1960s, when Sparrows Point steelworkers had both union wages and abundant jobs. Even during those three decades, African American men were, with few exceptions, limited to lower paying laboring jobs, and women were excluded from virtually all production jobs, except during World War II. For more than a century, the neighborhoods surrounding the Point participated, not in a monolithic prosperity, but in a history of complex social relations—between women and men, between blacks and whites, and between skilled and unskilled workers.
Wives of Steel uses a gender analysis to look at how a male-dominated industry affected family life in three steelworkers' communities with long traditions of sharply differentiated yet complementary male and female roles. Wives of Steel is an ethnographic study based on more than 80 formal interviews conducted over a fifteen-year period. It uses the voices of women, as well as several men, to gain a unique perspective on the ways in which the Sparrows Point mill has influenced personal, family, and social experiences in the neighborhoods surrounding the plant. This ethnography is placed within a historical structure that documents the founding of the mill and company town, the expansion of workers' communities during two world wars, the emergence of steelworker prosperity in the post-World War II era, and the decline of jobs in steel after 1970.
Because it was originally a planned industrial community, isolated and self-contained between 1887 and World War I on a peninsula southeast of Baltimore City, the first decades of the town of Sparrows Point are characterized by a set of social relations different from the working-class experience of that time in Baltimore City. Two-thirds of the men working in the mill in 1900 were native-born white men, 92 per cent of them from rural Pennsylvania. One-third of the workforce at the Point was African American, a significant contrast to the steel mills in Ohio, New York, and Pennsylvania, which, prior to World War I hired Eastern European immigrants, but few African Americans for unskilled laboring jobs. The town of Sparrows Point had an distinctively young population composed predominantly of men and women in their 20s and 30s, precisely the group for whom it was easiest to move themselves and their small families to a new location. The Sparrows Point steel mill employed few of the European immigrants that were crowding into Baltimore and other American commercial and industrial cities. For all of these reasons the company town had a different ethnic composition than nearby Baltimore City. The white population was largely native-born Yankees, not from Maryland or further south, but from Pennsylvania, and the town included only a few European immigrants. Because 31 percent of the recruits to the new mill and town were African American, a cohesive black community was formed and flourished in an environment that on the one hand was rigidly segregated, yet on the other hand provided significantly more economic and social opportunities than agricultural towns in the Upper South.
A gendered perspective challenges the standard accounts of deindustrializing American communities, which have almost universally portrayed a gloomy downward trajectory for the people who inhabit these places in a postindustrial age. Wives of Steel widens the perspective to include a much longer span of history in Baltimore's steelmaking communities, and it documents the ways in which steelworker wives provided essential economic contributions to their households during times of low wages, wars, lay-offs, and lengthy strikes. The second half of Wives of Steel emphasizes the independence developed by wives of steelworkers who, after 1970, went into the paid workforce as jobs in steel declined. These women were influenced by both deindustrialization and the loss of household income, as well the changing gender identities prompted by feminism after the 1970s. Wives of steelworkers discussed with me the ways in which they had gained personal power in the larger social world of the paid workforce, finding that, as Willa Martin said: "The younger generations of women have the benefit of association with a wider variety of people from which to draw."
Wives of Steel is not a journalistic account of the current crisis facing America's steelmaking communities. It is an ethnographic and historical rendering that examines, primarily through the lives of women, the effect that the steel industry has had on family configurations throughout the twentieth century. Wives of Steel investigates the gender dynamics in black and white steelworker communities, beginning at the end of the nineteenth century with the young steelworkers and their wives who migrated from rural areas to claim better paying industrial jobs at the Point. It extends that gender analysis through the early twentieth-century period of rapid expansion in America's steel industry, and into the late twentieth-century post-industrial era that sent steelworker wives into the full-time workforce in large numbers to reinforce their households economically as employment in steel declined after 1970.
Wives of Steel, then, is the story of 115 years of steelmaking viewed through the lens of gender. In the many fine studies of industrial communities, and particularly of steelmaking communities, gender has not been the central focus, and the women in these communities have often have been relegated to a single chapter or a courteous mention. Generally it has been assumed that America's industrial history is the story of men working long hours at back-breaking work, men struggling against imperious company owners, and men organizing powerful unions to protect their wages and working conditions.
Wives of Steel brings a unique contribution to the literature on steelmaking communities because it is based on the voices of people describing life in their own households and neighborhoods, including the voices of women like Gloria Robinson, who grew up with a certain rhythm in her household: "My father and his three brothers all worked at Bethlehem Steel, and my husband worked at Bethlehem Steel, and everything in the family revolved around the mill schedule." Women married to steelworkers are placed squarely at the center of this study, with the focus most particularly on the continuity of women's economic contributions to their households. I am emphatic about the turmoil that the loss of jobs in steel has caused the people who lost them, and I especially listened to those men who can no longer support their families without help from their wives, and who, according to Doug Ingles, "felt wimpish, like they weren't holding up their end of the deal." This study, however, focuses sharply on the economic role of steelworkers' wives in order to correct a common assumption that, from the late 1800s until the 1970s, America's steelworkers earned enough to single-handedly provide for their households.
In fact, wives of steelworkers have a long history as economic partners in their families, although it is important to remember that evidence shows that in every era before 1970 black women were more likely to be in the paid workforce than white women. Sparrows Point wives contributed essential income to their households at the turn of the twentieth century through their participation in a pervasive system of taking in unmarried male steelworkers as boarders and roomers. Women went to work at the Point in the tin mill just before World War I, filled the workforce shortage during World War II, and took temporary jobs in banks, restaurants, department stores, and offices during periods of long strikes at the Sparrows Point steel mill. Wives of steelworkers resumed the role of economic contributors after 1970 as thousands of predominantly male industrial jobs vanished from the United States. Only briefly, in the 1950s and 1960s, did the wives of Sparrows Point steelworkers, in overwhelmingly large numbers, assume the role of full-time, life-long housewives and consumers dependent on the income of steelworkers who were their families' sole breadwinners. That Golden Age was wonderfully prosperous but brief.
The history of steelmaking communities that I chose to research uses the lens of gender to explore the growth and transformation of three interrelated communities adjacent to the Sparrows Point steel mill—Sparrows Point, Turners Station, and Dundalk. Sparrows Point is the name of the steel complex built in the 1880s and owned for 87 years by the Bethlehem Steel Company, as well as the name of the original company town built to house white and black steelworkers and their families between 1887 and 1974. Dundalk, just a few miles from the steel mill, also began as a planned community, and was built under the sponsorship of the Bethlehem Steel Company to house the abundance of white workers who were employed at the Point during and after World War I. Turners Station is an African American community that grew more organically, beginning late in the 1800s as a small black settlement, and continuing its growth as African American steelworkers from the Point built homes there or settled into one of the housing developments built as part of the wartime effort in the 1940s.
In all three of these communities, Sparrows Point, Turners Station, and Dundalk, gendered social worlds evolved that were characterized by the sharp segregation of men's work in a male-dominated steel mill from women's work in households organized around shift work schedules. A former steelworker, Eric Logan, described the ethos of manliness inside the steel mill: "It is dangerous, hard, physical work. Just the word 'steel' implies toughness; look at Superman, he's the 'Man of Steel'." Five generations of steelworker families have struggled to organize their day-to-day existence around steelworker husbands absent from their homes because of long shifts in the mill. Tom and Theresa Porsinsky agreed that, "shift work makes it a difficult life and can wreck the family. We're both prisoners of Tom's schedule . . . [and] you never get used to it, you just put up with it."
As early as the 1880s, women in the company town of Sparrows Point played critical economic roles, preparing food and doing laundry for children and for husbands and adult sons who were working in the mill, but also cooking and cleaning for boarders to add essential income to the household. It is this economic role assumed by large numbers of steelworkers' wives that begs our attention. Their contributions to the household income at the turn of the twentieth century is much the same kind of economic role they would play whenever changes in production, employment, and wages at the Sparrows Point steel mill required their efforts. Wives of steelworkers have been earning income since the 1880s, but their economic roles have been underestimated both in historical renderings and in the ways that contemporary accounts of deindustrialization are constructed.
The decades between 1950 and 1970 represent a period of affluence for steelworkers, because high productivity in the American steel industry during an era in which the United Steel Workers of America protected good wages. The result was an era commonly seen as the benchmark of life in steelmaking communities of the past. But those years of prosperity between 1950 and 1970 have largely obscured our realization of the fact that prior to World War II many steelmaking families relied on income brought into the household by wives. The period between World War II and 1970 is, in fact, an anomaly in many ways. It certainly was the only era during which so many steelworkers earned enough to support a family, allowing wives to live relatively comfortably as homemakers with no need to bring income into their households. Wives of Steel corrects this misconception by recounting the unpaid work done by the wives of Sparrows Point steelworkers before World War II, and highlighting the importance of the income earned in the paid workforce by contemporary women.
My research relied on archival and census sources, in addition to ethnographies and oral histories that I began collecting in the mid-1980s. Rufus and Frederick Wood, the enterprising New Englanders who planned and constructed the Sparrows Point steel complex, documented their plans for the company town of Sparrows Point during its first two decades through letters and reports currently archived at the Hagley Museum and Library in Greenville, Delaware. In addition to the papers of the Wood brothers, the manuscript census of 1900 chronicles life in the company town of Sparrows Point by delineating the composition of each household. That census lists the address for each household in the community and the name, age, place of birth, and relationship to head of household for each occupant of the household, including both family members and boarders. The census goes on to list number of years of education for each person and whether or not he or she was a naturalized citizen. For each adult woman the census gives an accounting of infant and child mortality by listing the number of children born and the number surviving. For each adult man an occupation is recorded that allows an analysis of the segmentation of the workforce by ethnicity and race. This record of the composition of neighborhoods in the company town by occupation, level of education, ethnicity and citizenship status illuminates a multifaceted panorama of the people who lived and worked at Sparrows Point during its first thirteen years.
The 1900 census is particularly valuable because it is the first manuscript census available that includes the planned industrial community of Sparrows Point. Most of the 1890 census, including the entries for Sparrows Point, was destroyed by fire. By 1910, the census records for the company town of Sparrows Point no longer contained all of the mill's steelworker families because a streetcar line, introduced in 1903, brought hundreds of steelworkers to the Point each day from working-class areas of Baltimore City. Although the company town flourished until Bethlehem Steel began demolishing it in 1954, after 1900 increasing numbers of steelworkers commuted from surrounding areas.
Because the Sparrows Point steel mill continues to produce steel for America and the world, the communities of Dundalk and Turners Station are still vibrant, and remain home to families with generations of steelworkers. Between 1985 and 2003 I collected 80 oral history and ethnographic interviews with adult women and men, both white and black, all of whom had worked or were working at the Sparrows Point mill, were married to Sparrows Point steelworkers, or were long-time residents of Sparrows Point, Turners Station or Dundalk. I have come to see this community from many different points of view, and I have been able to watch closely as residents respond to constant, repeated, on-going change. Since I looked for the wide-lens perspective of gender, race, class and culture over time, there are many specific details about this community that I did not study or could not include in a short book. Nonetheless, the large number of interviews that I conducted over a long period of time is one of the major contributions this study makes to the literature on industrial communities.
Typically the interviews I conducted were an hour, although some lasted for as long as three hours. All of the individual interviews were audio taped, and the oral history interviews were transcribed. In some cases I conducted a series of interviews with one individual, and occasionally I did interviews with married couples or with small groups of people. At the conclusion of the study I asked individuals to read what I had written, and then I conducted follow-up interviews that focused on how people interpreted what I had said about their community.
In the course of these interviews, I asked members of steelworker families to describe the role that gender played in determining both the work culture at the Point as well as the rhythms of family life in the community. I asked about race, class and other hierarchical systems that existed in the mill or in their neighborhoods. In particular I asked how deindustrialization had affected gender roles and the organization of families as jobs at the mill declined. I also asked how race relations at the mill and in communities were experienced and perceived.
In analyzing this collection of interviews I looked for patterns that would provide insights into the configuration of gender within families in the area. I found a complex interwoven set of patterns. Gender loomed large, but gender intersected with race and age, as well as the social relations of class in the community, which was closely connected to status in the mill hierarchy. Within a community where people were linked by a common relationship to a dominant industry, there were sharp contrasts in the perspectives on the Sparrows Point experience. Even in an interview with a single person there was always a complex, nuanced set of reflections on the hardships and rewards of living and working in a steelmaking community.
For researchers using ethnographic and oral history interviews, it is clear that historical memory as well as renderings of present circumstances are socially constructed in the sense that the narratives people tell are framed by the social experiences of the narrators. Oral historians have emphasized the ways in which subjects being interviewed tell an account of their lives that has been filtered through the lens of their own perspectives on the dominant institutions encompassing their lives. Ethnographers, who use interviews to retrieve rich descriptions of human experience although not always complete life histories, have emphasized the relationship between the autobiographical particulars of interviewers and the responses of their subjects. Put simply, people who are being interviewed respond to questions by telling their narratives of life events from a particular point-of-view that reflects social status, belief systems, occupation, gender and race, in addition to myriad other particulars. In addition, an interviewer brings an identity to each interview exchange that elicits not just answers to her questions, but also responses to her social self.
One pattern emerged most vividly during 17 years of interviewing black and white men and women of varying ages. That pattern lies in the differences in the perspectives of the men, as well as some women, who have worked at the Point, in contrast to the perspectives of the wives of steelworkers, some of whom have never been inside the Sparrows Point mill. Men who were working at the Point at the time of their interviews were matter-of-fact about the work they did, and often would begin their descriptions of their jobs in a self-denigrating manner by saying, "It pays the bills," but then go on to describe accomplishments, skills, and friendships that were the source of pride. I started interviewing men who were working at Sparrows Point in 1988, at the height of lay-offs in the steel industry and after Bethlehem Steel had been reducing its workforce for more than a decade. Most of the men I talked to described themselves as working in an industry where fear and resentment, caused by the possibility of job loss, were widespread. Unprofitable departments in the mill were being closed, and new union contracts typically contained cuts in pay or benefits. On May 7, 2003, after a long period of financial difficulties, the Sparrows Point steel complex, along with six other Bethlehem Steel plants, was sold to International Steel Group Inc. of Cleveland, which is salvaging large steel companies in an effort to combine them into a company that can survive in the highly competitive global economics of modern steel production. Jobs and even the health benefits of retirees are vanishing from a community built upon the essence of the American Dream—hard work rewarded with economic security.
Although my primary focus is on gender relations, it was clear from the outset of this project that race and class were inextricably interwoven with the gender dynamics within steelworker families. From its beginnings in the late 1880s, the Sparrows Point steel mill actively recruited African American men, restricting them to the lowest paying laboring jobs, which impacted black families and the economic roles of wives in those families. A clear pattern of distinctly different ways of seeing race relations emerged in the series of interviews conducted in the 1980s and early 1990s: white steelworkers insisted that everyone is treated the same, "as long as you're willing to work," while black steelworkers remember the plant's history of discrimination as a painful reality. In the follow-up interviews that I conducted in 2002 black and white men referred to major changes at the Point. Interracial teamwork, and occasionally even friendship, was forged in ways that did not seem possible for earlier generations of steelworkers.
Because the company town of Sparrows Point was demolished 30 years ago, interviews with "Sparrows Pointers" require a special context because they reach back across a quarter of a century. Families that had lived for several generations in the town of Sparrows Point held tightly to memories strongly tinged with emotion and recalled stability, friendliness, and employment security in a cohesive, well-ordered company town that was antithetical to the neighborhoods across the state of Maryland where aging Sparrows Pointers live today.
Diverse perspectives are embedded in the memories of the African American section of Sparrows Point, including some bitter reflections on the employment of black women as domestic help in white homes. However, even though the black section of Sparrows Point was deliberately planned and maintained as a separate, segregated neighborhood, the African American families I interviewed remembered their community fondly. African American men who endured their restriction to laboring jobs in the steel mill spoke of the comfort of going home to a quiet neighborhood of well-kept homes and carefully tended gardens in a community free of overt racial conflict.
Memories of the company town are part of a contemporary social experience that includes reunions held regularly by Sparrows Pointers. These reunions are festive, and the social discourse has an idyllic ring to it. It is only with considerable probing that Sparrows Pointers remember the more complicated aspects of the company town. I spent several hours listening to a group of white men and women talk about the special pleasures of living in Sparrows Point. Fatal accidents were never mentioned. Unions were never mentioned. Race was never mentioned. It was only after I asked about the hiring practices of boardinghouses that someone said, "Well, of course, all of our mothers had black women come in and iron."
The men and women who did not have such positive memories of the town of Sparrows Point were those who had been active in the union movement of the 1930s. They remembered the determination with which Bethlehem Steel had banned union organizing in the town of Sparrows Point, and reminded each other that the alliances that were built among men working at the Sparrows Point mill crossed racial boundaries, but did not cross the boundaries of the company town. African Americans who commuted to Bethlehem Steel from West Baltimore joined native-born whites and European immigrants in the campaign for a union. African Americans who lived in the town of Sparrows Point, like their white counterparts, could not aid the union movement without risking eviction from their homes and the loss of their jobs.
Agreeable memories of safe and close-knit communities also reverberated in the conversations of blacks and whites reflecting on their lives in Dundalk and Turners Station between 1950 and 1970, which to their way of thinking were more predictable, less turbulent times. Jacinta Cole told me about Turners Station, "I don't think there is any other place in the world where I could have been more comfortable growing up than in Turners Station," and went on to describe churches that took care of the elderly and teachers in their segregated schools who insisted that African American children graduate with pride and skills. Reluctant to tell a white interviewer about hurtful experiences in Dundalk, it was only after I acknowledged my own awareness of racial tensions that Jacinta Cole expressed her gratitude that, "we were sheltered by our parents from the rejection in Dundalk."
In interviews with and about women married to steelworkers, diametrically opposed themes recurred. The first theme is unequivocal admiration for the wives of Sparrows Point steelworkers because of their hard work. Especially when daughters and granddaughters remembered the era prior to World War II they expressed respect—even awe—at the sheer enormity of the work done by steelworkers' wives to maintain households, accommodate boarders, raise families, and contribute as wartime workers. The second theme acknowledges the extent to which wives were constrained and at times protected by the social organization of their steelmaking community, and wives of steelworkers were sometimes even portrayed as trapped in drudgery and living in a very small world. In some cases daughters and granddaughters depicted the post-World War II generation of steelworkers' wives as capitulating to demanding husbands demanding excessive attention and services. Often steelworkers' wives would reveal how they experienced the two themes of their own lives: the pride in self-sacrificing attention to their husbands and families, along with resentment that unpaid, and sometimes unappreciated, work had dominated their lives.
Deindustrialization sparked the pivotal change in the gender dynamics within steelworker families. Men who had worked at the Point while the mill was prospering described the period before 1970 as good times and expressed pride in their roles as steelworkers and as the providers of family income. Individuals who have personally experienced the loss of jobs in steel presented more complicated points of view. Women who found satisfying jobs outside the home admitted that they were torn between the loss of a certain kind of family unit and the rewards of their own increased independence and personal autonomy. Men and women in the throes of losing jobs and stable social identities focused on the disturbing economic changes that clouded the way they remembered the past and that dominated their horizons.
In every interview people stated emphatically that their communities have been severely impacted by the decline of employment at the Point. It was the multifaceted perspectives of those interviews that allowed me to understand that gender, race, class, and age were interrelated factors that determined how differently members of steelworker families had experienced, remembered and represented the process of deindustrialization.
Wives of Steel begins by looking at the history of three communities that accommodated the families of men who have worked at the Sparrows Point steel mill. During the period between 1887 and the 1920s the construction of gender relations is particularly evident since the town of Sparrows Point had an overwhelmingly male population, and men were working 12 to 14 hour shifts in the mill while women contributed to the business of making steel by taking in unmarried steelworkers as boarders, as well as raising their own large families, and keeping the mill's red dust residue at bay.
Chapter Two looks at how a male work culture was set in place inside the Sparrows Point steel mill, which has always had an overwhelmingly male workforce, and where women were initially forbidden entrance, even to deliver a husband's dinner pail. Although a small number of women began working in the tin mill early in the twentieth century, in their interviews both male and female steelworkers repeatedly describe the Sparrows Point mill by saying, "It's a man's world."
The third chapter explores the responsibilities carried by women married to steelworkers between 1887 and World War II and living in either Sparrows Point, or after World War I in Dundalk or Turners Station. The astounding number of Sparrows Point households that took in boarders reveals that at the turn of the twentieth century Sparrows Point wives ran what essentially were small businesses that accommodated the large numbers of single men living in the community during the early years of the mill. In marked contrast, Chapter Four explores the ways in which Dundalk and Turners Station became middle class steelworker communities during the post-World War II era. The role of the steelworker's wife was transformed since she no longer took in boarders, in part because more housing was available, but also because her family no longer needed the additional income since unionization brought higher wages. After World War II, women married to Sparrows Point steelworkers had more conveniences, fewer children than earlier generations, and an income that allowed for luxuries. However, for the first time since the founding of the Sparrows Point plant, most steelworker wives lacked an economic role that included contributing income to their households, and many saw themselves as "prisoners of the swing shift."
Chapter Five includes the voices of those women from Dundalk and Turners Station who did make attempts to work at the Point, beginning with the all-female tin flopping department, and including a few hundred women who worked at the Point during World War II and the contemporary women who gained permanent production jobs at the Point after the 1974 Consent Decree banned sex and race discrimination. Despite reporting modest successes in improving safety conditions and in enforcing prohibitions against sexual harassment, due to their small numbers and the domination of an entrenched masculine work culture, the presence of women steelworkers in the mill has never produced pervasive or fundamental change in gender relations at the Point or in the community.
Chapter Six explores the ways in which the decline in steelmaking jobs has pushed families in the communities surrounding the Sparrows Point steel mill to pursue a variety of alternative economic strategies. In my interviews I asked women and men to reflect on the dramatic decline in employment in the steel industry that began in the 1970s, and to describe the ways in which their own lives as well as the dynamics within their families had changed. When the economic transformations within steelworker families were looked at as a change in family gender dynamics, I found something much more complicated than a straightforward picture of loss of jobs and income. When a steelworker faced the loss of his job at Sparrows Point, his entire family went through a process of reacting to changing economic conditions, and, while responses varied considerably, in many families the loss of steelmaking jobs meant that wives of steelworkers needed to contribute substantial income to the household, just as wives of steelworkers had done prior to World War II.
Chapter Seven looks at those women for whom the decline of steel was an impetus to enter the full-time workforce, opening up possibilities for altered relationships between women and men. In one interview after another, women in Dundalk and Turners Station described the process of negotiating for themselves a fundamental change in lifestyle, from the breadwinner/homemaker families that accommodated the long hours and swing shifts at the Point, to families in which divorced or single women are themselves breadwinners or families in which women are sharing the breadwinner role with their spouses. Within individual families, women and men described complex and sometimes minute transformations that occurred as the wives of steelworkers, finding it necessary to contribute to their household's income, began the process of renegotiating gender relations that are characterized less by breadwinner/homemaker hierarchies and more by partnerships. Those women whose marriages ended in divorce described their own processes of gaining independence.
Chapter Eight focuses on the ways in which race and class relations intersect with the negotiation of new gender relations. Looking at changing class and race demographics in the Dundalk-Turners Station communities, it follows both black and white women as they commute to work in parts of the Baltimore metropolitan area that are outside the Sparrows Point steelmaking communities. It includes the voices of black women who found some advantages in working in places far removed from the racial hierarchy that existed in neighborhoods surrounding the Sparrows Point steel mill, as well as the voices of white women like Marcella Knowles who was shocked by the class biases of coworkers who "talk about my neighbors as the 'lower class' and call them 'grits'." Both white and black women talk about their commitment to preserving the benefits of a cohesive community that is the heritage of the Sparrows Point steelmaking area, while embracing new sets of race and gender relations that encompass a larger "circle of neighbors."
Wives of Steel is not a business of labor history of the Sparrows Point steel complex, but rather a gendered analysis of the area's history that listens most attentively to voices of women and men as they describe the ways in which the male-dominated work culture of a steel mill affects all areas of family and community life. While my original intention was to limit my study to the lives of women in a steelmaking community, I found that gender never stands alone, but is inextricably linked to race, to class, and to generational differences. Between 1985 and 2003, my interviews coincided with the process of job losses that left families seeking strategies for their economic survival. The voices from a steelmaking community in the midst of a shrinking number of steel jobs uncovered an often sad but always brave and resourceful response to deindustrialization. In the communities surrounding the Sparrows Point steel mill the strategies used by families in the face of deindustrialization, precipitated a renegotiation of the roles of women and men that has been varied, complex, and far-reaching.
Mailing List
Subscribe to our mailing list and be notified about new titles, journals and catalogs.