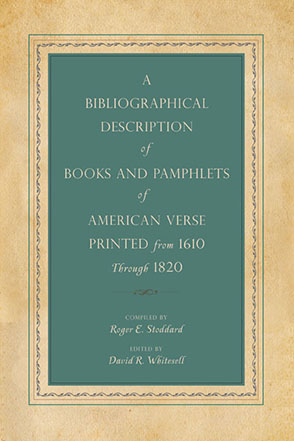 A Bibliographical Description of Books and Pamphlets of American Verse Printed from 1610 Through 1820
Compiled by Roger E. Stoddard, and Edited by David R. Whitesell
Buy
A Bibliographical Description of Books and Pamphlets of American Verse Printed from 1610 Through 1820
Compiled by Roger E. Stoddard, and Edited by David R. Whitesell
"This important, indeed groundbreaking, work promises to contribute immensely to our understanding of both early American literary culture and the history of American publishing and printing, while also opening up many avenues for fruitful future research. The result of a lifetime of work by Roger Stoddard, bookman extraordinaire, and diligently edited by David Whitesell, this bibliography provides a definitive record of the canon of early American poetry with detailed descriptions, many discoveries and new attributions, and extensive listings of holdings."
Media

Description

Reviews

Bio

Table of Contents

Sample Chapters

Subjects
Roger E. Stoddard and David R. Whitesell's A Bibliographical Description of Books and Pamphlets of American Verse Printed from 1610 through 1820 is the winner of the eighth Modern Language Association Prize for a Bibliography, Archive, or Digital Project.
The culmination of five decades of research, this monumental work of descriptive bibliography, containing entries for more than 1,300 editions, assembles by date of printing the corpus of poetry composed and printed in the United States of America in books and pamphlets up through 1820. It also includes a revised version of Roger Stoddard's seminal essay "Poet and Printer in Colonial and Federal America: Some Bibliographical Perspectives," which explores the production of poetry in American culture from the colonial period to the early days of the American Republic. Enhancing access to this rich source of information are eight indexes: place of publication, printers and publishers, artists and engravers, signed or attributed bookbindings, dedicatees, provenance, subject, and author/title. This work is published for the Bibliographical Society of America by The Pennsylvania State University Press.
"This important, indeed groundbreaking, work promises to contribute immensely to our understanding of both early American literary culture and the history of American publishing and printing, while also opening up many avenues for fruitful future research. The result of a lifetime of work by Roger Stoddard, bookman extraordinaire, and diligently edited by David Whitesell, this bibliography provides a definitive record of the canon of early American poetry with detailed descriptions, many discoveries and new attributions, and extensive listings of holdings."
"This descriptive bibliography stands as a landmark of bibliographical scholarship related to early American imprints of verse."
"This book is an outstanding scholarly achievement, the work of a scholarly lifetime to which students of early American poetry will be indebted for generations to come. Its meticulous research is judiciously assembled and framed so as to guarantee maximum ease of access to the more than one thousand works described."
"This volume demonstrates to glorious effect what scrupulous bibliography can bring to literary history and critical evaluation. . . . Stoddard's great achievement here is to encourage further scholarship on the appreciation of the poetry of early America all over the world, and not just in English."
"This is a landmark contribution to early American bibliography, a must for all libraries with an interest in literature, Americana, or bibliography."
Roger E. Stoddard worked for forty-two years in the Harvard Library, retiring in 2004 as Curator of Rare Books in the Harvard College Library, Senior Curator in the Houghton Library, and Senior Lecturer on English. Since then he has published bibliographies of Jacques-Charles Brunet, Primo Levi, and W. G. Sebald.
David R. Whitesell is Curator in the Albert and Shirley Small Special Collections Library, University of Virginia; he previously served as Curator of Books at the American Antiquarian Society.
Contents
List of Illustrations
Preface
Acknowledgments
Poet and Printer in Colonial and Federal America: Some Bibliographical Perspectives
Some General Statistics
Dedications
Subscriptions
Recitations
Popular Texts
Publishers' Bindings in Paper
Illustrations
Introduction to the Bibliography
Parts of the Entry
Abbreviations
Bibliographical Citations
Location Symbols
Conspectus of the Bibliography
The Bibliography
The Indexes
Index of Place of Publication
Index of Printers and Publishers
Index of Artists and Engravers
Index of Bookbindings Signed or Attributed
Index of Dedicatees
Provenance Index
Subject Index
Author and Title Index
Preface
The United States themselves are essentially the greatest poem.
—Walt Whitman
The bibliography of early American poetry—that is, cumulated attempts to help others to learn and work in the field by providing lists of books—begins with the twenty-eight-page "Catalogue of American poetry" appended by Samuel Kettell to his three-volume historical anthology, Specimens of American poetry, with critical and biographical notices, published in Boston by S. G. Goodrich in 1829 and distributed both in Charleston and London. The first twenty pages are devoted to books printed before 1821, from the Bay Psalm Book (1640) to Maria Gowan Brooks's Judith, Esther, and other poems (1820). Then the bibliography of the subject develops in the booktrade, with records of public auction sales such as Catalogue of the entire private library of the late Rev. Rufus W. Griswold … particularly rich in poetical works and biography (Bangs, Merwin & Co., New York, 23 May 1859), some 3,280 lots of source material for his anthologies, and Catalogue of the extraordinary library, unique of its kind, formed by the late Rev. F. J. Stainforth, consisting entirely of works of British and American poetesses, and female dramatic writers (Sotheby, Wilkinson & Hodge, London, 1 July 1867), 3,076 lots. Finally, in 1869, came the auction of the library of the Rhode Island poetaster Albert Gorton Greene, whose specialty, American poetry, was offered as lots 121 through 1,944 (Bangs, Merwin & Co., New York, 29 March 1869). Miraculously, nearly all of Greene's poetry was purchased by a newcomer to the field, Greene's cousin C. Fiske Harris of Providence. That obviated immediate dispersal, leaving the possibility that the collection might be kept together.
Harris was already a serious collector of English poetry and drama, and he formed one of the great collections of literature on the American Civil War. In hopes of obtaining author attributions and receiving additions to his new collection, Harris distributed copies of his Index to American poetry and plays in the collection of C. Fiske Harris (Providence: Printed for private distribution, 1874), with 4,129 entries. Harris died in 1881, and his poetry collection was sold to Senator Henry B. Anthony, who died in 1884, bequeathing the collection (with additions) to Brown University. There, as The Anthony Memorial: a catalogue of the Harris Collection of American Poetry (Providence, 1886), it was recorded by the Rev. John C. Stockbridge and published by subscription. Walt Whitman, amazed by the vast number of poems, was one of the reviewers. Subsequent collectors specialized in the work of the "Household Poets"—Longfellow, Lowell, Whittier, and their like—to the neglect of whole genres, except for Henry Cady Sturges, whose American literature was sold by Anderson Galleries in New York on 20-21 November 1922. Sturges had a good eye for the out-of-the-way nuggets of extreme rarity, most of which were bought at the sale for the Henry E. Huntington Library. The rest of the story belongs to Oscar Wegelin and his disciple.
Between 1900 and 1907 Wegelin (1876–1970) published the first bibliographies of early American plays, fiction, and poetry. Apprenticed to Colonel John E. Anderson, first in the book shop and later in the auction house, Wegelin later operated his own business for more than thirty years. His bibliographical entries were based on copies of the books that passed through his hands in the trade. In 1930, with assistance from his library friends (and customers) Clarence S. Brigham of the American Antiquarian Society and Harry Lyman Koopman of the Brown University Library, he brought out a second edition of the poetry bibliography, revised and enlarged: 1,379 numbered entries of books and broadsides with lined titles, paginary collations, and one or two locations. It was a heroic achievement.
In 1960 I was able to meet Mr. Wegelin, and he endorsed my plan to continue his work by placing in my hands a bundle of clippings and manuscript slips. I arranged and cross-indexed his notes, producing two bound copies of my typescript, one for each of us. In 1962 I published in the Papers of the Bibliographical Society of America the article "Oscar Wegelin, pioneer bibliographer of American literature," and in 1963, "C. Fiske Harris, collector of American poetry and plays." The first documents Wegelin's publications and catalogues; the second integrates the literature on Harris and his great collection.
In the 1960s I was supported by Brown University and then by Harvard for week-long stints of work at the New-York Historical Society, the Library of Congress, and the Henry E. Huntington Library. Wegelin had tipped me off to the hidden treasures of the Historical Society, where I located and described many unrecorded imprints. At the Library of Congress I searched my checking file against the National Union (card) Catalog not only by author, but also by title of anonymous pieces and by pseudonyms, sometimes adding different copy locations under the various headings. At the Huntington I sought out the rarities that had been purchased from the Sturges auction—among other things.
The result was "A catalogue of books and pamphlets unrecorded in Oscar Wegelin's Early American poetry, 1650–1820," published in Books at Brown in 1969 and also as a separate publication by the Library Friends. Bibliographically skeletal, this self-indexed checklist of 260 books and pamphlets (without the broadsides) was intended as a first step toward a comprehensive work, but also to be potentially useful to students of the field in the interim. I did not want to bottle up my significant finds for the decades that lay ahead before publication of the whole. Ever since, I have produced reports to keep those students up to date:
"Further addenda to Wegelin's Early American poetry," Papers of the Bibliographical Society of America 65 (1971): 169–72
"More addenda to Wegelin's Early American poetry," Proceedings of the American Antiquarian Society 88 (1978): 83–90
"Progress note on a bibliography of American poetry printed 1610–1820 and some corrigenda to Wegelin's Early American poetry," Early American Literature 13 (1978/79): 299–301
"Fourth addenda to Wegelin's Early American poetry," PAAS 90 (1981): 387–90
"Fifth addenda to Wegelin's Early American poetry," PAAS 100 (1990): 251–53
"Sixth addenda to Wegelin's Early American poetry," PAAS 107 (1997): 389–93
Except for some early years, the United States copyright records have not been published, so I worked with the archive of copyright ledgers assembled in the Rare Books Division of the Library of Congress and with a few ledgers scattered in local Federal Records Centers. In 1981 I amalgamated the manuscript records with statements printed in the books as "A provisional list of U.S. poetry copyrights, 1786–1820, and a plea for the recovery of unlocated copyright registers," PBSA 75 (1981): 450–83. The data are incorporated in the entries of this Bibliography or in the Lost Books file.
"Lost books"—that is, descriptions confected from everything but a copy of the book—is an endgame, so I played that out in 1982, "Lost books: American poetry before 1821," PBSA 76 (1982): 11–41, some 124 entries. In the process of building the Copyright and Lost Books files, I discovered, as I had hoped, unrecorded books. Lost books will continue to be discovered. Six have already been found (numbers 4, 14, 19, 29, 51, and 100, described in entries 1219.5, 283, 272, 78, 869, and 1076 of the Bibliography).
In 1982 I tried to open up the matter of my intended bibliography in a number of different ways by setting up tables of printed dedications, subscriptions, poems recited in public, illustrations, popular texts, and paper bindings: "Poet and printer in Colonial and Federal America: some bibliographical perspectives," PAAS 92 (1982): 265–361 and sold as a separate by the University Press of Virginia.
I didn't get much resonance from all that, but I tried again with "Oh, Mr. Jefferson—after all these years, why do we know so little about the books of your time?" Printing History 35 (1997): 3–8. Like "Poet and printer," that effort descended into oblivion also. Apparently people do not want to be lectured on the impact of poetry in society!
My research, which depends on examination and firsthand description of the books, required travel. That was made possible by support of the Fellowship Committee of the Huntington Library (twice), the William F. Milton Fellowship Committee of the Harvard Medical School, and the Douglas W. Bryant Fellowship of the Harvard University Library (twice). I was able to work for two months in the Huntington Library and for two-week stints at the Library Company of Philadelphia and the Historical Society of Pennsylvania, the Library of Congress, Yale, and the New York Public Library. At home I had searched for possibilities in the great bibliographies compiled by Joseph Sabin and Charles Evans as well as in later work by Shaw and Shoemaker and in all the local imprints bibliographies that I could find. My reading and note taking produced a very full search file first for use in library visits, then for incorporation in the citations of my entries.
The resulting bibliography is very different from Wegelin's on account of the bibliographical aids available in my day and my ability to travel to libraries for hunting books and describing them. Wegelin's work is accurate, and his ideals are as high as they could be: I never cease to admire him or to marvel at his accomplishments.
I wish now that I had attempted a bibliography of all verse written in North America, including all that was printed in the English colonies through 1783, perhaps 350 entries in all. The West Indian imprints are alluring, and I admire them whenever I see them. What I did attempt will be less successful than such a limited project, but far more useful to others.
Like Wegelin, I sought poems written in what is now the United States that were printed before 1821, but I did not try to collect the broadsides and leaflets, as Wegelin did. I planned to provide a bibliography arranged by date of publication, and that would not suit an ephemeral, popular literature such as broadsides, which cannot be dated consistently and must be accounted alphabetically.
Wegelin arranged his entries in four alphabets: first books and broadsides of known authorship, then unattributed anonymous pieces printed between 1650 and 1799, then the same two series for pieces printed between 1800 and 1820. I have opted for a single chronological sequence in order to demonstrate the development of the genre from the beginning up to an important turning point, when fiction by James Fenimore Cooper and others could offer serious competition against poetry for the attention of American readers. Wegelin's descriptions are basic, skeletal; mine are enriched by a developing bibliographical literature and the databases. In 1930, when Wegelin published, volume 21 of Sabin's Bibliotheca Americana (Smith-Solis) was appearing in installments, Evans's American bibliography was not completed, and a wealth of state imprints bibliographies which would follow later had hardly been conceived. I benefited from generations of new work, and I incorporated all that I could in order to encompass all the printed sources. For instance, you have citations to Evans and Sabin with a list of copies located by them. With that basis you can carry on the work with the databases. (I cite ESTC entries, but not the locations, as they are a work in progress.)
I tried to locate and describe—or solicit descriptions from colleagues—at least five copies of each piece and to trace the provenance of each copy back to previous owners and auction sales. I learned from studying Jacques-Charles Brunet that sightings or locations of copies, enlightening as they are, can be confusing unless their links from one owner to another are discovered and cited. I aim to supply the basis for the "bean counters," those who will attempt to find and examine every copy of a book by providing for them every line of sight from the bibliographical literature of the past—in addition to a clear and full description of the book itself. In order to suggest the resonance of the books and pamphlets later in the nineteenth century, I collected and inserted brief notes on reprints from 1821 until 1900.
Every advance in scholarship uncovers new questions, and sometimes it seems to me that for every question I have answered two new questions arise to replace it. There are books we do not know because no copy has been discovered or only fragments are known. There are hundreds of books for which we do not know the author, the printer, the place of publication, or date. My favorite question is who is the editor of the book whose author is dead or otherwise not involved. Answers to these questions lie in family or town histories and in the work of imprints bibliographers who will collect and date the work of a single printer or place. Who will study the anthologies, attribute the unsigned texts, and index the whole?
The Bibliography is accompanied with a (to me) tedious succession of indexes with which I hope to open the book to users. The Provenance Index alone, with its string of British and American owners of books from the seventeenth century until today, should make it possible for discoveries to be made; but, all the indexes open up the Bibliography to students of printing, publishing, bookbinding, artists, engravers, and the like.
My favorite index is the Conspectus, as it takes you entry by entry through the Bibliography in succinct, title-a-line abridgments, so that you can scan a decade of publications in moments in order to make a perception or find the right book for your purpose. Carry on!
Also of Interest
Mailing List
Subscribe to our mailing list and be notified about new titles, journals and catalogs.