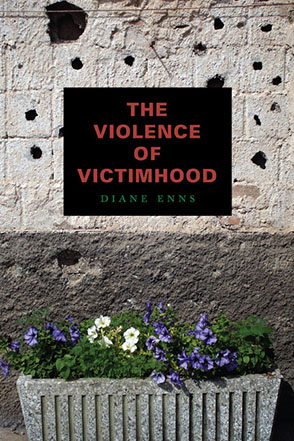 The Violence of Victimhood
Diane Enns
BUY
The Violence of Victimhood
Diane Enns
"Diane Enns's book The Violence of Victimhood will be read with admiration and a passionate interest by anyone who confronts the moral, philosophical, and political dilemmas of extreme violence in contemporary society: scholars, activists, citizens. Instead of simply naming the ambivalence of the category of victimhood, she wants to understand it in all its determinations, moral and historical. She confronts with great rigor an impressive corpus of interpretations, past and present, Western and postcolonial. She delineates a politics of life with no concession to wishful thinking. A most necessary, most timely book."
Description

Reviews

Bio

Table of Contents

Sample Chapters

Subjects
We know that violence breeds violence. We need look no further than the wars in the western Balkans, the genocide in Rwanda, or the ongoing crisis in Israel and Palestine. But we don't know how to deal with the messy moral and political quandaries that result when victims become perpetrators. When the line between guilt and innocence wavers and we are confronted by the suffering of the victim who turns to violence, judgment may give way to moral relativism or liberal tolerance, compassion to a pity that denies culpability. This is the point of departure in
The Violence of Victimhood
and the impetus for its call for renewed considerations of responsibility, judgment, compassion, and nonviolent politics.
To address her provocative questions, Diane Enns draws on an unusually wide-ranging cast of characters from the fields of feminism, philosophy, peacebuilding, political theory, and psychoanalysis. In the process, she makes an original contribution to each, enriching discussions that are otherwise constricted by disciplinary boundaries and an arid distinction between theory and practice.
"Diane Enns's book The Violence of Victimhood will be read with admiration and a passionate interest by anyone who confronts the moral, philosophical, and political dilemmas of extreme violence in contemporary society: scholars, activists, citizens. Instead of simply naming the ambivalence of the category of victimhood, she wants to understand it in all its determinations, moral and historical. She confronts with great rigor an impressive corpus of interpretations, past and present, Western and postcolonial. She delineates a politics of life with no concession to wishful thinking. A most necessary, most timely book."
"Diane Enns powerfully shows how easily we can lapse into misleading and dangerous assumptions about the entitlements and authority of victims. While seeking to respect and repair the victims of violence, we may defer too much, with damaging consequences. This beautifully written and thoughtful book poses central questions about conflict and its aftermath."
"The Violence of Victimhood is original in its question and extremely well researched. The discussion of widely held and largely unexamined claims regarding the moral status of the other, of trauma, of victims, of powerlessness, and so on is very fresh and insightful. . . . The breadth and depth of the research is astounding. Diane Enns knows all the secondary literature and brings it fruitfully to bear without losing her own original voice."
"This is an important book. It is an urgent book. In language at once analytic and passionate, Diane Enns confronts the cult of 'otherness'—without denying the truths to which it points—and substitutes for it a universal ethic of nonviolent action, without denying the complexities it involves. For those seeking building blocks for solidarity in our age, The Violence of Victimhood is an essential read."
Diane Enns is Associate Professor of Philosophy at McMaster University.
Contents
Acknowledgments
Introduction
1 The Good Other
2 When Victims Become Killers
3 Indelible Wounds
4 Arendt in Jerusalem
5 To Kill or Be Killed
6 Mercy for the Merciless
7 Lay Down Your Arms
Notes
Bibliography
Index
Mailing List
Subscribe to our mailing list and be notified about new titles, journals and catalogs.