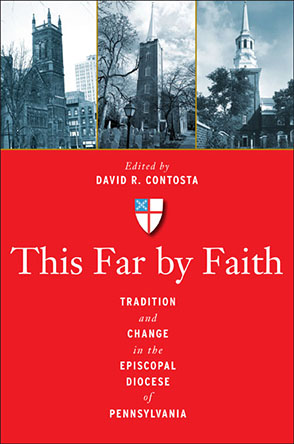 This Far by Faith
Tradition and Change in the Episcopal Diocese of Pennsylvania
Edited by David R. Contosta
BUY
This Far by Faith
Tradition and Change in the Episcopal Diocese of Pennsylvania
Edited by David R. Contosta
"With telling detail and compelling narrative, the essays in This Far by Faith track the origins and evolution of an important diocese that charted 'a middle way' for American Christianity over four centuries. Throughout the book the authors show a diocese struggling with such varied, but intersecting, issues as a changing geographical and demographic compass, race, doctrinal disputes, discipline, and personality. This Far by Faith opens the red door to the whole church, from pulpit to pews. In doing so, it provides a most sensitive and sensible examination of a diocese as a living organism. It also provides a model for writing church history hereafter. It is, then, a book that transcends its subject and invites anyone interested in American religion to consider its method and meaning."
Description

Reviews

Bio

Table of Contents

Sample Chapters

Subjects
The history of the Diocese of Pennsylvania is in many ways a history of the Episcopal Church at large. It remains one of the largest and most influential dioceses in the national church. Its story has paralleled and illustrated the challenges and accomplishments of the wider denomination—and of issues that concern the American people as a whole. In
This Far by Faith
, ten professional historians provide the first complete history of the Diocese of Pennsylvania. It will become essential reading for anyone wishing to understand the history and significance of the Episcopal Church and of its evolution in the Greater Philadelphia area.
Aside from the editor, the contributors are Charles Cashdollar, Marie Conn, William W. Cutler III, Deborah Mathias Gough, Ann Greene, Sheldon Hackney, Emma J. Lapsansky-Werner, William Pencak, and Thomas F. Rzeznik.
"With telling detail and compelling narrative, the essays in This Far by Faith track the origins and evolution of an important diocese that charted 'a middle way' for American Christianity over four centuries. Throughout the book the authors show a diocese struggling with such varied, but intersecting, issues as a changing geographical and demographic compass, race, doctrinal disputes, discipline, and personality. This Far by Faith opens the red door to the whole church, from pulpit to pews. In doing so, it provides a most sensitive and sensible examination of a diocese as a living organism. It also provides a model for writing church history hereafter. It is, then, a book that transcends its subject and invites anyone interested in American religion to consider its method and meaning."
"This Far by Faith is a fine book. People interested in the history of American religion, in the history of Pennsylvania, and in the Episcopal Church will find it accessible and informative."
"This volume not only notes the contributions of the various bishops but also focuses on lay leadership, institutional growth, and areas of conflict. It seeks to pay attention to the role of women and racial minorities; attempts to provide detailed demographic data; and endeavors to set events in the life of the church in the general social context. Episcopalians in the Diocese of Pennsylvania, students of American church history, and social historians should all find it to be a useful work."
"What a good text this would make for a course on Episcopal Church history, or, for that matter, also American church history—even in a course on United States history."
"It is a pleasure . . . to read this impressive and accessible diocesan history. . . .
". . . This is an excellent history. It is critical to our understanding of the Episcopal Church nationally, and in many ways, constitutes a microcosm of American mainline religion."
David R. Contosta is Professor of History at Chestnut Hill College.
Contents
List of Figures
List of Tables
List of Abbreviations
Introduction
David R. Contosta
1 The Colonial Church: Founding the Church, 1695–1775
Deborah Mathias Gough
2 From Anglicans to Episcopalians: The Revolutionary Years, 1775–1790
William Pencak
3 Identity, Spirituality, and Organization: The Episcopal Church in Early Pennsylvania, 1790–1820
Emma Jones Lapsansky-Werner
4 New Growth and New Challenges, 1820–1840
Charles D. Cashdollar
5 The Church and the City, 1840–1865
Marie Conn
6 The Gilded Age and Progressive Era, 1865–1910
Ann Norton Greene
7 The Church in Prosperity, Depression, and War, 1910–1945
Thomas F. Rzeznik
8 A Church on Wheels, 1945–1963
William W. Cutler III
9 Social Justice, the Church, and the Counterculture, 1963–1979
Sheldon Hackney
10 A Perfect Storm, 1979–2010
David R. Contosta
Contributors
Index
Mailing List
Subscribe to our mailing list and be notified about new titles, journals and catalogs.