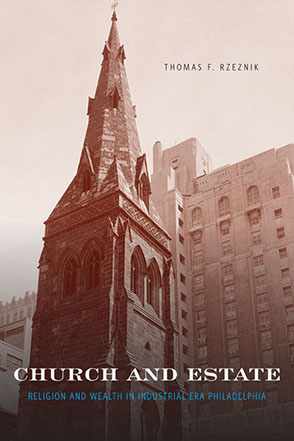 Church and Estate
Religion and Wealth in Industrial-Era Philadelphia
Thomas F. Rzeznik
BUY
Church and Estate
Religion and Wealth in Industrial-Era Philadelphia
Thomas F. Rzeznik
"In this remarkably rich and revealing book, Thomas Rzeznik has rediscovered the marrow and meaning of religion for the elite classes of Philadelphians. Rzeznik brings rare sensitivity and common sense to a subject too much the domain of pundits quick to dismiss the integrity of upper-class faith and too little the focus of sustained historical analysis. The result is a finely wrought book that should re-open discussions of the religious impulses of Progressivism and renew considerations of the centrality of religion in modern American life."
Description

Reviews

Bio

Table of Contents

Sample Chapters

Subjects
In Church and Estate, Thomas Rzeznik examines the lives and religious commitments of the Philadelphia elite during the period of industrial prosperity that extended from the late nineteenth century through the 1920s. The book demonstrates how their religious beliefs informed their actions and shaped their class identity, while simultaneously revealing the ways in which financial influences shaped the character of American religious life. In tracing those connections, it shows how religion and wealth shared a fruitful, yet ultimately tenuous, relationship.
"In this remarkably rich and revealing book, Thomas Rzeznik has rediscovered the marrow and meaning of religion for the elite classes of Philadelphians. Rzeznik brings rare sensitivity and common sense to a subject too much the domain of pundits quick to dismiss the integrity of upper-class faith and too little the focus of sustained historical analysis. The result is a finely wrought book that should re-open discussions of the religious impulses of Progressivism and renew considerations of the centrality of religion in modern American life."
"Thomas Rzeznik's remarkable exploration of religion and wealth in Gilded Age and Progressive Era America combines unprecedented breadth and sophistication with a Philadelphia focus that speaks for America while still retaining the Quaker city's unique flavor. Smoothly written and deftly researched, Church and Estate is one of the few books to describe Protestants, Catholics, Jews, wealth, and religion together, and it brings fresh life to controversial facets of American religion that often still echo discordantly today."
"In terms of historical studies of religion and the elite of Philadelphia, this sets the standard by which future scholarship will be judged…. An impressive and exhaustive historical work that provides a valuable case study showing how the elite of industrial-era Philadelphia created religious class cultures within congregations that conformed to their tastes and desires."
"A rich and engaging study of the relationship between religion and wealth in the formation of America's urban elites."
"Rich in original research and perceptive analysis, Church and Estate is a major contribution to our understanding of the interplay of religious belief and new industrial fortunes in the late nineteenth and early twentieth centuries. . . . This is a brilliant and important study that will be a crucial reference for those seeking to understand the changes in Quakerism in the last century in dialogue with the broader religious and economic landscape."
"Among the strengths of [Church and Estate is Rzeznik's] refusal to reduce his stories of the changes taking place [in Philadelphia] to economics and matters of social status. These are human stories in which the power of wealth and the seeking of 'spiritual capital' and prestige and influence were ever operative, but where 'sincere spiritual yearnings' and a 'genuine desire for sound teachings, meaningful worship and spiritual fulfillment' also had their roles. . . . One appreciates [Rzeznik's] comprehension of the complexities and mixed motivations of religious life of this era."
"Rzeznik's book provides a very detailed overview of the sometimes tenuous relationship between 'money interests' and organized religion in Philadelphia during the latter part of the nineteenth and early twentieth centuries. . . . Rzeznik's clear prose and mastery of the subject make the book one of great interest to those who study religion and American culture. It is a welcome addition to the discussion."
"Church and Estate is a valuable work for scholars interested in the elite of late nineteenth- and early twentieth-century Philadelphia. Rzeznik's work should remind those who study the city to retain a sensitivity to religion and how their subjects dealt with it."
"Church and Estate is a well-written and meticulously researched book on a topic that has received little attention from historians of U.S. Catholicism to date. By examining the ways in which wealthy Christians—Catholics and Protestants—supported their churches, Rzeznik has contributed to our knowledge of both the development of Catholic philanthropy and the role played by wealthy Philadelphia Catholics in the growth of the U.S. Church."
"A richly documented study of religion and wealth in which Philadelphia's leading citizens appear not as 'robber barons,' but rather as complex moral actors. . . . Essential reading for anyone interested in the vital intersection of religion and capitalism in modern American history."
Thomas F. Rzeznik is Associate Professor of History at Seton Hall University.
Contents
List of Illustrations
Acknowledgments
Introduction
1 "Money Faithfully and Judiciously Expended"
2 A Controlling "Interest"
3 A Labor "Exceedingly Magnificent"
4 The "Quaker-Turned-Episcopal Gentry"
5 The Episcopal Ascendancy
6 Confronting the "Money Interests"
7 Changing Fortunes
Conclusion: Legacies
Notes
Bibliography
Index
Mailing List
Subscribe to our mailing list and be notified about new titles, journals and catalogs.