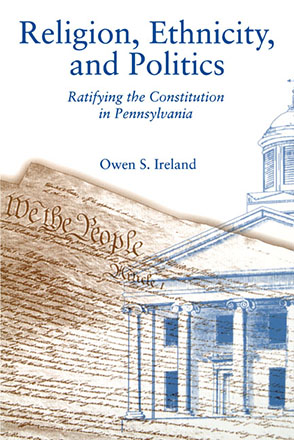 Religion, Ethnicity, and Politics
Ratifying the Constitution in Pennsylvania
Owen S. Ireland
Buy
Religion, Ethnicity, and Politics
Ratifying the Constitution in Pennsylvania
Owen S. Ireland
"Religion, Ethnicity, and Politics is a valuable contribution to the literature on ratifying the Constitution. Ireland condenses a wealth of information and thought into a short space, giving us a well-written, vibrant, and balanced study."
Description

Reviews

Bio

Subjects
In September 1787 the Constitutional Convention in Philadelphia proposed a new Federal Constitution to replace the beleaguered Articles of Confederation. Each state then had to call a convention of its own to vote on ratification. Pennsylvania, like many states, was deeply divided over the new constitution. For six months Federalists and Antifederalists fought a bitter and, on occasion, violent political battle, with the Federalists ultimately prevailing.
In this detailed study of Pennsylvania, the first in fifty years, Owen S. Ireland argues that the overwhelming majority of voters in Pennsylvania favored ratification. While many modern views of the ratification conflict in America explain the Federalist success as a victory of the "patrician" minority over the "plebeian" majority, Ireland finds that political divisions were based less on class, sectional, and occupational differences than on partisan attachments rooted in religious and ethnic conflicts. The state Constitutionalist party, dominated by Presbyterians, opposed ratification, while the Anglican-led Republicans supported it. Voters from Scots-Irish and German Reformed backgrounds joined the Antifederalists, and those from virtually every other ethnic and religious group supported the Federalists.
Ireland has long concentrated his scholarly work on assembling and analyzing quantitative data on politics and politicians in late eighteenth-century Pennsylvania. Here he uses the results of this research as the foundation on which to build a narrative of one of the most dramatic and significant events of the Revolutionary era.
"Religion, Ethnicity, and Politics is a valuable contribution to the literature on ratifying the Constitution. Ireland condenses a wealth of information and thought into a short space, giving us a well-written, vibrant, and balanced study."
"Ireland's study of the adoption of the Constitution in Pennsylvania is bold and provocative. Ireland is part of an increasing number of scholars who stress religious-ethnic influences in Revolutionary America. He thereby challenges those who want to emphasize either a political ideological analysis or a class-based analysis almost to the exclusion of other possibilities. He forcefully puts forth a thesis that other scholars can ignore only at grave risk."
Owen S. Ireland is Associate Professor of History at SUNY College at Brockport.
Also of Interest
Mailing List
Subscribe to our mailing list and be notified about new titles, journals and catalogs.