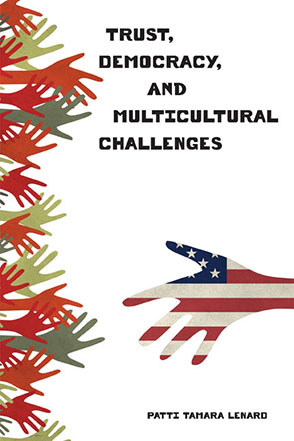 Trust, Democracy, and Multicultural Challenges
Patti Tamara Lenard
BUY
Trust, Democracy, and Multicultural Challenges
Patti Tamara Lenard
"Highly informative as well as rich in insightful contradictions, [Trust, Democracy, and Multicultural Challenges is] an invitation to endorse pluralism not as a final horizon or a political telos, but as a policy tool and a heuristic device with emancipatory powers."
Description

Reviews

Bio

Table of Contents

Sample Chapters

Subjects
Banning minarets by referendum in Switzerland, publicly burning Korans in the United States, prohibiting kirpans in public spaces in Canada—these are all examples of the rising backlash against diversity that is spreading across multicultural societies. Trust has always been precarious, and never more so than as a result of increased immigration. The number of religions, races, ethnicities, and cultures living together in democratic communities and governed by shared political institutions is rising. The failure to construct public policy to cope with this diversity—to ensure that trust can withstand the pressure that diversity can pose—is a failure of democracy. The threat to trust originates in the perception that the values and norms that should underpin a public culture are no longer truly shared. Therefore, societies must focus on building trust through a revitalized public culture. In Trust, Democracy, and Multicultural Challenges, Patti Tamara Lenard plots a course for this revitalization. She argues that trust is at the center of effective democratic politics, that increasing ethnocultural diversity as a result of immigration may generate distrust, and therefore that democratic communities must work to generate the conditions under which trust between newcomers and "native" citizens can be built, so that the quality of democracy is sustained.
"Highly informative as well as rich in insightful contradictions, [Trust, Democracy, and Multicultural Challenges is] an invitation to endorse pluralism not as a final horizon or a political telos, but as a policy tool and a heuristic device with emancipatory powers."
"This is a well-written book. It presents an important argument and tackles a vast body of literature. It makes a significant contribution to ongoing debates in political theory about democracy and trust. And probably most important, it sets out a highly controversial argument in a convincing and measured way."
"This is an important contribution to our thinking about a major issue for contemporary democratic politics. It draws on a broad array of literature, bringing together philosophy, sociology, political science, and political theory. Patti Tamara Lenard combines impressive powers of synthesis with a keen practical sense of the problems and dilemmas of trust."
Patti Tamara Lenard is Assistant Professor of Ethics at the University of Ottawa's Graduate School of Public and International Affairs.
Contents
Acknowledgments
Introduction: Trust, Democracy, and Multicultural Challenges
1 Trust Defined
2 Trust as a Foundational Democratic Value
3 Distrust, Mistrust, and Democracy
4 Public Culture and Trust
5 Trust and Ethnocultural Diversity in Multicultural Democracies
6 Severely Divided Societies, Trust, and the Struggle for Democracy
7 Guiding Trust Building in Democracies
Conclusion: The Challenges of Multiculturalism?
Notes
Bibliography
Index
Mailing List
Subscribe to our mailing list and be notified about new titles, journals and catalogs.