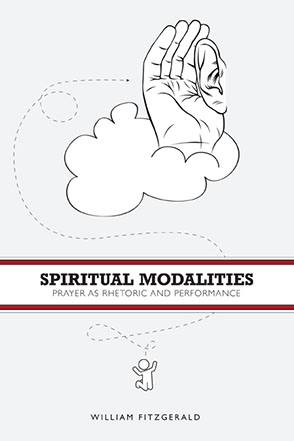 Spiritual Modalities
Prayer as Rhetoric and Performance
William FitzGerald
BUY
Spiritual Modalities
Prayer as Rhetoric and Performance
William FitzGerald
"Spiritual Modalities shows what rhetoric has to offer the conversations about prayer—its emphasis on situatedness, with its insistence (and Burke's insistence especially) on seeing language as inseparable from bodies, attitudes, values, contexts, and culture. William FitzGerald captures that additive quality and stands to lure scholars from other fields into rhetoric."
Description

Reviews

Bio

Table of Contents

Sample Chapters

Subjects
A bold recasting of prayer as a rhetorical art,
Spiritual Modalities
investigates situations, strategies, and performative modes of discourse directed to divine audiences. Examining how prayer "works,"
Spiritual Modalities
reads prayer's situations and strategies, its characteristic acts and attitudes, to advance an understanding of prayer as a basic expression of our rhetorical capacities for communication and communion. This groundbreaking analysis demonstrates how prayer draws on fundamental capacities to engage other beings rhetorically to argue that we are never more human than when we address the nonhuman.
Spiritual Modalities is notable in its aim to articulate a critical rhetoric of prayer in a secular idiom. It draws on contributions to rhetorical theory from Kenneth Burke along with a broad range of classical and contemporary perspectives on audience, address, speech acts, and modes of performance. The book also takes a multicultural and multimodal approach to prayer as rhetorical performance. The texts and practices of prayer represented range across religious traditions and historical eras and include both verbal and physical modes of divine address. The book will be of interest to scholars researching religious language, Burkean approaches to discourse, practices of memory, and media studies.
"Spiritual Modalities shows what rhetoric has to offer the conversations about prayer—its emphasis on situatedness, with its insistence (and Burke's insistence especially) on seeing language as inseparable from bodies, attitudes, values, contexts, and culture. William FitzGerald captures that additive quality and stands to lure scholars from other fields into rhetoric."
"This is a profoundly useful book. Spiritual Modalities not only explores in depth the rhetorical power of prayer; it also provides abundant critical and theoretical resources for the further study of this ancient yet still contemporary speech-act genre. Creatively employing Kenneth Burke's dramatism as an interpretive lens, this systematic, postsecular analysis skillfully reveals prayer as a cognitive scene of address, a material act of invocation, and a social attitude of reverence. Spiritual Modalities is a significant contribution to the ongoing religious turn in rhetorical studies and the human sciences more generally."
"William FitzGerald's Spiritual Modalities: Prayer as Rhetoric and Performance is a clarion call: a call for scholars of communication to re-engage research on prayer. In an age made more anxious by its own technologies, Spiritual Modalities asks why humans across cultures and times have enacted this enigmatic but fundamentally human behavior. What motivates us to address the sacred, and what do we expect from it? Relentlessly intellectual, Spiritual Modalities is one of the most important, sustained, and theoretically sophisticated engagements of religious rhetoric since Kenneth Burke's Rhetoric of Religion."
William FitzGerald is Assistant Professor of English at Rutgers University.
Contents
Acknowledgments
List of Abbreviations
Introduction: Prayer: The Rediscovered Country
1 Prayer and Its Situations: Meditation on Kairos and Krisis
2 "Hear Us, O Lord": Audience and Address in Communicating with the Divine
3 Invocations of Spirit: Prayer as Speech Act
4 The Dance of Attitude: Prayer as the Performance of Reverence
5 Performing the Memorare: Prayer as a Rhetorical Art of Memory
6 Bodies and Spirits in Virtual Motion: Prayer and Delivery in Cyberspace
Conclusion: Does Rhetoric Have a Prayer?
Notes
Works Cited
Index
Mailing List
Subscribe to our mailing list and be notified about new titles, journals and catalogs.