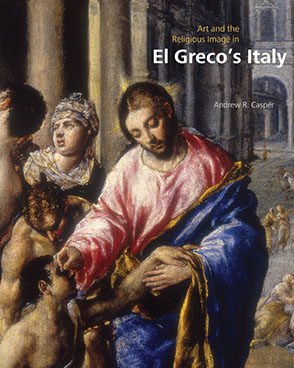 Art and the Religious Image in El Greco's Italy
Andrew R. Casper
BUY
Art and the Religious Image in El Greco's Italy
Andrew R. Casper
"Andrew R. Casper's Art and the Religious Image in El Greco's Italy makes an important contribution to the growing body of scholarship on El Greco, one of the most original and, often, least understood artists of the late Renaissance. In a probing and illuminating fashion, Casper reveals the ways in which El Greco's encounter with both Counter-Reformation theological ideas and Venetian and Roman art and art theory enabled him to transform himself from a provincial painter of icons in the Byzantine manner to a truly modern painter of devotional images. The El Greco we encounter here is a highly self-conscious, ambitious, and learned painter who, by virtue of his 'Byzantine way of thinking,' reconciled aesthetic concerns with contemporary attitudes toward sacred images in the form of what Casper brilliantly terms 'artful icons.'"
Description

Reviews

Bio

Table of Contents

Sample Chapters

Subjects
Art and the Religious Image in El Greco's Italy
is the first book-length examination of the early career of one of the early modern period's most notoriously misunderstood figures. Born around 1541, Domenikos Theotokopoulos began his career as an icon painter on the island of Crete. He is best known, under the name "El Greco," for the works he created while in Spain, paintings that have provoked both rapt admiration and scornful disapproval since his death in 1614. But the nearly ten years he spent in Venice and Rome, from 1567 to 1576, have remained underexplored until now. Andrew Casper's examination of this period allows us to gain a proper understanding of El Greco's entire career and reveals much about the tumultuous environment for religious painting after the Council of Trent.
Art and the Religious Image in El Greco's Italy is a new book in the Art History Publication Initiative (AHPI), a collaborative grant from the Andrew W. Mellon Foundation. Thanks to the AHPI grant, this book will be available in popular e-book formats.
"Andrew R. Casper's Art and the Religious Image in El Greco's Italy makes an important contribution to the growing body of scholarship on El Greco, one of the most original and, often, least understood artists of the late Renaissance. In a probing and illuminating fashion, Casper reveals the ways in which El Greco's encounter with both Counter-Reformation theological ideas and Venetian and Roman art and art theory enabled him to transform himself from a provincial painter of icons in the Byzantine manner to a truly modern painter of devotional images. The El Greco we encounter here is a highly self-conscious, ambitious, and learned painter who, by virtue of his 'Byzantine way of thinking,' reconciled aesthetic concerns with contemporary attitudes toward sacred images in the form of what Casper brilliantly terms 'artful icons.'"
"Professor Andrew Casper's densely illustrated essay on the 'artful icon' is an insightful study of the nine years that the philosophising painter Domenico Theotocopolo spent in Italy (1567–76), on his way from his native Crete to Spain, where he lived and worked in Toledo until his death in 1614. . . . This volume is a substantial contribution to understanding how an icon-writer from the Greek Orthodox world came to accommodate himself to the post-Tridentine Roman Catholic society of Italy."
Andrew R. Casper is Assistant Professor of Art History at Miami University.
Contents
List of Illustrations
Acknowledgments
Introduction
1 The Divinity of Painting
2 The Devotional Image
3 Synthesis as Artistic Ideal
4 The Theatrics of the Counter-Reformation Narrative
5 The Artist as Antiquarian in Christian Rome
6 From Icon to Altarpiece
Notes
Bibliography
Index