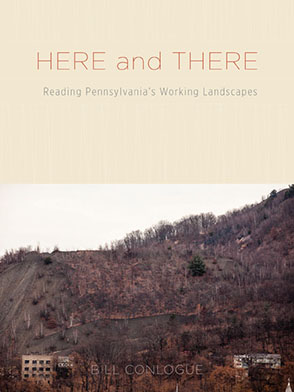 Here and There
Reading Pennsylvania's Working Landscapes
Bill Conlogue
BUY
Here and There
Reading Pennsylvania's Working Landscapes
Bill Conlogue
"Bill Conlogue, in Here and There, offers a nuanced, multilayered act of attention to the realities of land use and land thought in northeastern Pennsylvania. His intertwining of history, literature, and lived experience in a very particular place joins a new chorus of counterstatements to the twenty-first-century mantra of global sameness. A skillful scholar and writer and a native of the region, Conlogue has created a model work of 'narrative scholarship' and 'practical reading.'"
Description

Reviews

Bio

Table of Contents

Sample Chapters

Subjects
The global economy threatens the uniqueness of places, people, and experiences. In Here and There, Bill Conlogue tests the assumption that literature and local places matter less and less in a world that economists describe as "flat," politicians believe has "globalized," and social scientists imagine as a "global village." Each chapter begins at home, journeys elsewhere, and returns to the author's native and chosen region, northeastern Pennsylvania. Through the prisms of literature and history, the book explores tensions and conflicts within the region created by national and global demand for its resources: fertile farmland, forest products, anthracite coal, and college-educated young people. Making connections between local and global environmental issues, Here and There uses the Pennsylvania watersheds of urban Lackawanna and rural Lackawaxen to highlight the importance of understanding and protecting the places we call home.
"Bill Conlogue, in Here and There, offers a nuanced, multilayered act of attention to the realities of land use and land thought in northeastern Pennsylvania. His intertwining of history, literature, and lived experience in a very particular place joins a new chorus of counterstatements to the twenty-first-century mantra of global sameness. A skillful scholar and writer and a native of the region, Conlogue has created a model work of 'narrative scholarship' and 'practical reading.'"
"The argument of Here and There is that even everyday environments, like that of Scranton—a working and peopled landscape that is not wilderness, not the sublime, not the stuff of postcards and Sierra Club calendars—these places too, with landscapes that have become what Frost called 'diminished things,' deserve attention and care. Conlogue demonstrates that we come to know and care about a place in part by knowing its history and seeing how that history pertains to the present; in part by our personal affiliations with a place; and in part through an acquaintance with literary texts that highlight the crucial connections between people and their places."
"Here and There contributes to an emerging body of ecocritical narrative scholarship by offering a distinct regional perspective from an often neglected landscape, one that is defined as much by agriculture as it is by industry. Bill Conlogue provides an innovative confluence of natural, family, and regional history, successfully mapping the reflexivity of the three. Moreover, he mindfully studies the intellectual and pedagogical impulses

—

formal and informal

—

that are inspired by these entities, and in so doing spurs the reader to consider how and why we learn about our processes of inhabitation."
"An intriguing blend of history, memoir, and literary analysis—an insider's perspective rubbing up against an outsider's critical eye. Here and There is full of unexpected juxtapositions that offer original, creative views of the Pennsylvania anthracite region in decline."
"Conlogue uses the voices of poets to call attention to the stories not celebrated in the region [of northeastern Pennsylvania] to underscore the importance of understanding the place we call home. He calls attention to the darker remains of industry; rather than focusing on the heroic story of 'building a new nation,' he wonders how residents could ignore culm banks, mine fires and subsidence to remain unaffected by the physical past."
"One can only wish that everyone loved the homes they were born into as much as Conlogue loves his; he renders Scranton and rural Wayne County with such enthusiasm and undying interest as to make the anthracite region appear rich with meaning and beauty."
Bill Conlogue is Professor of English at Marywood University.
Contents
List of Figures and Maps
Preface: Homework
Acknowledgments
Introduction: Orientation
1 Working Watersheds
2 Merwin and Mining
3 Fixing Fence
4 Barn Razing
5 Other Places
6 Rendering the Mounds of Home
Coda: Watersheds in Play
Notes
Bibliography
Index
Mailing List
Subscribe to our mailing list and be notified about new titles, journals and catalogs.