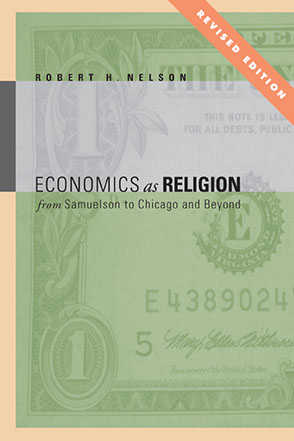 Economics as Religion
From Samuelson to Chicago and Beyond
Robert H. Nelson
BUY
Economics as Religion
From Samuelson to Chicago and Beyond
Robert H. Nelson
"The best recent study of the subject."
Description

Reviews

Bio

Table of Contents

Subjects
Robert Nelson's
Reaching for Heaven on Earth
,
Economics as Religion
, and
The New Holy Wars: Economic Religion Versus Environmental Religion in Contemporary America
read almost like a trilogy, exploring and charting the boundaries of theology and economics from the Western foundations of ancient Greece through the traditions that Nelson identifies as "Protestant" and "Roman," and on into modern economic forms such as Marxism and capitalism, as well as environmentalism. Nelson argues that economics can be a genuine form of religion and that it should inform our understanding of the religious developments of our times. This edition of
Economics as Religion
situates the influence of his work in the scholarly economic and theological conversations of today and reflects on the state of the economics profession and the potential implications for theology, economics, and other social sciences.
"The best recent study of the subject."
"Robert Nelson's Economics as Religion offers a unique set of insights into the social role of the economics profession. . . . The book should be assigned reading for undergraduates in intermediate microeconomics and first-year graduate students in economics."
"Robert Nelson has written what may be the most important recent book on the future of the economics profession."
"An economic theorist himself, Nelson elegantly exposes his firm understanding of the history of economic theory. . . . He is in fact perfectly at ease venturing into theological and religious history, persuasively establishing parallels between the economic and religious realms."
Robert H. Nelson is Professor in the School of Public Policy at the University of Maryland.
Contents
Foreword by Max Stackhouse
Preface
Introduction: The Market Paradox
Part 1 The Laws of Economics as the New Word of God
1 Tenets of Economic Faith
2 A Secular Great Awakening
Part 2 Theological Messages of Samuelson's Economics
3 The Market Mechanism as a Religious Statement
4 Apostle of Scientific Management
Part 3 The Gods of Chicago
5 Frank Knight and Original Sin
6 Knight Versus Friedman Versus Stigler
7 Chicago Versus the Ten Commandments
Part 4 Religion and the New Institutional Economics
8 A New Economic World
9 Efficient Religion
Part 5 Economics as Religion
10 God Bless the Market
11 A Crisis of Progress
Epilogue
Conclusion
Notes
Index