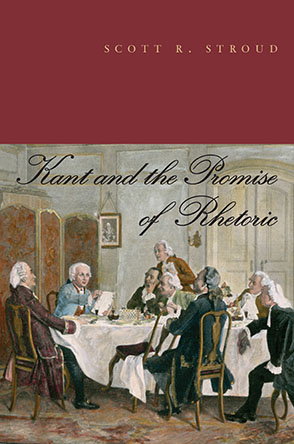 Kant and the Promise of Rhetoric
Scott R. Stroud
BUY
Kant and the Promise of Rhetoric
Scott R. Stroud
"A much-needed and important contribution to the field of Kantian studies. It expands the field of 'impure ethics' in new directions and will trigger renewed interest in this neglected dimension of 'moral anthropology.'"
Description

Reviews

Bio

Table of Contents

Sample Chapters

Subjects
Immanuel Kant is rarely connected to rhetoric by those who study philosophy or the rhetorical tradition. If anything, Kant is said to see rhetoric as mere manipulation and as not worthy of attention. In
Kant and the Promise of Rhetoric
, Scott Stroud presents a first-of-its-kind reappraisal of Kant and the role he gives rhetorical practices in his philosophy. By examining the range of terms that Kant employs to discuss various forms of communication, Stroud argues that the general thesis that Kant disparaged rhetoric is untenable. Instead, he offers a more nuanced view of Kant on rhetoric and its relation to moral cultivation.
For Kant, certain rhetorical practices in education, religious settings, and public argument become vital tools to move humans toward moral improvement without infringing on their individual autonomy. Through the use of rhetorical means such as examples, religious narratives, symbols, group prayer, and fallibilistic public argument, individuals can persuade other agents to move toward more cultivated states of inner and outer autonomy. For the Kant recovered in this book, rhetoric becomes another part of human activity that can be animated by the value of humanity, and it can serve as a powerful tool to convince agents to embark on the arduous task of moral self-cultivation.
"A much-needed and important contribution to the field of Kantian studies. It expands the field of 'impure ethics' in new directions and will trigger renewed interest in this neglected dimension of 'moral anthropology.'"
"It is a rare and significant accomplishment to discuss Kant's philosophy in a way that gives voice to the inherent energy and abiding relevance of his thinking, and Stroud's book realizes this goal in an exemplary way. Indeed, his reconstruction of Kantian rhetoric offers an image of communication that we would do well to promote in today's world—a form of communication that stresses the necessity of respect for others without rejecting the possibility and meaning of critical discourse and rational debate."
"For those engaged in the old debate between so-called philosophy and so-called rhetoric, this text is invaluable for de-villaining a long-time straw man, but anyone interested in the issues of universalism and pragmatism will find a useful model in Stroud's work."
"Stroud's work occupies a unique place; no student of rhetoric has delved so deeply into Kant's corpus or advanced so sympathetic an interpretation of 'Kantian rhetoric.'"
"Scott Stroud's Kant and the Promise of Rhetoric is a new classic in the history of rhetoric. . . . [W]e need authors like Stroud at the core of the field, questioning the norms of criticism and practice, carefully arguing from historical texts, and challenging us to a higher moral project of criticism and practice."
"A thoughtful and important contribution. This scholarly work is worth purchasing, reading, citing, and using in the classroom."
"Kant's work has rarely been an object of analysis or concern for rhetorical scholars or for the field of communication studies. We have, perhaps unfortunately, assumed that the story of Kant's dismissal of rhetoric was accurate. This book certainly demolishes that naïve interpretation of Kant."
"Stroud's study is an extremely valuable approach to a far-reaching topic."
"Scott Stroud brings unparalleled knowledge of communication theory to the study of Kant's moral philosophy. His book thus makes a unique contribution to recent work on Kant's conception of morality in real life, enriching our understanding of the moral education of children and the moral support that adults can give one another."
"Against the long-standing interpretation of Kant as dismissive of rhetoric, Scott Stroud offers a close reading of Kantian texts on aesthetics, religion, and education. He discloses a thinker deeply concerned with the value and use of communicative action capable of engaging moral differences. In this extension of his earlier Deweyan reflections on the nature of rhetorical experience, Stroud engages Kant's educative discourse of aesthetics, religion, and morality with an intriguing and important rhetorical sensitivity. Kant and the Promise of Rhetoric thus offers us a Kant relevant to formulating a notion of communication that embraces certain types of rhetoric and is important for the formation of an ideal human community."
"Scott Stroud's groundbreaking study accomplishes a dual feat: it makes Kant genuinely useful to the rhetorical arts, where he has long been regarded as an outcast, and it demonstrates the much-neglected relevance of rhetoric to Kant's philosophical project. This book is essential reading not only for Kant scholars, but for all who seek to use words not merely to persuade but to educate."
"Kant's dismissal of rhetoric and the resulting dismissal of Kant by scholars of rhetoric is a legacy that has influenced American scholars for decades. Finally, Scott Stroud breaks the deadlock with an imaginative and well-argued engagement with Kant that deploys a nuanced understanding of rhetoric—and of Kant. Regardless of whether readers agree with Stroud, he provides a reading of Kant and rhetoric that any scholar deeply interested in the relationship of rhetoric and philosophy must engage."
"Ever since he called rhetoric an art for 'deceiving by beautiful show,' Kant has been one of rhetoricians' favorite punching bags, second only to Plato. Scott Stroud's ambitious book calls off the fight. Representing less a counterpunch than an embrace, Kant and the Promise of Rhetoric shows how Kant and rhetoricians are actually fighting for the same cause—namely, for the creation of an ethical, cosmopolitan democratic community that seeks to enlighten rather than degrade, unify rather than divide, and reason rather than react. Perfectionist in tendency, this book represents a challenge to all utilitarian conceptions of rhetoric that treat an audience as a mere means to an end, establishing in their place a Kantian moral standard that treats the other as the self. Here, finally, is a Kant who speaks our language."
"An important, ground-breaking study on Kant's apparently confusing take on rhetoric."
Scott R. Stroud is Associate Professor of Communication Studies at the University of Texas at Austin. He is also the author of John Dewey and the Artful Life: Pragmatism, Aesthetics, and Morality (Penn State, 2011).
Acknowledgments
Abbreviations
Introduction: Kant and Rhetoric?
1. Tracing the Sources of Kant's Apparent Animosity to Rhetoric
2. Kant on Beauty, Art, and Rhetoric
3. Freedom, Coercion, and the Search for the Ideal Community
4. Pedagogical Educative Rhetoric: Education, Rhetoric, and the Use of Example
5. Religious Educative Rhetoric: Religion and Ritual as Rhetorical Means of Moral Cultivation
6. Critical Educative Rhetoric: Kant and the Demands of Critical Communication
Conclusion: Rhetorical Experience and the Promise of Rhetorical Practice
Notes
Bibliography
Index
Mailing List
Subscribe to our mailing list and be notified about new titles, journals and catalogs.