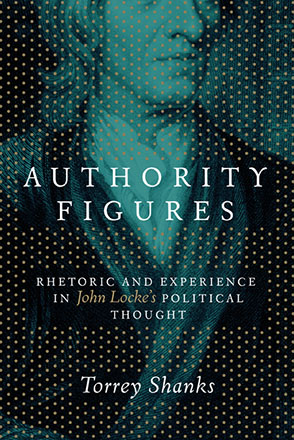 Authority Figures
Rhetoric and Experience in John Locke's Political Thought
Torrey Shanks
BUY
Authority Figures
Rhetoric and Experience in John Locke's Political Thought
Torrey Shanks
"Many canonical authors in political theory have been read with fresh, even radical, insights in the past decade, but Locke seems to be particularly resistant to such rereadings. In Authority Figures, Torrey Shanks has managed to pull this off. She does so by reading Locke as an 'Epicurean materialist'—that is, as someone with an appreciation for the unexpected, the unpredictable, and the unforeseen. Shanks demonstrates that Locke practices a set of rhetorical strategies that reflect and enact this Epicurean materialism in his texts. Once you start to read Locke in this way, everything changes, becoming deeply contingent. The rigid and unyielding Locke whom we all grew up reading becomes an altogether different figure—a difference with important consequences for how we read Locke politically."
Description

Reviews

Bio

Table of Contents

Sample Chapters

Subjects
In
Authority Figures
, Torrey Shanks uncovers the essential but largely unappreciated place of rhetoric in John Locke's political and philosophical thought. Locke's well-known hostility to rhetoric has obscured an important debt to figural and inventive language. Here, Shanks traces the close ties between rhetoric and experience as they form the basis for a theory and practice of judgment at the center of Locke's work. Rhetoric and experience come together, for Locke, to reorient readers' relation to the past in order to open up alternative political futures. Recognizing this debt sets the stage for a new understanding of the
Two Treatises of Government
, in which the material and creative force of language is necessary for political critique.
Authority Figures draws together political theory and philosophy, the history of science and of rhetoric, and philosophy of language and literary theory to offer an interpretation of Locke's political thought that shows the ongoing importance of rhetoric for new modes of critique in the seventeenth century. Locke's thought offers up insights for rethinking the relationship of rhetoric and experience to political critique, as well as the intersections of language and materialism.
"Many canonical authors in political theory have been read with fresh, even radical, insights in the past decade, but Locke seems to be particularly resistant to such rereadings. In Authority Figures, Torrey Shanks has managed to pull this off. She does so by reading Locke as an 'Epicurean materialist'—that is, as someone with an appreciation for the unexpected, the unpredictable, and the unforeseen. Shanks demonstrates that Locke practices a set of rhetorical strategies that reflect and enact this Epicurean materialism in his texts. Once you start to read Locke in this way, everything changes, becoming deeply contingent. The rigid and unyielding Locke whom we all grew up reading becomes an altogether different figure—a difference with important consequences for how we read Locke politically."
"Authority Figures offers an original and provocative account of Locke by focusing on his use of metaphors and rhetorical figures. Torrey Shanks addresses several central themes in political and social theory—the place of rhetoric in political thought, the importance of creativity in critique, the role of rationality in judgment and consent, and the use of authority in maintaining as well as critiquing order—as she traces the revolutionary implications of Locke's use of language. This is a book that should be of interest to a wide range of social and political theorists."
"Authority Figures is a real achievement of interdisciplinary scholarship, revealing how rhetoric and early modern Epicurean materialism informed Locke's conceptions of authority, contract, and reason. In Torrey Shanks's elegant and nuanced account, Locke's use of figural and imaginative language becomes exemplary in the most instructive sense of the word, illustrating the inventive dynamics and sensibilities of politics. This genuinely new interpretation of Locke persuasively makes the case for attending to rhetoric, imagination, and affect in his political and philosophical thought."
"Shanks has offered an intriguing, inventive, and provocative re-reading of Locke and his modes of persuasion and political engagement. She has illustrated some of the power of refigurative rhetoric in the work of critique."
Torrey Shanks is Assistant Professor of Political Science at the University at Albany, State University of New York.
Preface
Acknowledgements
Chapter 1: Rhetoric and Situated Political Critique
Chapter 2: The Claim to Experience
Chapter 3: Sensible Judgment
Chapter 4: Feminine Figures and the Rhetoric of Critique
Chapter 5: The Matter of Consent
Conclusion: Critical Temporalities
Bibliography
Mailing List
Subscribe to our mailing list and be notified about new titles, journals and catalogs.