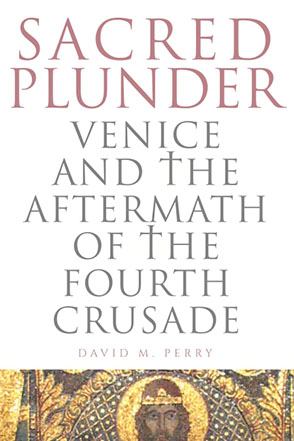 Sacred Plunder
Venice and the Aftermath of the Fourth Crusade
David M. Perry
BUY
Sacred Plunder
Venice and the Aftermath of the Fourth Crusade
David M. Perry
"This insightful work is the first to explore the effects that waves of displaced relics from Constantinople had on Venice and, more broadly, Latin Christianity. Peeling back layers of narrative in the translation accounts, David Perry reveals evolving attitudes and anxieties about crusading, sanctity, and power. His expertise with these scattered sources illuminates his analysis, and his evocative prose makes it a real pleasure to read."
Description

Reviews

Bio

Table of Contents

Sample Chapters

Subjects
In
Sacred Plunder
, David Perry argues that plundered relics, and narratives about them, played a central role in shaping the memorial legacy of the Fourth Crusade and the development of Venice's civic identity in the thirteenth century. After the Fourth Crusade ended in 1204, the disputes over the memory and meaning of the conquest began. Many crusaders faced accusations of impiety, sacrilege, violence, and theft. In their own defense, they produced hagiographical narratives about the movement of relics
—
a medieval genre called
translatio
—
that restated their own versions of events and shaped the memory of the crusade. The recipients of relics commissioned these unique texts in order to exempt both the objects and the people involved with their theft from broader scrutiny or criticism. Perry further demonstrates how these narratives became a focal point for cultural transformation and an argument for the creation of the new Venetian empire as the city moved from an era of mercantile expansion to one of imperial conquest in the thirteenth century.
"This insightful work is the first to explore the effects that waves of displaced relics from Constantinople had on Venice and, more broadly, Latin Christianity. Peeling back layers of narrative in the translation accounts, David Perry reveals evolving attitudes and anxieties about crusading, sanctity, and power. His expertise with these scattered sources illuminates his analysis, and his evocative prose makes it a real pleasure to read."
"David Perry has made an important contribution to medieval crusade and relic-cult scholarship with this carefully researched and convincingly argued book."
"[Sacred Plunder] is a perceptive addition to the debate over the outcome of the Fourth Crusade."
"Lucidly and insightfully argued throughout. . . . [Sacred Plunder] makes a significant contribution to our understanding of attitudes towards the Fourth Crusade, of medieval hagiographical texts and of the evolution of Venetian identity."
"Perry's work represents a significant contribution to our understanding of the contested legacy and memory of the Fourth Crusade in the medieval West. His focus on the notion of narrative is quite brilliant; he shows that the medieval world understood something only recently explored by modern psychology: the power of narrative creativity to persuade where other means would undoubtedly fail."
"Meticulously researched, well written, and carefully argued."
"Sacred Plunder approaches a contested history and offers us yet another window into how medieval people wrote about complexity in their own worlds. Perry helps us think through these narratives in new and probing ways."
David M. Perry is Associate Professor of History at Dominican University. He is a frequent contributor to CNN.com, the Chronicle of Higher Education, the Atlantic, and Al Jazeera America.
Contents
List of Illustrations
Acknowledgments
Introduction
Part I: Contexts
1. Constantinople's Relics, 1204–1261
2. Pope Innocent III and Sacrilege, 1204–1215
Part II: Texts
3. The Translatio Narratives of the Fourth Crusade
4. Interpretations
Part III: Outcomes
5. Translatio and Venice Before and After 1204
6. Translatio and the Myth of Venice
Epilogue
Notes
Bibliography
Index
Mailing List
Subscribe to our mailing list and be notified about new titles, journals and catalogs.