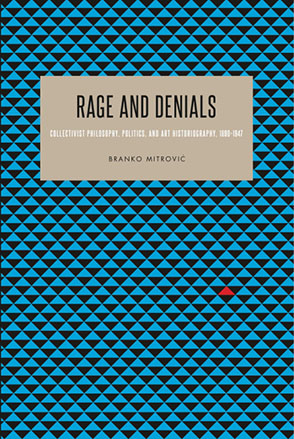 Rage and Denials
Collectivist Philosophy, Politics, and Art Historiography, 1890–1947
Branko Mitrović
Buy
Rage and Denials
Collectivist Philosophy, Politics, and Art Historiography, 1890–1947
Branko Mitrović
"Rage and Denials makes a highly innovative contribution to the debate over holism versus individualism. Focusing on German historiography from 1890 to 1947, it documents the outrageous and bizarre claims made in the name of collectivism by highly respected—and respectable—scholars of the period. By examining the logic and pathology of historical explanation, it has deep implications for the practice of history and the social sciences today. It should be on every intelligent academic's reading list."
Description

Reviews

Bio

Table of Contents

Subjects
In Rage and Denials, philosopher and architectural historian Branko Mitrović examines in detail the historiography of art and architecture in the twentieth century, with a focus on the debate between the understanding of society as a set of individuals and the understanding of individuals as mere manifestations of the collectives to which they belong. The conflict between these two views constitutes a core methodological problem of the philosophy of history and was intensely debated by twentieth-century art historians—one of the few art-historical debates with a wide range of implications for the entire field of the humanities. Mitrović presents the most significant positions and arguments in this dispute as they were articulated in the art- and architectural-historical discourse as well as in the wider context of the historiography and philosophy of history of the era. He explores the philosophical content of scholarship engaged in these debates, examining the authors' positions, the intricacies and implications of their arguments, and the rise and dominance of collectivist art historiography after the 1890s. He centers his study on the key art-historical figures Erwin Panofsky, Ernst Gombrich, and Hans Sedlmayr while drawing attention to the writings of the less well known Vasiliy Pavlovich Zubov. Rage and Denials offers a valuable window onto how key aspects of modern research in the humanities took shape over the course of the twentieth century.
"Rage and Denials makes a highly innovative contribution to the debate over holism versus individualism. Focusing on German historiography from 1890 to 1947, it documents the outrageous and bizarre claims made in the name of collectivism by highly respected—and respectable—scholars of the period. By examining the logic and pathology of historical explanation, it has deep implications for the practice of history and the social sciences today. It should be on every intelligent academic's reading list."
"Rage and Denials combines an exhaustive historical survey with philosophical acumen to provide an impassioned statement about the ethics of historiography."
Branko Mitrović is Professor at the Norwegian University of Science and Technology. He is the author of Philosophy for Architects (2011).
Contents
Preface
Acknowledgments
Introduction: Arguments
1 Romantic Afflictions
2 Geist Versus Vernunft
3 Art and Venom
4 Liberal Humanist Rejoinder
5 Renarrativizations
6 Reverberations
Conclusion: Hubris and Method
Appendix: The Individualism-Collectivism Debate in Historical Materialism and Sociology
Notes
Bibliography
Index