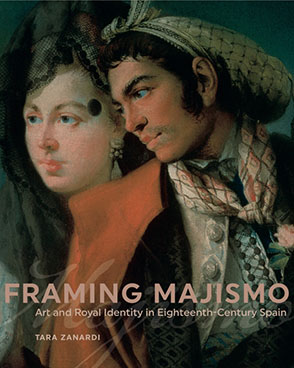 Framing Majismo
Art and Royal Identity in Eighteenth-Century Spain
Tara Zanardi
BUY
Framing Majismo
Art and Royal Identity in Eighteenth-Century Spain
Tara Zanardi
"Zanardi convincingly shows that majismo's ability to reflect the past as well as implicate the modern, and the way that it highlights the demonstrated importance of fashion and appearances in constructing national character, is of continued relevance today."
Description

Reviews

Bio

Table of Contents

Sample Chapters

Subjects
Majismo,
a cultural phenomenon that embodied the popular aesthetic in Spain from the second half of the eighteenth century, served as a vehicle to "regain" Spanish heritage. As expressed in visual representations of popular types participating in traditional customs and wearing garments viewed as historically Spanish, majismo
conferred on Spanish "citizens" the pictorial ideal of a shared national character.
In Framing Majismo, Tara Zanardi explores nobles' fascination with and appropriation of the practices and types associated with majismo, as well as how this connection cultivated the formation of an elite Spanish identity in the late 1700s and aided the Bourbons' objective to fashion themselves as the legitimate rulers of Spain. In particular, the book considers artistic and literary representations of the majo and the maja, purportedly native types who embodied and performed uniquely Spanish characteristics. Such visual examples of majismo emerge as critical and contentious sites for navigating eighteenth-century conceptions of gender, national character, and noble identity. Zanardi also examines how these bodies were contrasted with those regarded as "foreign," finding that "foreign" and "national" bodies were frequently described and depicted in similar ways. She isolates and uncovers the nuances of bodily representation, ultimately showing how the body and the emergent nation were mutually constructed at a critical historical moment for both.
"Zanardi convincingly shows that majismo's ability to reflect the past as well as implicate the modern, and the way that it highlights the demonstrated importance of fashion and appearances in constructing national character, is of continued relevance today."
"Zanardi's study of majismo, a cultural phenomenon of later eighteenth-century Spain, is a welcome contribution to the literature in English. . . . The author reads the Spanish elite's embracing of majo culture through social performance and artistic patronage as a means of recuperating Spanish heritage and claiming native authenticity. Zanardi is rigorous in analyzing the ways in which visual art participated in and complicated this construction of national character. Through probing examination and theorizing of the clothing, class, body, and gender depicted in paintings, prints, and sculptures by Spanish and non-Spanish artists, the author challenges the unsteady binaries in majo representation—native and foreign, royalty and commoner, masculine and feminine, traditional and modern. Recommended."
"Through a thorough and cogent analysis of multiple images of majas and majos by canonical artists from Goya to Picasso, in fashion catalogs, costumbrista illustrations, and tapestry cartoons, Tara Zanardi traces the cultural phenomenon of majismo among eighteenth-century Spanish elites, which came to be associated with 'true' Spanish identity into the twentieth century. Despite attempts to connect to Spanish tradition, majismo ultimately projected ambiguous national, gender, and class identities that can still be seen in Spain today."
"What does it mean to be Spanish? And how did Spain come to differentiate itself from the rest of the world? These are questions that Tara Zanardi addresses in this insightful, perceptive study of majismo, the eighteenth-century movement to define uniquely Spanish cultural prototypes drawn from the urban lower classes of Madrid. Majismo codified costumes, behaviors, and practices now considered quintessentially Spanish, among them bullfighting and the wearing of the mantilla. Zanardi reveals the maja and majo to be ambiguous cultural figures, since in them were combined tradition and modernity, earthiness and elegance, chivalry and sass. Through detailed analysis of eighteenth- and early nineteenth-century imagery, including prints and paintings by Francisco Goya, Zanardi's important book delves into the foundational myths of Spanishness itself."
"Tara Zanardi's Framing Majismo addresses ambitious questions about the role played by art in the formation of Spanish identity for the Bourbon monarchy during the Enlightenment and in the aftermath of the French Revolution. It is a work of admirable erudition and complexity, bringing together a broad range of sources—primary and secondary, historical and theoretical. A model of interdisciplinary research, Zanardi's book has implications for eighteenth-century studies more generally—for people interested in monarchy, questions of identity, gender studies—and will generate a great deal of additional discussion and research, always the sign of a truly important publication. It stands as a defining study for art history of the period."
Tara Zanardi is Assistant Professor of Art History at Hunter College.
Contents
List of Illustrations
Acknowledgments
Introduction
1 Majismo, the Spanish National Character, and the Elite Cultivation of Cultural Patrimony
2 Swaggering Majos: Performing the Masculine Ideal
3 Performing the Bullfight: Spanish Bodies as Noble Spectacle
4 Majas, Elites, and Female Agency
5 Majismo and Elite Identity
Conclusion
Notes
Bibliography
Index
Mailing List
Subscribe to our mailing list and be notified about new titles, journals and catalogs.