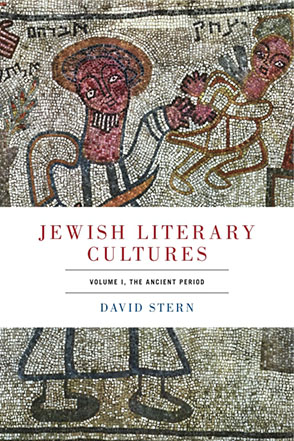 Jewish Literary Cultures
Volume 1, The Ancient Period
David Stern
BUY
Jewish Literary Cultures
Volume 1, The Ancient Period
David Stern
"This engaging and insightful collection illustrates the value of viewing together what originally were disparately published writings. The book will be of great interest to scholars of the rabbinic literature and of hermeneutics and literary theory more generally. Highly recommended."
Description

Reviews

Bio

Table of Contents

Sample Chapters

Subjects
This first installment in the three-volume Jewish Literary Cultures is a collection of essays and studies of diverse texts and topics in ancient Jewish literature, ranging from fables in the Bible and ancient Jewish interpretations of the Song of Songs to the use of erotic narrative in rabbinic literature, the canonization of classical Jewish literature, comparative exegesis, and the early history of Jewish reading practices. David Stern uses contemporary critical approaches and textual analysis to explore larger ideas and themes in rabbinic Judaism—and opens new windows onto questions of cultural exchange and influence, the relationship of textuality and materiality, the history of Jewish literature, and the nature of Jewish literary creativity. The essays, written with literary flair, are intended to be accessible to informed lay readers as well as scholars and specialists in ancient Judaism.
"This engaging and insightful collection illustrates the value of viewing together what originally were disparately published writings. The book will be of great interest to scholars of the rabbinic literature and of hermeneutics and literary theory more generally. Highly recommended."
"How fitting for David Stern's articles and essays to be anthologized so beautifully, considering his own contribution to our appreciation of the role of anthology in the shaping of early rabbinic midrash as commentary. Stern has a magical textual touch, which he employs to deepen our understanding of both the literary and the material dimensions of rabbinic and, more broadly, Jewish culture in constant conversation with variegated theoretical and practical perspectives. This harvest of over three decades of his scholarship demonstrates his unequaled range, variety, and depth as a most illuminating and challenging reader of rabbinic literary culture in its many manifestations."
David Stern is the Harry Starr Professor of Classical and Modern Hebrew and Jewish Literature at Harvard University and coeditor of The Monk's Haggadah (Penn State, 2015).
Contents
Acknowledgments
Introduction
1 Vayikra Rabbah and My Life in Midrash
2 The Beautiful Captive: The Rabbinic Imagination, the Greco-Roman Novel, and the Dangerous Gentile Female
3 Ancient Jewish Interpretation of the Song of Songs in a Comparative Context
4 On Comparative Biblical Exegesis—Interpretation, Influence, Appropriation
5 Anthology and Polysemy in Classical Midrash
6 The Fables of the Jews: From the Hebrew Bible Through Rabbinic Literature
7 On Canonization in Rabbinic Literature
8 The First Jewish Books and the Early History of Jewish Reading
Notes
Credits
Mailing List
Subscribe to our mailing list and be notified about new titles, journals and catalogs.