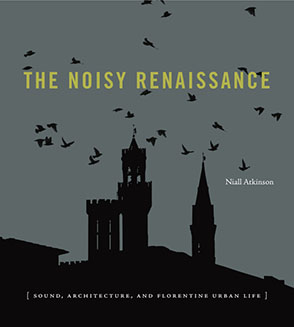 The Noisy Renaissance
Sound, Architecture, and Florentine Urban Life
Niall Atkinson
BUY
The Noisy Renaissance
Sound, Architecture, and Florentine Urban Life
Niall Atkinson
"Finely written, closely argued, and well documented by textual and visual sources, full of fresh ideas, wonderful formulations, and turns of phrase. It truly deserves the descriptive 'lavishly illustrated,' with high-quality grayscale and color images of cityscapes and monuments, painting, prints, maps, diagrams, and digital enhancements."
Media

Description

Reviews

Bio

Table of Contents

Sample Chapters

Subjects
Finalist, 2017 Charles Rufus Morey Book Award, College Art Association
From the strictly regimented church bells to the freewheeling chatter of civic life, Renaissance Florence was a city built not just of stone but of sound as well. An evocative alternative to the dominant visual understanding of urban spaces,
The Noisy Renaissance
examines the premodern city as an acoustic phenomenon in which citizens used sound to navigate space and society.
Analyzing a range of documentary and literary evidence, art and architectural historian Niall Atkinson creates an "acoustic topography" of Florence. The dissemination of official messages, the rhythm of prayer, and the murmur of rumor and gossip combined to form a soundscape that became a foundation in the creation and maintenance of the urban community just as much as the city's physical buildings. Sound in this space triggered a wide variety of social behaviors and spatial relations: hierarchical, personal, communal, political, domestic, sexual, spiritual, and religious.
By exploring these rarely studied soundscapes, Atkinson shows Florence to be both an exceptional and an exemplary case study of urban conditions in the early modern period.
"Finely written, closely argued, and well documented by textual and visual sources, full of fresh ideas, wonderful formulations, and turns of phrase. It truly deserves the descriptive 'lavishly illustrated,' with high-quality grayscale and color images of cityscapes and monuments, painting, prints, maps, diagrams, and digital enhancements."
"Atkinson's study expands our understanding of what it was like to be alive in Renaissance Florence; with each such enrichment we can feel more confident about our perception of the roles that art, architecture, urban planning, and material culture played in the lives of citizens. . . . While the emphasis on material culture encouraged me to study objects that lie beyond the elitist limitations of 'great art,' Atkinson's work goes beyond the material realm, bringing into our consciousness the noises that flowed through the windows of artisans' workshops."
"This is a provocative book in the best sense of the word. It provokes readers to rethink Renaissance urban culture and the role architecture has to play in creating urban experiences. Most importantly, by combining insights and methods from architectural history, cultural history and sound studies The Noisy Renaissance eloquently cuts through traditional disciplinary boundaries and thus vigorously defies what Aby M. Warburg once scolded as the 'restrictions of border police' in the humanities."
"

In this compelling study of the lost soundscape of early Florence—a dynamic field of aural signals and celebrations rung from its many church and civic bells—Niall Atkinson combines wide-ranging research, deft analysis, and imaginative writing. Anything but noise on a highly original and important subject.

"
"

Basing his work on contemporary diaries and legislative records, Atkinson changes the way that we think about architecture as space, movement, and social structure by listening astutely to the language of the bells of Florence, as well as the telling messages of their silences. His 'acoustic topography' of Renaissance Florence—with comparable examples from other city-states—gives new meaning to the organizational structures of Renaissance cities and the powerful social and political control that regulated sound exerted on human populations.

"
"

Atkinson's bold reimagining brings us directly into the lives of Renaissance Florentines through their shouts and whispers, their ringing bells and riotous rebellions, their stories, prayers, and songs. This innovative use of sound to understand how Florentines constructed and occupied space gives acute insight into the messy and conflicted dynamics of a city usually approached through texts and images. This is a new and deeper Florence, infinitely richer for mapping the sensory lives and horizons of its people. Soundscapes were not just a consequence of daily life—they built and organized it, and at times even overturned it.

"
"

A brilliant exploration of the dialogue between buildings and bodies. Exploiting the power of new digital tools to visualize the Florentine soundscape, Atkinson shows how sound—from the acoustic regime of bell ringing to the cacophony of the street—brought the Renaissance city into being. In this original and imaginative book, the stones of Florence not only come alive but are made to speak.

"
"

Renaissance Florence is a place and time that has received massive attention from scholars, although none appear to have asked, What did the city sound like and how did noise shape the urban environment? In this highly original book, Niall Atkinson builds a compelling and beautifully written argument that puts sound firmly back into the urban sensorium and recovers not only the instances and ways in which the city and its life were marked by sound but also the social interactions that were crucially mediated through the soundscape.

"
"

Gracefully written and superbly designed, this landmark study of Florentine soundscapes reveals how listening and hearing influenced everything from life on the street to the ways that citizens understood and experienced the passing of time itself. Niall Atkinson does not simply move the history of Renaissance Florence onto new ground with

The Noisy Renaissance

—he reorients our thinking about how lives were lived in all late medieval and early modern European cities.

"
"Written throughout in elegant and effective prose, Atkinson's monograph is the work of a truly original thinker and is certain to hold great interest for scholars of Renaissance urban history, architectural history, and the history of communication. Florence, which has been the focus of so many important studies, emerges afresh in these pages in all of its boisterous splendour."
"Provides the reader with a refreshingly democratizing study of Florentine sonic life. Seeking out forgotten, discordant and noisy sounds and sensory experiences, The Noisy Renaissance draws our attention to the complex interplay of sound, space and the body in the streets and squares of early modern Florence. In doing so, it heralds the emergence of 'noise' as a valuable new object of historical enquiry in Renaissance studies."
"Atkinson is a brilliant, compelling writer. Most of all, he offers a model for listening to lost historical worlds."
"Niall Atkinson' s The Noisy Renaissance: Sound, Architecture, and Florentine Urban Life is an inventive and insightful addition to the recent bibliography on early modern urbanism."
Niall Atkinson is Assistant Professor of Art History at the University of Chicago.
Contents
Table of Contents  
List of Illustrations  
Acknowledgments  
Introduction: Journey into the Noisy Renaissance  
Chapter 1: The Acoustic Art of City-Building  
Chapter 2: Florentine Soundscapes  
Chapter 3: Sound, Space, and Meaning in Renaissance Florence  
Chapter 4: Suoni, Voci, Rumori: Listening to the City  
Chapter 5: Sonic Discord, Urban Disorder  
Epilogue: Ephemerality, Durability, and Architectural History  
Notes  
Bibliography  
Index
Mailing List
Subscribe to our mailing list and be notified about new titles, journals and catalogs.