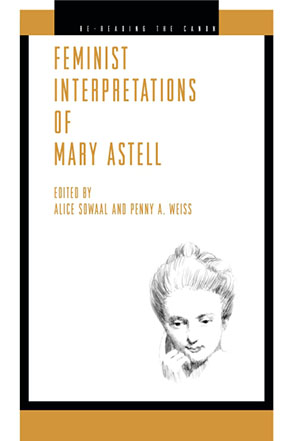 Feminist Interpretations of Mary Astell
Edited by Alice Sowaal and Penny A. Weiss
Buy
Feminist Interpretations of Mary Astell
Edited by Alice Sowaal and Penny A. Weiss
"A fascinating, timely, and scholarly rereading of the work of Mary Astell that moves her from a mere curiosity—a seventeenth-century woman with feminist leanings—to a full-fledged participant in many of the philosophical issues of her day and a contributor to our contemporary debates."
Description

Reviews

Bio

Table of Contents

Subjects
Often referred to as a proto-feminist, early modern English philosopher and rhetorician Mary Astell was a pious supporter of monarchy who wrote about gender equality at a time when society tightly constrained female agency. This diverse collection of essays situates her ideas in feminist, historical, and philosophical contexts.
Focusing on Astell's work and thought, this book explores the degree to which she can be considered a "feminist" in light of her adherence to Cartesianism, Christian theology, and Tory politics. The contributors explore the philosophical underpinnings of Astell's outspoken advocacy for the autonomy and education of women; examine the intricacies underlying her theories of power, community, and female resistance to unlawful authority; and reveal the similarities between her own philosophy of gender and sexual politics and feminist theorizing today.
A broad-ranging look at one of the most important female writers of the seventeenth and eighteenth centuries, this volume will be especially valuable to students and scholars of feminist history and philosophy and the early modern era.
Aside from the editors, the contributors are Kathleen A. Ahearn, Jacqueline Broad, Karen Detlefsen, Susan Paterson Glover, Marcy P. Lascano, Elisabeth Hedrick Moser, Christine Mason Sutherland, and Nancy Tuana.
"A fascinating, timely, and scholarly rereading of the work of Mary Astell that moves her from a mere curiosity—a seventeenth-century woman with feminist leanings—to a full-fledged participant in many of the philosophical issues of her day and a contributor to our contemporary debates."
"That we have come to a point where it is possible to offer a set of substantive essays concerning the works of a noncanonical early modern philosopher speaks to the hard work that feminist historians of philosophy have been engaged in for the past number of years. Indeed, it is a major strength of this volume that it takes seriously the work of an early modern woman both as a possible subject for feminist consideration and analysis, and also as a philosopher of note in her own right."
"[A] rich and original collective volume which contributes to further establish the stature of Mary Astell as a daring philosopher and theologian; it is still necessary to do so, a little over thirty years after the inaugural work of Ruth Perry, The Celebrated Mary Astell: An Early English Feminist."
"This volume is a welcome addition to the historical scholarship on Mary Astell, offering papers that explore the philosophical significance of this undeservedly overlooked thinker. What makes this collection especially engaging is its very topical exploration of Astell's feminism, finding in her a treatment of diverse but related issues including gendered power relations, self-esteem and women's empowerment, trauma and its effects, anti-essentialism, and systematized gender discrimination."
"Each of the nine contributors to this volume brings a clear focus and meticulous documentation to her argument, and perhaps most remarkable is the enthusiastic support of Astell as a serious and original philosopher yet tempered by a historically contextualized reading of her role as feminist."
Alice Sowaal is Associate Professor of Philosophy at San Francisco State University. She has written widely on Descartes and Mary Astell.
Penny A. Weiss is Professor of Political Science at Saint Louis University. Her most recent book is Cannon Fodder: Historical Women Political Figures, also published by Penn State University Press.
Contents
Preface
Nancy Tuana
Acknowledgments
1 Locations and Legacies: Reading Mary Astell and Re-Reading the Canon
Penny A. Weiss
2 Mary Astell and the Virtues
Jacqueline Broad
3 Mary Astell's Account of Feminine Self-Esteem
Kathleen A. Ahearn
4 Mary Astell and the Development of Vice: Pride, Courtship, and the Woman's Human Nature Question
Alice Sowaal
5 Custom, Freedom, and Equality: Mary Astell on Marriage and Women's Education
Karen Detlefsen
6 Further Reflections upon Marriage: Mary Astell and Sarah Chapone
Susan Paterson Glover
7 Mary Astell: Some Reflections upon Trauma
Elisabeth Hedrick Moser
8 "From the Throne to Every Private Family": Mary Astell as Analyst of Power
Penny A. Weiss
9 Mary Astell's Feminism: A Rhetorical Perspective
Christine Mason Sutherland
10 Mary Astell on the Existence and Nature of God
Marcy P. Lascano
11 The Emerging Picture of Mary Astell's Views
Alice Sowaal
References
Index
Also of Interest
Mailing List
Subscribe to our mailing list and be notified about new titles, journals and catalogs.