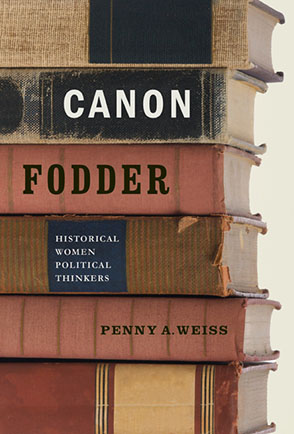 Canon Fodder
Historical Women Political Thinkers
Penny A. Weiss
BUY
Canon Fodder
Historical Women Political Thinkers
Penny A. Weiss
"Recognizing that women political theorists exist in gratifying abundance beginning as far back as 2300 B.C.E., Penny Weiss saves these women writers from their destiny as 'canon fodder.' With great zest, creativity, and imagination, Weiss reintroduces us to fascinating female thinkers who have contributed to key concepts in the history of political thought. In a lively writing style that often mimics the rhetoric of each thinker, Weiss engages both students and scholars in a discussion of the compelling—but often invisible—arguments that feminist thinkers have contributed to political theory debates."
Description

Reviews

Bio

Table of Contents

Sample Chapters

Subjects
This book is an exercise in the recovery of historical memory about a set of thinkers who have been forgotten or purposely ignored and, as a result, never made it into the canon of Western political philosophy. Penny Weiss calls them "canon fodder," recalling the fate of soldiers in war who are treated by their governments and military leaders as expendable. Despite some real progress at recovery over the past few decades, and the now-frequent references to a few female thinkers like Mary Wollstonecraft, Hannah Arendt, and Simone de Beauvoir, the surface has only been scratched, and the rich resources of women's writings about political ideas remain still largely untapped. Included here, and intended to further whet the palate, are figures from Sei Shōnagon, Christine de Pizan, and Mary Astell to Elizabeth Cady Stanton, Anna Julia Cooper, and Emma Goldman.
Restoring female thinkers to the conversation of political philosophy is the primary goal of this book. Part I deploys a range of these thinkers to discuss the nature of political inquiry itself. Part II focuses on alternative approaches to and visions of core political ideas: equality, power, revolution, childhood, and community. While mainly an intellectual act of revival, this book also affects practical political life, because "remote and academic as they sometimes appear, debates about what to include in the canon ultimately touch almost everyone: students handed texts from lists of 'great books' to guide them . . . and citizens whose governments justify their actions with ideas from political texts deemed classic."
"Recognizing that women political theorists exist in gratifying abundance beginning as far back as 2300 B.C.E., Penny Weiss saves these women writers from their destiny as 'canon fodder.' With great zest, creativity, and imagination, Weiss reintroduces us to fascinating female thinkers who have contributed to key concepts in the history of political thought. In a lively writing style that often mimics the rhetoric of each thinker, Weiss engages both students and scholars in a discussion of the compelling—but often invisible—arguments that feminist thinkers have contributed to political theory debates."
"It is a provocative work that will lead to broad-based discussions in political science, philosophy, and women's studies. The work's greatest contribution is its claims for the importance of women's political and feminist theory from the past, and what it has to teach us today."
"This book should have been written long ago, and Weiss superbly delivers her subject. This engaging work should be read and discussed widely by scholars and students of political science, philosophy, and women's studies."
Penny A. Weiss is Director of Women's Studies and Professor of Political Science at St. Louis University. She is also co-editor of Feminist Interpretations of Emma Goldman (Penn State, 2007).
Contents
Introduction: Search and Recover
Part 1: Rethinking Political Theory
1. The Politics of the Canon: Gatekeepers and Gate-Crashers
2. The Politics of Ignorance: Christine de Pizan
3. The Politics of Form: Sei Shōnagon
Part 2: Doing Political Theory
4. Community: Mary Wollstonecraft and Anna Julia Cooper
5. Revolution: Declaration of Sentiments at Seneca Falls
6. Childhood: Emma Goldman
7. Power: Mary Astell
8. Equality: Quilted Voices
References
Index
Mailing List
Subscribe to our mailing list and be notified about new titles, journals and catalogs.