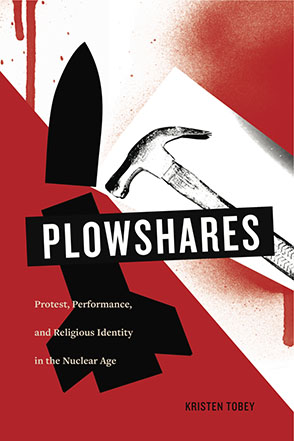 Plowshares
Protest, Performance, and Religious Identity in the Nuclear Age
Kristen Tobey
BUY
Plowshares
Protest, Performance, and Religious Identity in the Nuclear Age
Kristen Tobey
"This book is intense. Nuclear warheads, spilled blood, fiery trials, and bracing analysis fill the pages. Tobey shows how the Plowshares' legendary protest actions—from direct monkey-wrenching to courtroom presentations—were boundary-making and -marking performances that reveal a great deal about how religious identities are constituted in fraught political and legal settings. Plowshares brings fresh and provocative insights to a host of timely issues being debated across religious studies, performance studies, and critical legal studies, among other fields."
Description

Reviews

Bio

Table of Contents

Sample Chapters

Subjects
In September 1980, eight Catholic activists made their way into a Pennsylvania General Electric plant housing parts for nuclear missiles. Evading security guards, these activists pounded on missile nose cones with hammers and then covered the cones in their own blood. This act of nonviolent resistance was their answer to calls for prophetic witness in the Old Testament: "They shall beat their swords into plowshares, and their spears into pruning hooks. Nation shall not take up sword against nation; they shall never again know war."
Plowshares explores the closely interwoven religious and social significance of the group's use of performance to achieve its goals. It looks at the group's acts of civil disobedience, such as that undertaken at the GE plant in 1980, and the Plowshares' behavior at the legal trials that result from these protests. Interpreting the Bible as a mandate to enact God's kingdom through political resistance, the Plowshares work toward "symbolic disarmament," with the aim of eradicating nuclear weapons.
Plowshares activists continue to carry out such "divine obediences" against facilities where equipment used in the production or deployment of nuclear weapons is manufactured or stored. Whether one agrees or disagrees with their actions, this volume helps us better understand their motivations, logic, identity, and ultimate goal.
"This book is intense. Nuclear warheads, spilled blood, fiery trials, and bracing analysis fill the pages. Tobey shows how the Plowshares' legendary protest actions—from direct monkey-wrenching to courtroom presentations—were boundary-making and -marking performances that reveal a great deal about how religious identities are constituted in fraught political and legal settings. Plowshares brings fresh and provocative insights to a host of timely issues being debated across religious studies, performance studies, and critical legal studies, among other fields."
"Plowshares is successful in its efforts to make the motives and conduct of these activists comprehensible to readers. It also shows the value of the disciplinary toolset of religious studies for doing this type of case study. . . . Scholars of American religion, peace studies, and political activism will find this book beneficial to their work."
"For a topic like this, hearing both from the activists themselves and from those who study them is essential. I am hopeful that by teaching all or parts of this book to students, college instructors will close the impasse between activists and the academy. To this end, Plowshares has done a great service."
"Kristen Tobey is to be commended for this nuanced and comprehensive study which allows us to re-encounter the Plowshares at a time when their witness is more important than ever."
Kristen Tobey is currently Visiting Assistant Professor of Religious Studies at John Carroll University.
Table of Contents
Acknowledgements
Introduction
Chapter One: We in the Underground are Trying to Do Something Else: The Plowshares'
History and Development
Chapter Two: Something Deeper than Reason: The Logic and Tactics of Symbolic
Disarmament
Chapter Three: Our Only Real Credential of Discipleship: The Plowshares' Rhetoric of
Marginality
Chapter Four: Just to Speak the Truth: The Plowshares' Theory of the Trial
Chapter Five: Objection, Your Honor—She's Talking about God: Communicative
Techniques and Status Negotiation
Conclusion
Notes
Bibliography
Index
Also of Interest
Mailing List
Subscribe to our mailing list and be notified about new titles, journals and catalogs.