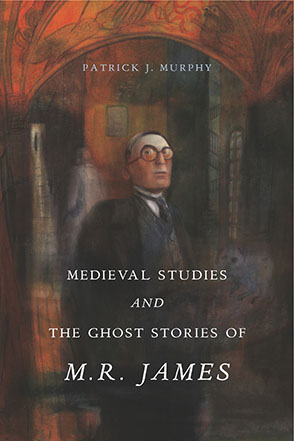 Medieval Studies and the Ghost Stories of M. R. James
Patrick J. Murphy
BUY
Medieval Studies and the Ghost Stories of M. R. James
Patrick J. Murphy
"Any Jamesian will be surprised at how much new light Murphy casts on these eerie tales of revenants and demons."
Offers

Description

Reviews

Bio

Table of Contents

Sample Chapters

Subjects
| | |
| --- | --- |
| | This volume collects four of M. R. James's most beloved stories of the supernatural. These tales show how James redefined the ghost story and exemplify his connection to academia, antiquities, and medievalism, occupations that inspired and informed his fiction. Perfect as an introduction to James's understated mode of horror, these spine-chilling ghost stories demonstrate his mastery of the form. |
Montague Rhodes James authored some of the most highly regarded ghost stories of all time—classics such as "Oh, Whistle, and I'll Come to You, My Lad" that have been adapted many times over for radio and television and have never gone out of print. But while James is best known as a fiction writer and storyteller, he was also a provost of King's College, Cambridge, and Eton College, and a legendary and influential scholar whose pioneering work in the study of biblical texts and medieval manuscripts, art, and architecture is still relevant today.
In Medieval Studies and the Ghost Stories of M. R. James, Patrick J. Murphy argues that these twin careers are inextricably linked. James's research not only informed his fiction but also reflected his anxieties about the nature of academic life and explored the delicate divide between professional, university men and erratic hobbyists or antiquaries. Murphy shows how detailed attention to the scholarly inspirations behind James's fiction provides considerable insight into a formative moment in medieval studies, as well as into James's methods as a master stylist of understated horror.
During his life, James often claimed that his stories were mere entertainments—pleasing distractions from a life largely defined by academic discipline and restraint—and readers over the years have been content to take him at his word. This intriguing volume, however, convincingly proves otherwise.
"Any Jamesian will be surprised at how much new light Murphy casts on these eerie tales of revenants and demons."
"Demonstrates a kind of scholarly curiosity that one hopes M. R. James himself would have approved."
"Murphy's interesting book shows that perhaps M.R. James' stories were more than just idle pieces of entertainment."
"For anyone interested in James, the scholar, this book is an essential read; it presents much that is new, is fascinating throughout, and offers perceptive analysis of James's unparalleled wisdom in the field."
"This book is a pleasure to read: beautifully written and presented. It is never less than thoroughly eloquent."
"In this thorough, eloquent, and convincing study, Patrick Murphy sheds important new light on one of the most renowned medievalists of the early twentieth century and on the means by which the Middle Ages continue to remake, and be remade by, popular culture."
"This book goes further than any other in making sense of M. R. James's dual identity as a medieval scholar and a ghost-story writer. In elucidating some of the hidden meanings in James's classic ghost stories, Patrick Murphy makes ingenious connections between antiquarian fiction and the emergence of medieval studies in the early twentieth century."
"The very best part of this book is the way in which both authors—Patrick Murphy and M. R. James—unravel puzzles that others have avoided or perhaps not even recognized as significant. Readers will admire the scholarship behind the solving of these puzzles and will also take great pleasure in following Murphy's line of reasoning, which reveals what the subtle scholar-storyteller James is after. Reading this book is like following the adventures of those on a quest, or the unraveling of clues in a really good mystery novel."
"There are some seminal studies that have shed light on the genesis and development of medieval studies: Ulrich Wyss's work on Jacob Grimm, Tom Shippey's on J. R. R. Tolkien, and Michelle Warren's on Joseph Bédier. Patrick Murphy's book completes these other studies by telling the story of M. R. James, a fascinating medievalist forefather working at the exact moment of transition from English antiquarianism and extra-academic medievalist enthusiasms to a medieval studies almost entirely exclusive of writers, artists, and musicians. Murphy's meticulously researched narrative provides ample proof that both enterprises, the creative and the scholarly reception of medieval culture, should not be viewed as mutually exclusive but richly symbiotic."
"Patrick Murphy's deeply researched and wittily written book puts James's work in the context of the development of medieval studies and, more broadly, an academic culture in transition and the great loss and unimaginable changes wrought by the Great War. By delineating the entanglement of various competing timelines—antiquarian, professional, and institutional, for example—in James's endeavors, Murphy compellingly illuminates a profound disquiet haunting this liminal figure and his famous ghostly tales."
"Until comparatively recently, the prevailing critical consensus on James's fiction could be characterised by Julia Briggs's insistence that, though masterfully entertaining and obviously the work of a learned scholar, his tales were superficial edifices with little to offer the serious literary critic. Perhaps paradoxically, in resolutely laying bare the sheer elusiveness of James's fictions—their absolute refusal to settle into one final 'meaning'—Murphy has fashioned a rich, allusive study, which demonstrates just how fertile a field for theoretical and historical enquiry these endlessly fascinating tales can be."
Patrick J. Murphy is Associate Professor of English at Miami University (Oxford, Ohio) and the author of Unriddling the Exeter Riddles, also published by Penn State University Press.
Contents
List of Illustrations
Acknowledgements
Introduction
Chapter 1: Terror and Error
Chapter 2: Recasting the Antiquary
Chapter 3: Ex Cathedra
Chapter 4: A Desideratum of Wings
Chapter 5: To the Curious
Afterword: Professions of Reticence
Notes
Selected Bibliography
Index
Mailing List
Subscribe to our mailing list and be notified about new titles, journals and catalogs.