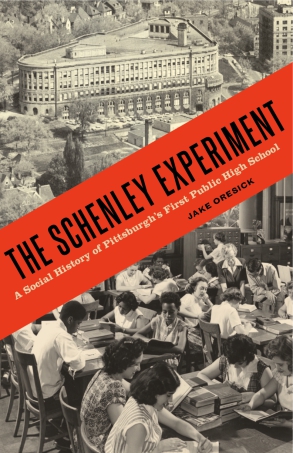 The Schenley Experiment
A Social History of Pittsburgh's First Public High School
Jake Oresick
Buy
The Schenley Experiment
A Social History of Pittsburgh's First Public High School
Jake Oresick
"A highly readable account of the school's colorful and varied history."
Media

Description

Reviews

Bio

Table of Contents

Sample Chapters

Subjects
The Schenley Experiment
is the story of Pittsburgh's first public high school, a social incubator in a largely segregated city that was highly—even improbably—successful throughout its 156-year existence.
Established in 1855 as Central High School and reorganized in 1916, Schenley High School was a model of innovative public education and an ongoing experiment in diversity. Its graduates include Andy Warhol, actor Bill Nunn, and jazz virtuoso Earl Hines, and its prestigious academic program (and pensions) lured such teachers as future Pulitzer Prize winner Willa Cather. The subject of investment as well as destructive neglect, the school reflects the history of the city of Pittsburgh and provides a study in both the best and worst of urban public education practices there and across the Rust Belt. Integrated decades before Brown v. Board of Education, Schenley succumbed to default segregation during the "white flight" of the 1970s; it rose again to prominence in the late 1980s, when parents camped out in six-day-long lines to enroll their children in visionary superintendent Richard C. Wallace's reinvigorated school. Although the historic triangular building was a cornerstone of its North Oakland neighborhood and a showpiece for the city of Pittsburgh, officials closed the school in 2008, citing over $50 million in necessary renovations—a controversial event that captured national attention.
Schenley alumnus Jake Oresick tells this story through interviews, historical documents, and hundreds of first-person accounts drawn from a community indelibly tied to the school. A memorable, important work of local and educational history, his book is a case study of desegregation, magnet education, and the changing nature and legacies of America's oldest public schools.
"A highly readable account of the school's colorful and varied history."
"Before reading Jake Oresick's fascinating, deeply researched book, I had no idea that simply by attending my beloved neighborhood school I was part of an 'educational experiment.' Experiment chronicles the life of a competitive environment with a distinguished staff, a multifaceted curriculum, and a student body unique among those of Pittsburgh's public high schools."
"This is truly a memorable book about an important but seldom studied institution—the American high school. And what a remarkable high school! Schenley's story needs to be known both locally and nationally. Finally, it has been told. Especially intriguing are the school's early years, when it embodied the highest standards in its construction and in its faculty. Even more remarkably, in an era of rampant discrimination and segregation, Schenley's racial and ethnic diversity was stunning. The list of alumni—black and white—reads like a who's who of black and white Pittsburgh. It's hard to imagine an American high school that brought the likes of W. C. Handy and Marian Anderson to perform—but that was Schenley. We are all in Jake Oresick's debt for this well-researched book."
"Those interested in the city of Pittsburgh, urban education, and school choice will have Oresick to thank for this fine book."
Jake Oresick is an attorney and public policy analyst.
Contents
Acknowledgments
Introduction
1 Origin Story: The People's College and Why Schenley High Almost Never Happened
2 These Three Walls: The Comprehensive High School, Edward Stotz, and the Fight to Make Schenley Extraordinary
3 Enter to Learn: 1916–1929
4 Growing Pains : 1930–1949
5 Running Uphill: 1950–1964
6 The Writing on the Walls: 1965–1979
7 If You're Going to Drop a Bomb: The PHRC, Richard Wallace, and the Teacher Center
8 Renaissance: 1983–1993
9 The School of Choice: 1994–2007
10 Closing Time: Mark Roosevelt, Asbestos, and the "Save Schenley" Movement
11 After Oakland: Reizenstein, University Prep, and Obama Academy
Conclusion
Appendix A Notable Central High Alumni
Appendix B Notable Schenley High Alumni
Appendix C Athletics
Appendix D Theater
Appendix E Pittsburgh Public High Schools Index
Notes
Introduction
On a September morning in 1855, Pittsburgh's first public high school opened in a cramped, rat-infested storefront on Smithfield Street. Over the next 156 years, the unusually diverse school served as a social incubator in a largely segregated city, illuminating the raw effects of the Progressive Era, urban renewal, Martin Luther King riots, and court desegregation battles. Pittsburgh Central High School (known as "Central")—recast as Schenley High School in 1916—was at different times the subject of innovative investment and destructive neglect, providing a case study in both the best and worst urban public education practices. The Schenley Experiment tells the story of Pittsburgh and its public school district—of class, race, ethnicity, and collaboration—through the prism of its oldest and most dynamic high school.
The school often reflected the regional zeitgeist; its mere creation angered taxpayers, who viewed a high school in an industrial city as a public waste. However, the school also defied stereotypes of Pittsburgh as provincial and prejudiced. Central High was utterly cosmopolitan, offering rigorous, college-caliber instruction and serving as a pipeline to the Ivy League. Admission was exclusive but meritocratic, and black students enrolled at least nine years before the state banned school segregation.
When the Central school building became antiquated, the new Schenley building was designed as a forward-thinking comprehensive school where academic and vocational tracks—previously housed on separate campuses—would "learn to live and to work in happy, effective co-operation."1 The triangular facility was considered luxurious, prompting a budget backlash when construction costs more than doubled. However, the school was prone to battling for big ideas, and anger ceded to civic pride when the building was completed. As at Central, Schenley's early faculty had collegiate credentials, drawing pupils throughout the county to the "educational palace."2 In 1930, the majority of students came from distant city neighborhoods and suburbs—areas zoned for other high schools.
Most remarkably, Schenley often outpaced the nation's social progress. The school embraced diversity, bragging about its "cosmopolitan throng"3 in 1905, and its twenty-five different nationalities a decade later. Indeed, Schenley's locale, in Pittsburgh's Oakland neighborhood, was proximate to numerous ethnic enclaves. Although the majority of students were white until the 1960s, students elected black, Jewish, and female class presidents by 1947. Ten years later, just months before the Little Rock Nine braved a mob, Schenley's senior class board featured black, white, and Chinese American students.
The school was no utopia, however, with instances of discrimination, latent class tensions, and no black teachers for nearly a century. Even into the 1970s, some counselors tried to talk college-track blacks into attending trade school. In the twenty years after Brown v. Board of Education, the loss of middle-income housing in Oakland, as well as civil rights unrest in the adjacent Hill District, dramatically reduced white enrollment, from 56 percent to 18 percent. Many middle-class blacks also abandoned Schenley. Soon the District diverted resources away from the shrinking school. Accordingly, the 1970s were marked by an anti-academic culture, with graffiti on walls and marijuana smoke in stairwells. Black leaders demanded that Schenley and other schools be integrated, observing that only schools with white students were adequately resourced. The District implemented forced busing and manipulated many schools' residency boundaries to overcome geographic segregation. Some whites obstructed with legal challenges, boycotts, and violence. Although busing brought balance to many schools, Schenley was not among them. In 1981, the state Human Relations Commission moved to disband the nearly all-black school, then the city's lowest achieving, for noncompliance with a thirteen-year-old desegregation order.
Instead, Schenley rose to become a national model of voluntary integration. The school's inventive reforms—a state-of-the-art teacher training center, a blue-chip faculty, and attractive magnet programs—drew students of all races, some of whom left private schools for Schenley. The experiment won praise from the New York Times, Los Angeles Times, and Newsweek as well as education trade journals, proving so popular that parents camped out in lines for six days in the winter to secure their children's enrollment. Still, some parents opposed all busing, particularly in working-class white areas, where resistance to magnets curtailed local curricular options. Thus, Schenley's renaissance bred resentment from neighborhood schools' stakeholders, who saw many top students and teachers recruited to Oakland.
Diversity at Schenley peaked in the 1990s, with a cross section of students from throughout the region and through specialized programs for pre-professional ballet students and English as a Second Language (ESL) immigrants. Beyond mere equality, the school fostered meaningful synthesis across social strata. Laura (Sirbaugh) Ratica '97, a white student from Bloomfield, admitted she entered Schenley with prejudices but quickly built an eclectic social set and became fascinated with new friends' religious traditions. Similarly, G. Ryin Gaines '00, a black Catholic from Homewood, made so many Jewish friends that he "desperately wanted to be Jewish and have a bar mitzvah."
Moreover, the inner-city school was uncommonly successful. Graduates from the International Baccalaureate (IB) program matriculated at elite universities; the storied theater program claimed scores of awards, pulling pupils away from the performing arts high school; and the nationally ranked basketball team won its fifth state championship. Schenley flourished despite increasingly reduced funds, as the District balanced cuts in state aid by slashing site-based budgets and raiding reserves. Still, school board members refused to raise taxes, and despite dire finances and shrinking enrollment, the board actually opened eight new schools, mostly in white neighborhoods. These schools appeased a new push to end busing—led by a bevy of white politicians, including the mayor and state legislators—but further compounded the District's budget troubles.
In the early 2000s, the city's first black superintendent, John W. Thompson, began to stabilize finances, but some of his school closings riled board conservatives, who spent the next four years obstructing his agenda. When Thompson was ultimately terminated, black Pittsburghers cried racism, and the board's three black members boycotted the search for a successor. Notably, the new superintendent, Mark Roosevelt—a charismatic descendant of President Theodore Roosevelt—had impressive policy and law credentials but had never worked in education.
In 2005, Roosevelt proposed eighteen more school closings, including Schenley, which, despite thriving, required millions of dollars in asbestos remediation costs. The public fought hard to save Schenley, and the ensuing thirty-month battle dominated the news cycle in a region where school closings were common. Schenley supporters, particularly in the black community, felt "scammed," noting inconsistencies in the District's policy rationale, financial projections, and transparency claims. Roosevelt insisted that closure was unavoidable, but admitted communication failures and that his thin skin left him wounded by personal attacks.
The school shaped thousands of alumni—like Andy Warhol '45, Derrick Bell '48, Bruno Sammartino '55, Clifford Shull '33, Maurice Lucas '71, Vivian Reed '64, and Bob Prince '34—and was a staging ground for history through ties to notable institutions and events. Three different principals were honored at the White House, and math teacher Andy Kerr left Schenley to become Stanford University's head football coach. Prominent visitors were also in evidence. Eleanor Roosevelt called for a nuclear test ban at a rally in the auditorium, and Jonas Salk promised the anxious PTA a "solution to the polio problem." Muhammad Ali and Jackie Robinson addressed students at Schenley; W. C. Handy and Marian Anderson performed; and Josh Gibson, "the black Babe Ruth," once "turned over the whole cafeteria" in confronting his son's bullies.
While Schenley's age, architecture, and historical footprint are impressive, the school was transformative because of its people. Accordingly, The Schenley Experiment represents a human experience, rooted in more than 150 interviews—with alumni of every race and class, aged 19 to 101 years, from dozens of Pittsburgh neighborhoods and five continents—and hundreds of other first-person sources. Their stories form this story, of Pittsburgh and its first public high school, where for more than a century and a half they built a community out of difference.
Mailing List
Subscribe to our mailing list and be notified about new titles, journals and catalogs.