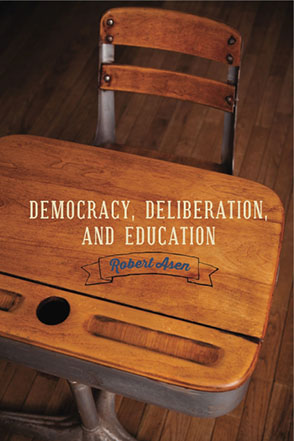 Democracy, Deliberation, and Education
Robert Asen
BUY
Democracy, Deliberation, and Education
Robert Asen
"This important volume provides insights about the role of discussion in shaping policy and about how to study discussion empirically."
Media

Description

Reviews

Bio

Table of Contents

Sample Chapters

Subjects
The local school board is one of America's enduring venues of lay democracy at work. In
Democracy, Deliberation, and Education
, Robert Asen takes the pulse of this democratic exemplar through an in-depth study of three local school boards in Wisconsin. In so doing, Asen identifies the broader democratic ideal in the most parochial of American settings.
Conducted over two years across racial, ethnic, and socioeconomic lines, Asen's research reveals as much about the possibilities and pitfalls of local democracy as it does about educational policy. From issues as old as racial integration and as contemporary as the recognition of the Gay-Straight Alliance in high schools, Democracy, Deliberation, and Education illustrates how ordinary folks build and sustain their vision for a community and its future through consequential public decision making.
For all the research on school boards conducted in recent years, no other project so directly addresses school boards as deliberative policymaking bodies. Democracy, Deliberation, and Education draws from 250 school-board meetings and 31 interviews with board members and administrators to offer insight into participants' varied understandings of their roles in the complex mechanism of governance.
"This important volume provides insights about the role of discussion in shaping policy and about how to study discussion empirically."
"As a theoretical and practical work, Asen's book should be required reading for educational policy-makers at the local and national level. It would also be of interest to citizens who wish to understand how market forces affect decision-making in public education and how local democratic practices might counter those forces."
"Emboldened by John Dewey's vision of a reciprocal relationship between education and democracy, Robert Asen invites the reader to join him and his colleagues in listening to how people talk during a series of local school-board meetings in Wisconsin. Participants struggle through some of their own differences, to be sure, but they also work through them enough to make collective, consequential decisions, using what Asen calls 'vernacular policy discourse.' This book compellingly captures the tone and spirit, as well as the pitfalls, of such deliberations. What happens in these meetings, we are told, is what democracy sounds like."
"Populated by community members, school boards show how everyday citizens can (in the best of times) govern effectively and responsibly. In this book, Robert Asen shows us how the real work of democratic deliberation gets done in these local bodies. By looking directly at the micropolitics of school boards, Asen gets into the public debate on education down at the level where real decisions are made about local curricula, funding formulas, and more. We learn how the politics of 'holding schools accountable' plays out in local politics and how that relates to, but also distinguishes itself from, national policy debates."
"In Democracy, Deliberation, and Education, Robert Asen gives us an engaging, sympathetic account of the difficult decision making by school boards in three American communities. Written in a powerful, moving style and grounded in ideas from rhetoric, democratic theorizing, and educational policy debates, Asen's book compellingly shows how this scene of ordinary democratic deliberation, imperfect though it is, is nonetheless remarkable."
"Combining fieldwork, rhetorical analysis, and democratic theory, Robert Asen has produced an insightful explication of the meaningful deliberative practices of local school boards. He ultimately reveals the messy and wonderful reality of actual decision-making processes as they develop within real democratic communities struggling over how to foster democracy's most important prerequisite—an educated citizenry. This work makes significant contributions to our understanding of both rhetorical deliberation and the vital role of education in how we imagine our democracy."
"Rob Asen's Democracy, Deliberation, and Education sets a new standard in studies of public deliberation due to its substance and depth. Students of public discourse from many fields will want to engage this lively and informative account. Asen's study, based on extensive fieldwork covering three school boards' deliberations over several years' time, is substantial, as he finds a register in which to unfold an account of their deliberations, identifying the intersections of their politics, history, and ideologies without reducing deliberation to any of these. His argument is deep, as he not only draws on the extensive literature and theory on deliberation to illuminate his cases, but also uses the cases to deepen a Deweyan account of situated deliberation."
"Democracy, Deliberation, and Education provides a fascinating contribution to the study of rhetoric's role in contemporary politics. In a field dominated by either abstract theory or case studies focused on elite actors, Robert Asen shows us how rhetorical theory plays itself out in the humble but high-stakes world of local school board deliberations."
"A must-read for anyone interested in the rhetoric of public policy, the rhetoric of education, or the successful comingling of rhetorical and qualitative research methodologies."
Robert Asen is Professor of Communication Arts at the University of Wisconsin-Madison.
Contents
Acknowledgments
Introduction: Discovering Local Deliberation and Policymaking
1 Networked Publics, Networked Policies
2 Ideology, Counterpublicity, and the Gay-Straight Alliance
3 Scarcity, District Finances, and Difficult Decisions
4 Expertise, Integration, and the Problem of Judgment
5 Trust, Relationships, and Deliberation Conclusion: Reconnecting Democracy and Education
Notes
Bibliography
Index
Mailing List
Subscribe to our mailing list and be notified about new titles, journals and catalogs.