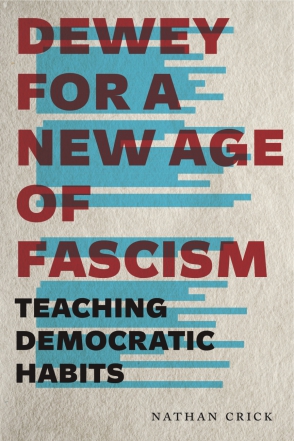 Dewey for a New Age of Fascism
Teaching Democratic Habits
Nathan Crick
Buy
Dewey for a New Age of Fascism
Teaching Democratic Habits
Nathan Crick
"A wide audience should read this excellent volume, especially teacher educators, administrators, and teachers. Highly recommended."
Description

Reviews

Bio

Table of Contents

Sample Chapters

Subjects
During the rise of fascism in the early twentieth century, American philosopher and educational reformer John Dewey argued that the greatest threat to democracy was not a political regime or even an aggressive foreign power but rather a set of dispositions or attitudes. Though not fascist in and of themselves, these habits of thought—rugged individualism and ideological nationalism—lay the foundation for fascism. In this study, Nathan Crick uses Dewey's social thought and philosophy of education to provide insight into and resources for transforming our present-day politics.
Through a close reading of Dewey's political writings and educational theory, Crick elaborates Dewey's vision of democratic social life and the education required for its foundation. He shows that for Dewey, communication is essential to cultivating sympathy, intelligence, and creativity—habits of thought that form the core of democratic culture. Crick then lays out a broad curriculum of logic, aesthetics, and rhetoric for inculcating these habits in the classroom, arguing that if we are to meet the challenge of fascism, we must teach these new arts as if our civilization depends on it—because in our new age of politics, it does.
Comprehensive and pragmatic, this book presents an experimental model of education that can be applied across the humanities curriculum. It will be of interest to teachers of writing, composition, and rhetoric as well as scholars and students of communication studies, pedagogy, and political theory.
"A wide audience should read this excellent volume, especially teacher educators, administrators, and teachers. Highly recommended."
"As the prospects of contemporary democracy are uncertain, readers may appreciate Nathan Crick's nuanced discussion of Dewey's critique of individualism, which weakened community bonds and constricted political engagement. Further, as our environment faces an existential threat, readers may glean insights from Dewey's views of naturalism, which affirmed connections between humans and the planet. In many ways, this is a timely book."
"Grounded on a careful reading of Dewey's social thought and philosophy of education, this book shows the relevance of Dewey's ideas on the true 'national emergency' today in the USA: we are sliding into fascism and away from democratic communication. Crick lays out the habits needed for a more democratic culture and the means to obtain it via teaching logic, rhetoric, and aesthetics in a certain way. Dewey for a New Age of Fascism will be of interest to teachers and scholars in American philosophy, communication studies, pedagogy, and political theory."
"By deconstructing fascism's fundamental antihumanist pillars while providing humanist counters, Crick offers educators, and through them, students, hope to thwart dangerous evolving societal trends that may at times seem unstoppable."
Nathan Crick is Professor of Communication at Texas A&M University and the author of The Keys of Power: The Rhetoric and Politics of Transcendentalism; Rhetoric and Power: The Drama of Classical Greece; Rhetorical Public Speaking: Civic Engagement in the Digital Age; and Democracy and Rhetoric: John Dewey on the Arts of Becoming.
Acknowledgments
Introduction
Part 1 The Challenge of Fascist Antihumanism
1 Ragged Individualism
2 Animist Nationalism
3 Totalitarian Propaganda
Part 2 The Politics of Democratic Humanism
4 The Art of Individuality
5 Renascent Liberalism
6 Intelligence and Social Movements
Part 3 The Pedagogy of Democratic Humanism
7 Logic
8 Aesthetics
9 Rhetoric
Conclusion: Teaching Democratic Humanism
Notes
Bibliography
Index
Mailing List
Subscribe to our mailing list and be notified about new titles, journals and catalogs.