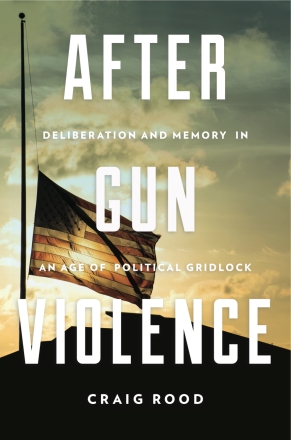 After Gun Violence
Deliberation and Memory in an Age of Political Gridlock
Craig Rood
BUY
After Gun Violence
Deliberation and Memory in an Age of Political Gridlock
Craig Rood
"Written with passion, insight, and eloquence, After Gun Violence is a compelling exploration of a tragically American problem—regular, mass gun violence. Aligning himself with readers as a horrified witness to these deadly recurring events, Craig Rood balances outrage with perspective, weariness with resolve, sadness with hope that Americans may achieve mutual understanding on a topic that has produced mistrust and frustration. Rood respects the complexity of people's different beliefs about guns while articulating a clear vision of a way forward. A stunning achievement."
Description

Reviews

Bio

Table of Contents

Sample Chapters

Subjects
Mass shootings have become the "new normal" in American life. The same can be said for the public debate that follows a shooting: blame is cast, political postures are assumed, but no meaningful policy changes are enacted. In
After Gun Violence
, Craig Rood argues that this cycle is the result of a communication problem. Without advocating for specific policies, Rood examines how Americans talk about gun violence and suggests how we might discuss the issues more productively and move beyond our current, tragic impasse.
Exploring the ways advocacy groups, community leaders, politicians, and everyday citizens talk about gun violence, Rood reveals how the gun debate is about far more than just guns. He details the role of public memory in shaping the discourse, showing how memories of the victims of gun violence, the Second Amendment, and race relations influence how gun policy is discussed. In doing so, Rood argues that forgetting and misremembering this history leads interest groups and public officials to entrenched positions and political failure and drives the public further apart.
Timely and innovative, After Gun Violence advances our understanding of public discourse in an age of gridlock by illustrating how public deliberation and public memory shape and misshape one another. It is a search to understand why public discourse fails and how we can do better.
"Written with passion, insight, and eloquence, After Gun Violence is a compelling exploration of a tragically American problem—regular, mass gun violence. Aligning himself with readers as a horrified witness to these deadly recurring events, Craig Rood balances outrage with perspective, weariness with resolve, sadness with hope that Americans may achieve mutual understanding on a topic that has produced mistrust and frustration. Rood respects the complexity of people's different beliefs about guns while articulating a clear vision of a way forward. A stunning achievement."
"A thoughtful and sobering analysis of America's inability to engage in serious deliberation about gun violence. Rood traces the way that past debates have created a sense that the problem is simply intractable and demonstrates the way recent efforts to deal with gun violence were crushed under the weight of past failures. Drawing on the long history of rhetoric, Rood is able not only to analyze the present difficulties but also to suggest productive ways to move these debates forward. The stakes for such a project have never been higher. Rood's book should be required reading for any citizen wanting to engage in a real debate about the role of guns in American society."
"An empowering message of this book resides in the assurance that while we exist in this world that comes with its own meanings and past, we have the power within ourselves to change what language habits we use and pass down."
Craig Rood is Assistant Professor of Rhetoric at Iowa State University.
Contents
Acknowledgments
Introduction: Deliberating Gun Violence
1 Deliberation and Memory
2 The Weight of the Past: Memory and the Second Amendment
3 The Fleeting Past: Memory and Our Obligations to the Dead
4 The Implicit Past: Memory and Racism
5 Conclusions for Moving Beyond Gridlock
Epilogue
Notes
Bibliography
Index
Mailing List
Subscribe to our mailing list and be notified about new titles, journals and catalogs.