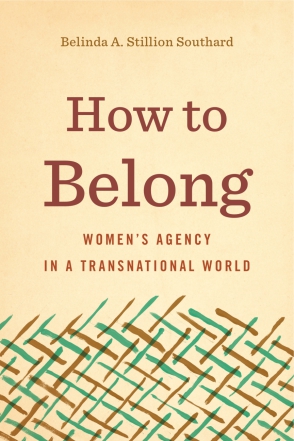 How to Belong
Women's Agency in a Transnational World
Belinda A. Stillion Southard
BUY
How to Belong
Women's Agency in a Transnational World
Belinda A. Stillion Southard
Winner of the 2019 Marie Hochmuth Nichols Award from the Public Address Division of the National Communication Association
"In this provocative and compelling book, Belinda Stillion Southard offers an illuminating answer to the fundamental question of how people assert their membership in political communities. Considering cases of women's leadership in Africa, Stillion Southard unpacks the complex rhetorical dynamics of agency in a transnational era. She explores how women overcame skepticism and hostility at regional, national, and international levels to articulate roles as indispensable community members. How to Belong offers key insights on the relationship between individual and community."
Description

Reviews

Bio

Table of Contents

Sample Chapters

Subjects
In
How to Belong
,
Belinda Stillion Southard
examines how women leaders throughout the world have asserted their rhetorical agency in troubling economic, social, and political conditions. Rather than utilizing the concept of citizenship to bolster political influence, the women in the case studies presented here rely on the power of relationships to create a more habitable world.

With the rise of global capitalism, many nation-states that have profited from invigorated flows of capital have also responded to the threat of increased human mobility by heightening national citizenship's exclusionary power. Through a series of case studies that include women grassroots protesters, a woman president, and a woman United Nations director, Stillion Southard analyzes several examples of women, all as embodied subjects in a particular transnational context, pushing back against this often violent rise in nationalist rhetoric. While scholars have typically used the concept of citizenship to explain what it means to belong, Stillion Southard instead shows how these women have reimagined belonging in ways that have enabled them to create national, regional, and global communities.

As part of a broader conversation centered on exposing the violence of national citizenship and proposing ways of rejecting that violence, this book seeks to provide answers through the powerful rhetorical practices of resilient and inspiring women who have successfully negotiated what it means to belong, to be included, and to enact change beyond the boundaries of citizens
hip.
"In this provocative and compelling book, Belinda Stillion Southard offers an illuminating answer to the fundamental question of how people assert their membership in political communities. Considering cases of women's leadership in Africa, Stillion Southard unpacks the complex rhetorical dynamics of agency in a transnational era. She explores how women overcame skepticism and hostility at regional, national, and international levels to articulate roles as indispensable community members. How to Belong offers key insights on the relationship between individual and community."
"How to Belong offers a powerful account of how women leaders negotiate geographical and gendered boundaries of peacemaking and belonging in a transnational world. Drawing on transnational feminist rhetorical scholarship and studies in global governance, Belinda Stillion Southard interweaves an incisive analysis of the embodied rhetorical strategies of West African and South American women leaders and their imagining of cosmopolitan citizenship and in the process opens up important new understandings of feminist rhetorical agency as a politics of relation."
"Original and compelling, How to Belong transforms citizenship from a matter of location to one of embodied belonging and relationship. Through her riveting analyses, Southard reveals how women's rhetorical practices—in West African peace networks, Liberian elections, and UN global governance—create regional, national, and global relationships, and in her careful arguments, she brilliantly enlarges our knowledge of performative deliberation, women's rhetoric, and transnationalism."
"Written with elegant clarity, Stillion Southard's book boldly theorizes collective identity outside the bounds of nationality and citizenship. The book offers three case studies that inspire political imagination and hope. The Peace Women, Ellen Johnson Sirleaf, and Michelle Bachelet teach lessons we all should learn."
"How to Belong makes important interventions into rhetorical studies of national belonging, women's agency, and citizenship, all from case studies embedded in deeply intertwined transnational contexts. Stillion Southard joins a small but powerful group of transnational feminist rhetoric scholars by expertly showing connections across often disparate and confrontational subject positions—protesters, politicians, and leaders of international governance organizations. A must-read for any scholar interested in the rhetorical ingenuity of women around the globe."
"How to Belong is a must-read for anyone interested in on-the-ground feminist rhetorical agency in action. It shows how, across the globe, women have used rhetorical acuity and skill not only to reimagine and negotiate change in their communities but also to craft new notions of belonging that reach beyond the nation-state."
Belinda Stillion Southard is Associate Professor of Communication Studies at the University of Georgia. She is the author of Militant Citizenship: Rhetorical Strategies of the National Woman's Party, 1913–1920, winner of the 2012 Marie Hochmuth Nichols Book Award.
Contents
List of AbbreviationsAcknowledgments
Introduction: Rhetorics of Belonging in a Transnational World
1 Belonging as Denizenship: Peace Women and Regional Dwelling
2 Belonging as Cosmopolitanism: Ellen Johnson Sirleaf's New Nationalism
3 Belonging as Connectivity: Michelle Bachelet's Transnational Governance
Conclusion: How to Belong (or Not) to the Nation-State
Notes
Bibliography
Index
Mailing List
Subscribe to our mailing list and be notified about new titles, journals and catalogs.