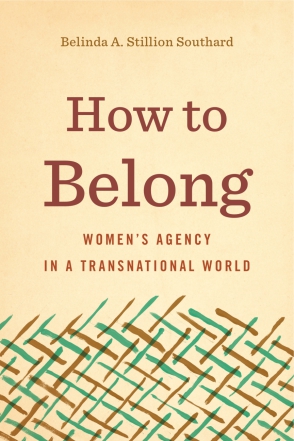 How to Belong
Women's Agency in a Transnational World
Belinda A. Stillion Southard
Buy
How to Belong
Women's Agency in a Transnational World
Belinda A. Stillion Southard
Winner of the 2019 Marie Hochmuth Nichols Award from the Public Address Division of the National Communication Association
"In this provocative and compelling book, Belinda Stillion Southard offers an illuminating answer to the fundamental question of how people assert their membership in political communities. Considering cases of women's leadership in Africa, Stillion Southard unpacks the complex rhetorical dynamics of agency in a transnational era. She explores how women overcame skepticism and hostility at regional, national, and international levels to articulate roles as indispensable community members. How to Belong offers key insights on the relationship between individual and community."
Description

Reviews

Bio

Table of Contents

Sample Chapters

Subjects
In
How to Belong
,
Belinda Stillion Southard
examines how women leaders throughout the world have asserted their rhetorical agency in troubling economic, social, and political conditions. Rather than utilizing the concept of citizenship to bolster political influence, the women in the case studies presented here rely on the power of relationships to create a more habitable world.

With the rise of global capitalism, many nation-states that have profited from invigorated flows of capital have also responded to the threat of increased human mobility by heightening national citizenship's exclusionary power. Through a series of case studies that include women grassroots protesters, a woman president, and a woman United Nations director, Stillion Southard analyzes several examples of women, all as embodied subjects in a particular transnational context, pushing back against this often violent rise in nationalist rhetoric. While scholars have typically used the concept of citizenship to explain what it means to belong, Stillion Southard instead shows how these women have reimagined belonging in ways that have enabled them to create national, regional, and global communities.

As part of a broader conversation centered on exposing the violence of national citizenship and proposing ways of rejecting that violence, this book seeks to provide answers through the powerful rhetorical practices of resilient and inspiring women who have successfully negotiated what it means to belong, to be included, and to enact change beyond the boundaries of citizens
hip.
"In this provocative and compelling book, Belinda Stillion Southard offers an illuminating answer to the fundamental question of how people assert their membership in political communities. Considering cases of women's leadership in Africa, Stillion Southard unpacks the complex rhetorical dynamics of agency in a transnational era. She explores how women overcame skepticism and hostility at regional, national, and international levels to articulate roles as indispensable community members. How to Belong offers key insights on the relationship between individual and community."
"How to Belong offers a powerful account of how women leaders negotiate geographical and gendered boundaries of peacemaking and belonging in a transnational world. Drawing on transnational feminist rhetorical scholarship and studies in global governance, Belinda Stillion Southard interweaves an incisive analysis of the embodied rhetorical strategies of West African and South American women leaders and their imagining of cosmopolitan citizenship and in the process opens up important new understandings of feminist rhetorical agency as a politics of relation."
"Original and compelling, How to Belong transforms citizenship from a matter of location to one of embodied belonging and relationship. Through her riveting analyses, Southard reveals how women's rhetorical practices—in West African peace networks, Liberian elections, and UN global governance—create regional, national, and global relationships, and in her careful arguments, she brilliantly enlarges our knowledge of performative deliberation, women's rhetoric, and transnationalism."
"Written with elegant clarity, Stillion Southard's book boldly theorizes collective identity outside the bounds of nationality and citizenship. The book offers three case studies that inspire political imagination and hope. The Peace Women, Ellen Johnson Sirleaf, and Michelle Bachelet teach lessons we all should learn."
"How to Belong makes important interventions into rhetorical studies of national belonging, women's agency, and citizenship, all from case studies embedded in deeply intertwined transnational contexts. Stillion Southard joins a small but powerful group of transnational feminist rhetoric scholars by expertly showing connections across often disparate and confrontational subject positions—protesters, politicians, and leaders of international governance organizations. A must-read for any scholar interested in the rhetorical ingenuity of women around the globe."
"How to Belong is a must-read for anyone interested in on-the-ground feminist rhetorical agency in action. It shows how, across the globe, women have used rhetorical acuity and skill not only to reimagine and negotiate change in their communities but also to craft new notions of belonging that reach beyond the nation-state."
Belinda Stillion Southard is Associate Professor of Communication Studies at the University of Georgia. She is the author of Militant Citizenship: Rhetorical Strategies of the National Woman's Party, 1913–1920, winner of the 2012 Marie Hochmuth Nichols Book Award.
Contents
List of AbbreviationsAcknowledgments
Introduction: Rhetorics of Belonging in a Transnational World
1 Belonging as Denizenship: Peace Women and Regional Dwelling
2 Belonging as Cosmopolitanism: Ellen Johnson Sirleaf's New Nationalism
3 Belonging as Connectivity: Michelle Bachelet's Transnational Governance
Conclusion: How to Belong (or Not) to the Nation-State
Notes
Bibliography
Index
From the Introduction
Rhetorics of Belonging in a Transnational WorldIn 1995, five years into Liberia's first civil war, Theresa Leigh-Sherman, Evelyn Townsend, and Clara d'Almeida set off to Abuja, Nigeria, determined to speak at a peace conference. Leigh-Sherman, Townsend, and d'Almeida learned that if they wanted to be heard, they had to demand attention at these male-dominated meetings. In the previous year, a coalition of women's groups raised funds to send a delegation of women to a conference sponsored by the Economic Community of West African States (ECOWAS) in Accra, Ghana. When the women asked for invitations, ECOWAS leaders thought the women were joking and declined to invite them. However, after raising enough money to purchase six conference tickets, the women were allowed to attend. Upon their arrival, they found that they could not participate in the conference—that they couldn't even sit in the same room as the men. So they sat outside of the room and waited until the men took breaks. During which, the women lobbied faction leaders and ECOWAS representatives for a part in the peace talks. After three days of lobbying, the women were finally granted "participant status," which allowed them to listen—but not speak—to the men in the meeting.Despite their many obstacles, Leigh-Sherman, Townsend, and d'Almeida would not settle for "participant status." Leigh-Sherman recalls the challenges they faced: "We were so bad off financially, we hardly had clothes, I mean we had nothing except will power. We were proud to be Liberians, and we felt it was time for the international community to hear our side of the story." To tell their side of the story, the women began pressuring ECOWAS officials as soon as they arrived in Abuja. Most told them, "The program is set; you're not on the agenda" (LWP, 26). But upon delivering his opening remarks, the ECOWAS president spontaneously called Leigh-Sherman to the stage because, as he put it, "We have never listened to the civilians, we have never listened to our mothers, we have never listened to our sisters" (26). Leigh-Sherman remembers how she and the other two women responded: "We just grabbed each other's hands, we were shaking because it looked [like] God had heard our prayers. . . . We talked about the killing and how these men were opening these women's stomachs and betting on the babies. We talked about everything because the women were tired. We were just tired. . . . And I tell you the nine Presidents that were there . . . [were] in tears because these are facts that these people didn't know about. . . . But we had gone through it. We had lost everything we worked for" (26). Their participation in Abuja represented a turning point for women in the peacemaking process. From that point forward, ECOWAS actively recruited women leaders to bring warring factions together for peace talks (27).If we think about this anecdote from a rhetorical perspective, we can appreciate the ways in which women like Leigh-Sherman, Townsend, and d'Almeida asserted rhetorical agency. They were constrained by many factors, including experiences of sexual assault, displacement, the murder of family members and destruction of their villages, lack of money and resources, lack of recognition as political actors, and their responsibilities as mothers to protect their children. They were also enabled by other factors, including a coalition of women's organizations, donors willing to fund their travel, the experiences of the women in Accra, a unique knowledge of wartime atrocities, the "will power" to stop violence, and their positions as "mothers" and "sisters." From a rhetorical perspective, we might say that from within the constraints and possibilities of their rhetorical situation, these women persuaded their audiences to listen to them.However, if we situate this rhetorical situation in a transnational feminist context, we can see that the women's rhetoric negotiated much more than their audience's resistance to listening. First, they negotiated national and regional affiliations. While they identified as proud Liberians working for peace in Liberia, they also engaged regional women's organizations and regional governing bodies for money and support. Moreover, they crossed national (and factional) lines in order to travel throughout West Africa. Likewise, the meetings they attended were led by ECOWAS, one of eight regional economic communities that make up the African Union. Second, these women negotiated the gendered boundaries of peacemaking politics. At this point, many women's organizations had successfully negotiated with factional leaders to ensure the safe delivery of food and health care to victims of war but had not yet earned a seat at the negotiation table. They believed that their wartime experiences as women, as mothers of the children lost, conscripted, and murdered, positioned them as ideal participants. They possessed knowledge that political elites "didn't know about." They came to share their concrete, lived experiences of displacement, murder, and losing "everything" that transcended their village, ethnic, religious, and national identifications such that the women were united in one way: the "women were tired." Recognized as civilians, mothers, and sisters, they were finally allowed to speak.Considering how these women negotiated geographic and gendered boundaries foregrounds the ways in which their rhetoric negotiated what it meant to belong. Because soldiers had treated their bodies like factional and national property, these women had experienced what it meant for a nation and its warring factions to violently exclude populations that don't belong. Because these women and their children had been displaced and their villages had been burned to the ground, their search for safer places eroded their sense of belonging to a family and to a home. Forging networks across factional and national lines enabled them to find belonging with women from Sierra Leone and Guinea, women who identified themselves by their national belonging ("proud to be Liberians") as well as their regional belonging (as women of West Africa appealing to a West African organization). Through their rhetorical practices, these women articulated belonging as relationships with other women that simultaneously recognized and superseded their belonging as national citizens. These relationships, I find, enabled these women to reimagine how to belong in a transnational world.How these West African women and women elsewhere in the world reimagined belonging is the central concern of this book. The following section unpacks how I arrived at "belonging" as a rhetoric that foregrounds relationships between women that enable them to engage and challenge nationalist discourses of belonging. Moreover, this introduction situates citizenship, rhetorical agency, and transnational feminist rhetoric as key analytics for understanding how I read "rhetorics of belonging."Belonging, Rhetoric, and National CitizenshipWith the rise of globalization, transnational flows of political and economic power have thrown into question the power of the nation-state. Scholars observe that as the boundaries of nation-states yield to the power of multinational corporations, regional economic unions, and the norms of global governing bodies, they become increasingly porous and flexible. In turn, goods, resources, and people move with increasing speed and intensity around the globe. At the same time, nation-states have worked to reestablish the rigidity of their boundaries, intensifying their power to define who belongs and who does not to a national community. Contrary to claims that we might live in a postnational society, the world has seen more restrictive immigration and refugee laws, regional skirmishes and turf wars, and at least in the United States, heightened concerns and resources for "national security"—all of which point to the power of the state apparatus to shape what belonging means in concrete ways. The simultaneous porousness and rigidity of national boundaries has resulted in heightened global crises, such as human trafficking, starvation, extreme poverty, bloody conflict, and most central to this project, the extraordinary abuse of women and girls. It is estimated that 60 percent of the world's hungry are women, 70 percent of women worldwide have experienced some form of sexual violence, and women comprise two-thirds of the world's illiterate population. Correspondingly, the world has seen a rise of transnational and regional grassroots movements, supranational attention and resources distributed to poor nations and regions, and the development of global norms of human rights to be taken up by nation-states. Thus, the increasing transnationalization of the world has brought into sharp focus the empowering and disempowering contours of national boundaries.As national boundaries flex and retract in response to the forces of nationalism, global capitalism, regionalism, and global governance, scholars have revisited what and how much it means to belong to a national community. If national boundaries are increasingly flexible and fluid, how important is belonging to a national community compared to regional or global communities, or to cultural, religious, and/or ethnic communities? Likewise, if national boundaries are increasingly rigid and exclusionary, especially in terms of the nation-state's power to define who has access to certain rights and privileges that for many can mean life or death, how can national belonging not matter the most to inhabitants of this world? Is it possible to belong to national, regional, and global communities all at once, or to move in and out of belonging in strategic ways? And if so, what does this movement look like? In rhetorical terms, how do rhetors express and craft belonging to negotiate the empowering and disempowering forces at play in a globalized world of asymmetrical power flows?
Resoundingly, scholars have answered these questions by reimagining belonging as expanded or reconfigured meanings of citizenship. Studies from geography, international relations, political science, anthropology, women's studies, and rhetorical studies have offered concepts such as global citizenship, corporate citizenship, cosmopolitan citizenship, and cultural citizenship to explain current challenges to national citizenship. In his study of global community, Robert DeChaine's research query is illuminating: "Given the shifting nature of the relationships between local, national, and global 'loyalties[,]' . . . what form(s) of citizenship will dominate in a globalized world?" Centering on citizenship makes sense because historically, the idea of belonging to a defined place—a place with boundaries both real and imagined—can be traced back to Greco-Roman ideals of belonging as citizenship. Classically construed, citizenship to a city-state was defined by the ability to speak before and be recognized by one's community. No doubt, this ability was and continues to be granted to an exclusive group. Nonetheless, to belong to a city-state meant to practice rhetoric, and to practice rhetoric meant that one could shape the city-state. In terms of the modern democratic state, if one is recognized as a citizen, then one is likely able to address one's community in ways that officially "count": for example, voting, petitioning, speaking in town halls, writing for editorial columns. Similarly, being able to access education, health care, and tax breaks allows one to imagine, as Benedict Anderson posited, that one belongs to an educated, healthy, and equitable community of national citizens.That said, it is no secret that the ideals and the realities of citizenship belonging can diverge, and quite radically so. A robust body of scholarship examines national citizenship for how it works as a rhetorically shaped and contested construct, as an enabling and (violently) disabling category, and as an ideologically and historically fraught ideal. Many rhetorical studies expose how political elites crafted arguments in favor of or against citizenship rights—arguments shaped in part by their constituents' demands for enhanced or restricted citizenship rights. Studies also demonstrate how those excluded from the national community, legally and otherwise, have rhetorically challenged the laws and social norms of exclusion toward inclusion and more so, toward revised ideals. Some studies debunk citizenship altogether because of the violent exclusions that accompany nationalist projects to define membership. That said, studies of extremely violent protests against the nation-state argue that protest groups engage in violence in part because they recognize that the state apparatus possesses remarkable legal and rhetorical power to define who belongs and how.Because of the historical and complicated relationship between rhetoric and citizenship, as practices and as ideals, it's no wonder that when attempting to explain belonging in light of recent challenges to the power of the nation-state,scholars have done so in terms of citizenship. My intervention into these conversations seeks to account for how globalization has provoked reimaginings of belonging to relationships and places in ways that decenter national citizenship. Consider, for example, that over the last two decades, we have witnessed the regional mobilization of women antiwar protesters bring an end to years of bloody conflicts in West African nations. Likewise, among democratic nations, we've witnessed a sharp uptick in the direct election of women presidents—the most difficult way for a woman to access the presidency—who are explicitly committed to mainstreaming women's rights in their nations and across the globe. Further, the world has seen the organization of global governing bodies primarily dedicated to empowering women and girls worldwide. These phenomena suggest that as membership in the nation-state has become increasingly tenuous and contentious, women have reimagined belonging in ways that have enabled them to negotiate belonging to regional, national, and global communities and, in the process, to redefine belonging to a transnational world in kinder, more favorable ways.[Excerpt ends here.]
Mailing List
Subscribe to our mailing list and be notified about new titles, journals and catalogs.