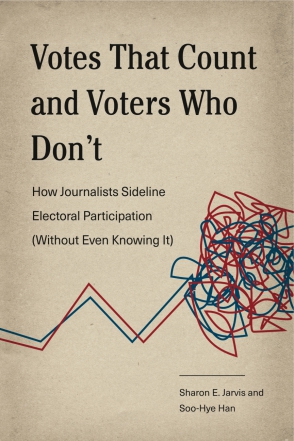 Votes That Count and Voters Who Don't
How Journalists Sideline Electoral Participation (Without Even Knowing It)
Sharon E. Jarvis and Soo-Hye Han
BUY
Votes That Count and Voters Who Don't
How Journalists Sideline Electoral Participation (Without Even Knowing It)
Sharon E. Jarvis and Soo-Hye Han
Winner of the 2019 Political Communication Division Roderick P Hart Outstanding Book Award from the National Communication Association
"Why are reporters constantly tempted to predict—or even to declare—election results before people even vote? In this fascinating book, Jarvis and Han identify a growing attitude of dismissiveness that echoes academic research on easily manipulated citizens and reinforces the public's cynicism about democracy. They show that this condescension has serious consequences. The authors' analytical rigor is matched by their respect and concern for everyday people: a rare and worthy combination."
Description

Reviews

Bio

Table of Contents

Sample Chapters

Subjects
For decades, journalists have called the winners of U.S. presidential elections—often in error—well before the closing of the polls. In
Votes That Count and Voters Who Don't
,
Sharon E. Jarvis and Soo-Hye Han investigate what motivates journalists to call elections before the votes have been tallied and, more importantly, what this and similar practices signal to the electorate about the value of voter participation.

Jarvis and Han track how journalists have told the story of electoral participation during the last eighteen presidential elections, revealing how the portrayal of voters in the popular press has evolved over the last half century from that of mobilized partisan actors vital to electoral outcomes to that of pawns of political elites and captives of a flawed electoral system. The authors engage with experiments and focus groups to reveal the effects that these portrayals have on voters and share their findings in interviews with prominent journalists
. Votes That Count and Voters Who Don
't not only explores the failings of the media but also shows how the story of electoral participation might be told in ways that support both democratic and journalistic values.

At a time when professional strategists are pressuring journalists to provide favorable coverage for their causes and candidates, this book invites academics, organizations, the press, and citizens alike to advocate for the voter's place in the n
ews.
"Why are reporters constantly tempted to predict—or even to declare—election results before people even vote? In this fascinating book, Jarvis and Han identify a growing attitude of dismissiveness that echoes academic research on easily manipulated citizens and reinforces the public's cynicism about democracy. They show that this condescension has serious consequences. The authors' analytical rigor is matched by their respect and concern for everyday people: a rare and worthy combination."
"Jarvis and Han report that American journalists over six decades have inadvertently put campaign strategists in the driver's seat and rendered voters as mere passengers. Moreover, campaign journalists were surprised that their concern for debunking strategists had undermined their attention to voters as active participants. Citizens disliked stories treating them as spectators and preferred stories treating then as empowered participants. This book offers important insights and a pathway toward improved campaign journalism and voting."
"Votes that Count and Voters Who Don't offers a rich understanding of how the language of news reports on presidential elections often impacts voter participation and turnout negatively. The centerpiece of this analysis is a nuanced content analysis of the trends in the appearance of three key words--vote, voter, and voting--in news reports across a sixty-eight-year period. Supplemented by experimental data and interviews with journalists, these results identify ways that news reports can enhance participation in elections."
"Votes That Count and Voters Who Don't will be invaluable reading for scholars, journalists, and citizens who care about elections—not just about who wins them, or the microscopic analysis of voting behavior, but about the fundamental exercise of power that elections represent. Jarvis and Han show us how it matters when journalists portray voters as those who are acted upon rather than as empowered democratic actors."
"Provocative just in its title alone, Sharon E. Jarvis and Soo-Hye Han's Votes That Count and Voters Who Don't: How Journalists Sideline Electoral Participation (Without Even Knowing It) is more insightful than the usual complaints about American politics devolving into a horse race in an echo chamber."
"Perhaps the book's triumph is that it makes it more difficult to look at members of the media as elite, but simply as contrite in the face of their apparent role in an election process that appears to have left the voter behind."
Sharon E. Jarvis is Associate Professor of Communication Studies and Associate Director for Research at the Annette Strauss Institute for Civic Life at the University of Texas at Austin.
Soo-Hye Han is Associate Professor of Communication Studies and Research Associate at the Institute for Civic Discourse and Democracy at Kansas State University.
Contents
AcknowledgmentsIntroduction: Journalists and Voters1 Portraying the Voter2 Discounting the Voter3 Positioning the Voter4 Influencing the Voter5 Struggling with the Voter6. Spinning for the VoterAppendixNotesIndex
Mailing List
Subscribe to our mailing list and be notified about new titles, journals and catalogs.