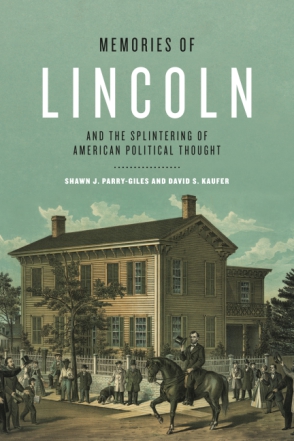 Memories of Lincoln and the Splintering of American Political Thought
Shawn J. Parry-Giles and David S. Kaufer
BUY
Memories of Lincoln and the Splintering of American Political Thought
Shawn J. Parry-Giles and David S. Kaufer
"This well-written and interesting book develops a new way of looking at citizenship and how it is constructed and enacted in the United States, making a valuable and potentially important contribution to the history of the era, to the conversations on citizenship, and to the methods of rhetorical criticism more broadly."
Description

Reviews

Bio

Table of Contents

Sample Chapters

Subjects
In the aftermath of the Civil War, Republicans and Democrats who advocated conflicting visions of American citizenship could agree on one thing: the rhetorical power of Abraham Lincoln's life. This volume examines the debates over his legacy and their impact on America's future.
In the thirty-five years following Lincoln's assassination, acquaintances of Lincoln published their memories of him in newspapers, biographies, and edited collections in order to gain fame, promote partisan aims, champion his hardscrabble past and exalted rise, and define his legacy. Shawn Parry-Giles and David Kaufer explore how style, class, and character affected these reminiscences. They also analyze the ways people used these writings to reinforce their beliefs about citizenship and presidential leadership in the United States, with specific attention to the fissure between republicanism and democracy that still exists today. Their study employs rhetorical and corpus research methods to assess more than five hundred reminiscences.
A novel look at how memories of Lincoln became an important form of political rhetoric, this book sheds light on how divergent schools of U.S. political thought came to recruit Lincoln as their standard-bearer.
"This well-written and interesting book develops a new way of looking at citizenship and how it is constructed and enacted in the United States, making a valuable and potentially important contribution to the history of the era, to the conversations on citizenship, and to the methods of rhetorical criticism more broadly."
"This book is a welcome contribution to the literature on Abraham Lincoln's public memory. It establishes a historical ground that scholars can use for future studies, and offers a distinctive contribution by framing its interpretations within the broader horizon of the tension between republicanism and democratic populism. It is ambitious in its scope and conclusion."
"Offers an extensive compilation that adds significant value to the scholarship on Lincoln, on presidential memory, and on citizen ideals. This book can be used to trace these same themes through subsequent texts to assess consistencies and changes across generations, specifically uncovering contemporary notions about Republican and Democratic U.S. citizenship. Scholars will greatly appreciate the extensive notes and detailed index. Recommended."
"Shawn Parry-Giles and David Kaufer give colleagues in the fıelds of rhetoric and communication, history, and collective memory tools to widen and deepen their understanding of any historical person, whatever his or her renown and reputation. For these scholars and for anyone seriously interested in the life of any historical person, this book does not merely deserve to be read; it is one that must be read."
"A large portion of what we know about Abraham Lincoln derives from these reminiscences, and the sheer variety of memories—from those of fellow politicians to common folk—democratizes his memory like no president before him."
"This diverse assemblage [of 'Lincoln reminiscences'] affords the authors a range of critical vantages on how the representation of Abraham Lincoln via personal memories published after his death shaped conceptions of US citizenship and the US presidency in ways that remain influential to contemporary experience."
Shawn J. Parry-Giles is Professor of Communication at the University of Maryland. Her most recent book is Hillary Clinton in the News: Gender and Authenticity in American Politics.
David S. Kaufer is Paul C. Mellon Distinguished Professor of English at Carnegie Mellon University and coauthor of Arab Women in Arab News: Old Stereotypes and New Media.
Contents
Introduction: Lincoln Memories and the Clash of Republican and Democratic Principles
Chapter One: Lincoln Memories and the Press
Chapter Two: Lincoln Memories and Character
Chapter Three: Lincoln Memories and Style
Chapter Four: Lincoln Memories and Class Mobility
Conclusion: Lincoln Memories and the Presidency
Appendix
Works Cited
Mailing List
Subscribe to our mailing list and be notified about new titles, journals and catalogs.