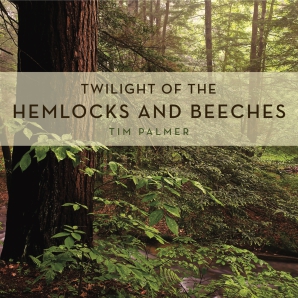 Twilight of the Hemlocks and Beeches
Tim Palmer
Buy
Twilight of the Hemlocks and Beeches
Tim Palmer
Hear Tim Palmer discuss his book on Pennsylvania Cable Network's
PA Books podcast
.
"The noble beech and the mighty hemlock help define the forest I've spent my life wandering; that they are now facing ruin is one more sadness in the great sadness settling over the planet. One is enormously grateful to the author for capturing their meaning and beauty; we should do all that we can to keep them healthy."
Media

Description

Reviews

Bio

Table of Contents

Sample Chapters

Subjects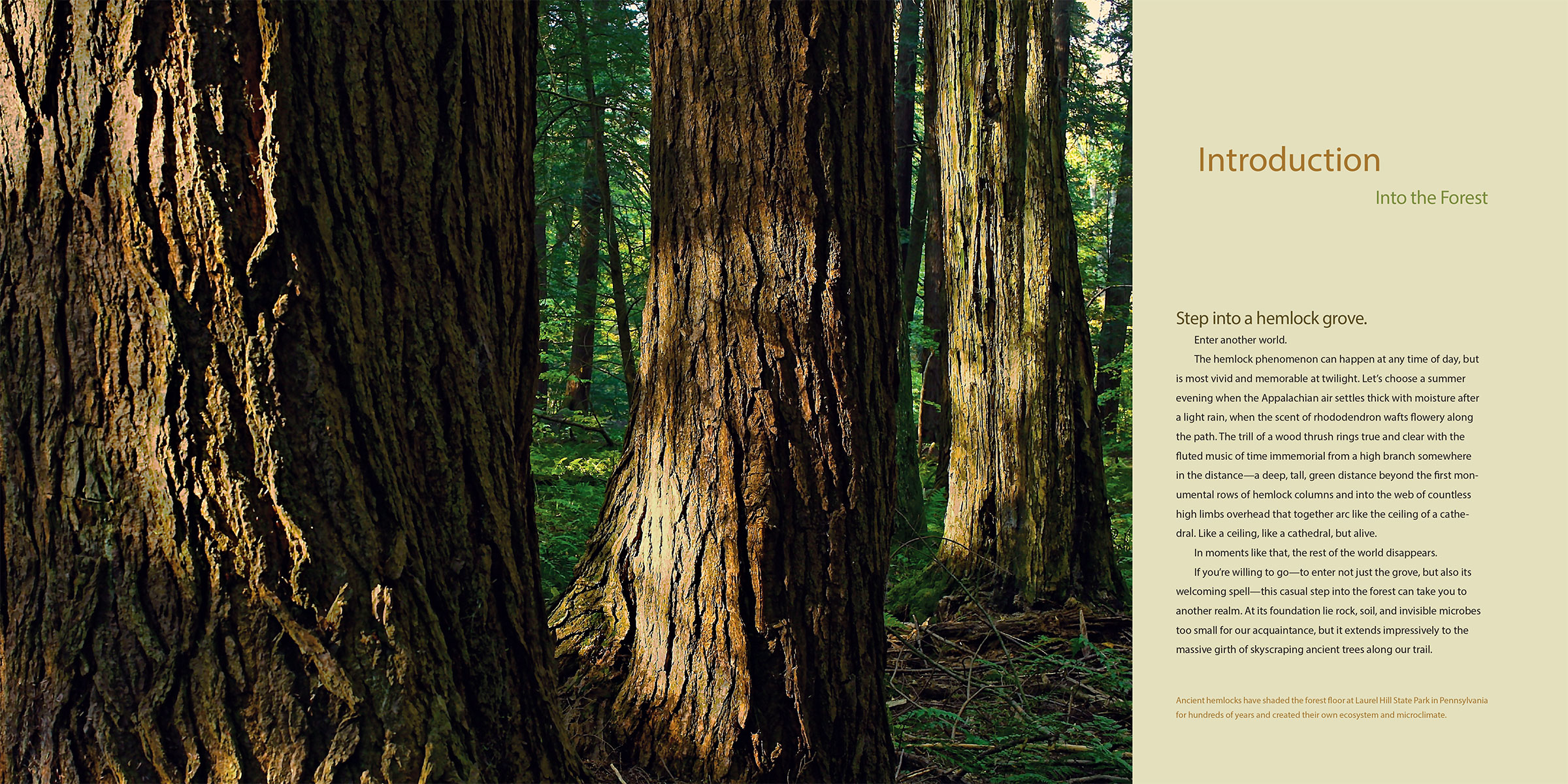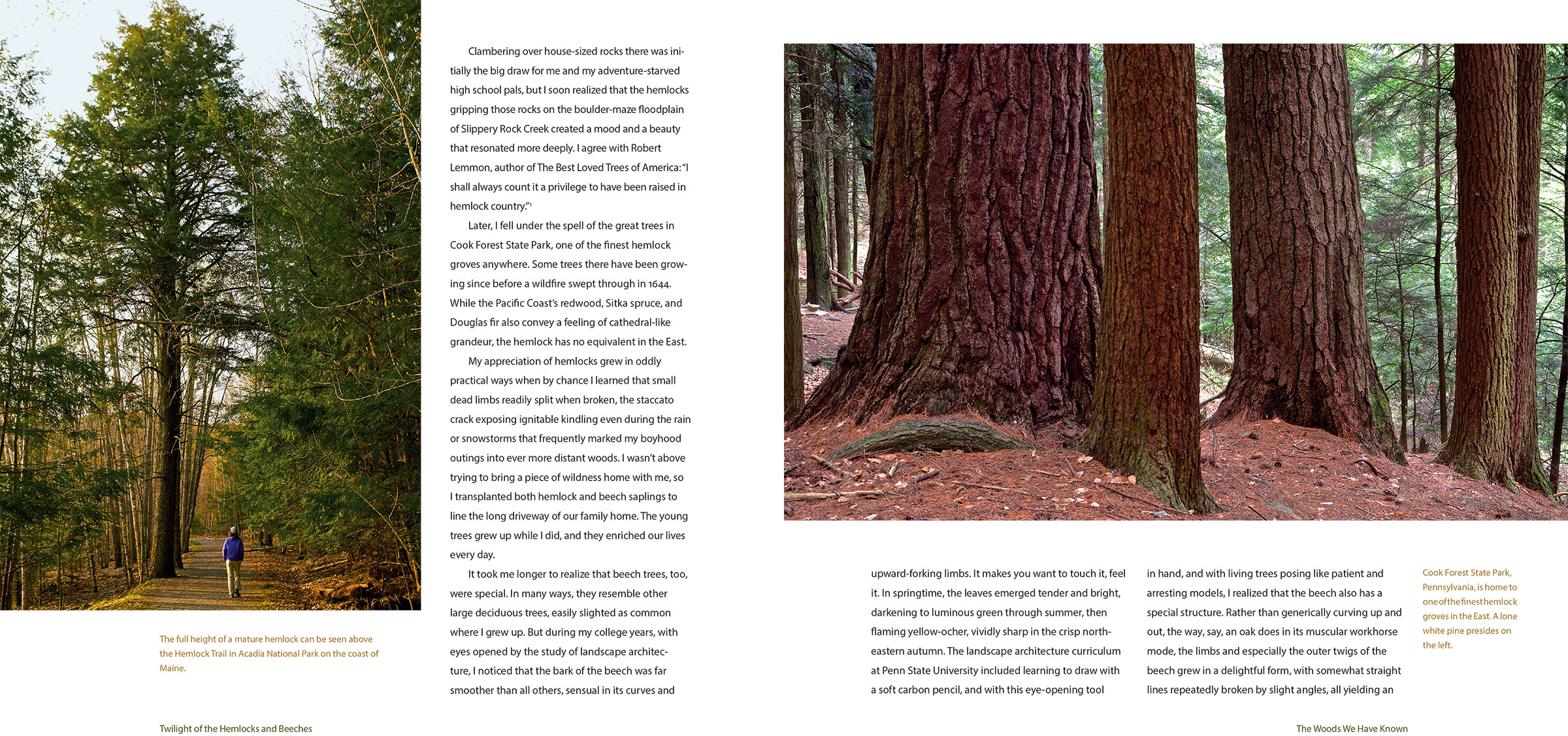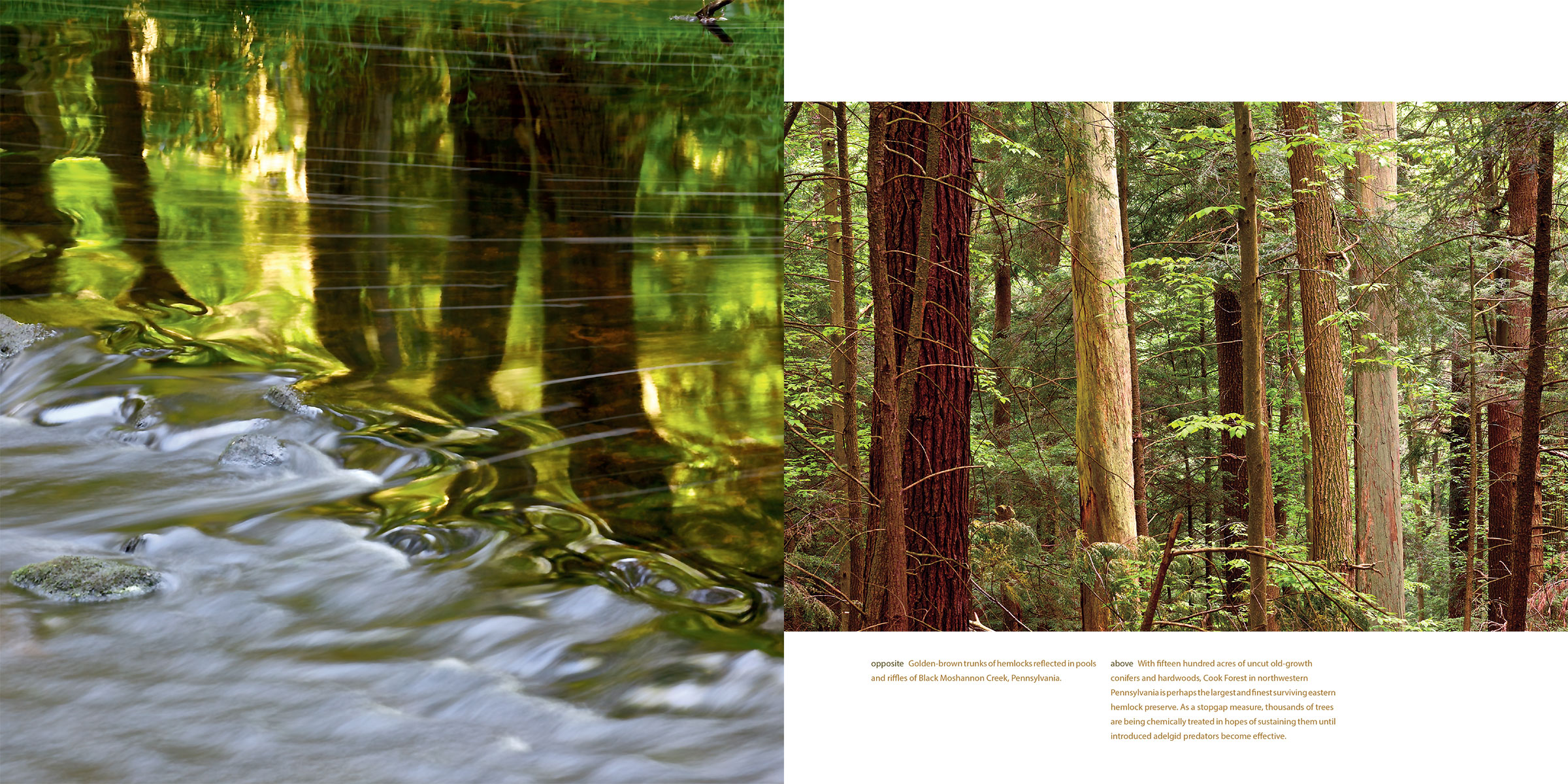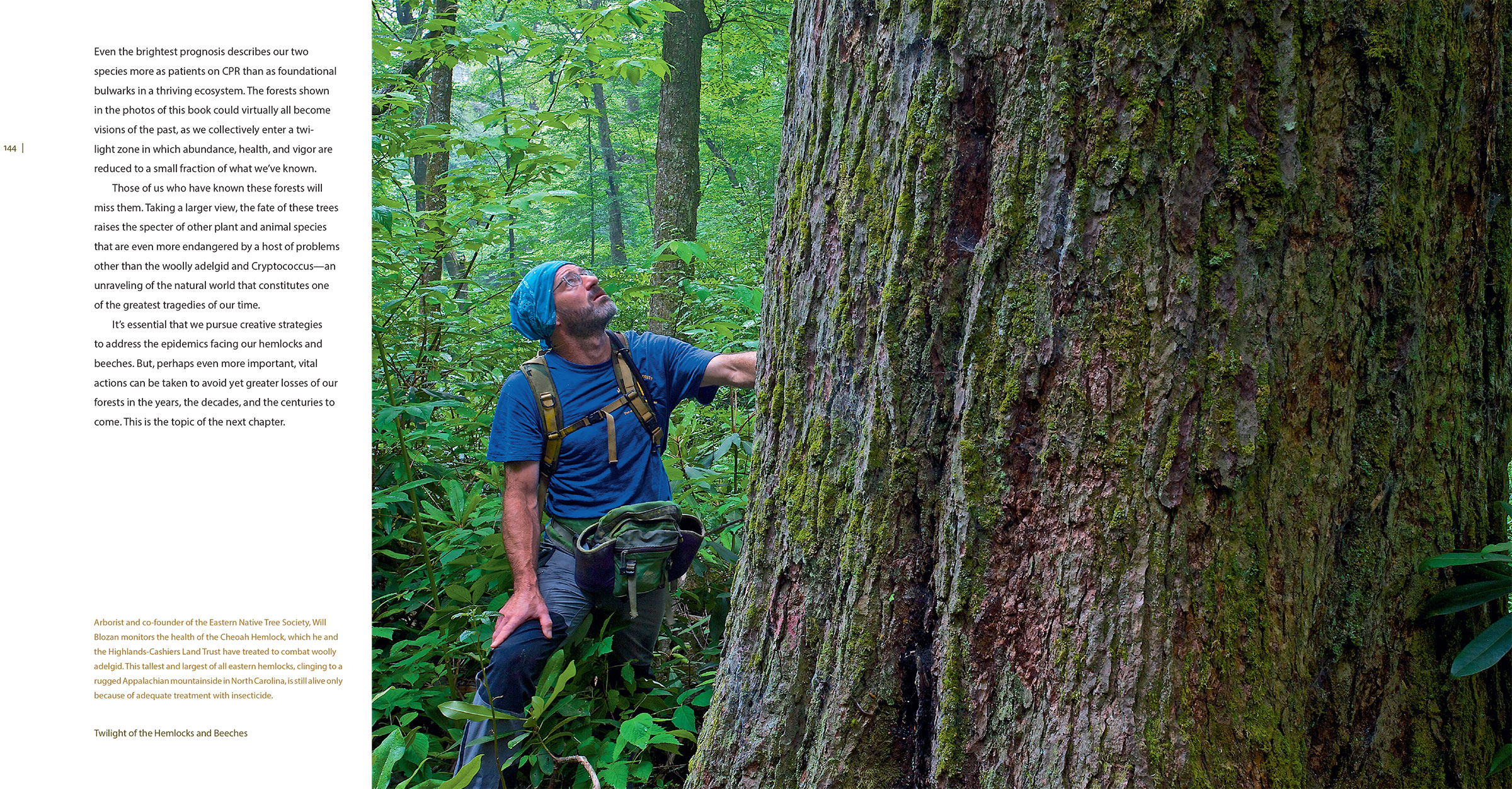 In this magnificently illustrated book, conservationist and celebrated outdoors photographer Tim Palmer launches us on a revealing journey among the hemlock and beech trees that have for millennia towered over America's eastern woodlands.

The eastern hemlock and North American beech once thrived from Maine to Georgia, casting shade on trout streams, nourishing wildlife large and small, and gracing uncounted valleys, mountainsides, parks, and backyards. These trees now face tragic decimation by exotic insects and pathogens. Palmer's photos record the splendor of the cherished hemlock and beech in the same way that pictures of iconic, historic buildings commemorate classic landmarks gone the way of the wrecking ball. And yet, as Palmer underscores in his final chapter, the lessons learned as we address the fate of these trees can help us chart a better course for all wooded landscapes in the years ahead. This story of loss, scientific inquiry, and prospective recovery is vital to understanding nature in our time.

As an act of artistic preservation, a report on the science vital to the survival of these trees, and a call to acti
on,
Twilight of the Hemlocks and Beeches
assures a lasting legacy for this irreplaceable forest community. With more than one hundred exquisite full-color photographs, this book is a must-have for outdoor enthusiasts, natural historians, ecologists, and all lovers of nat
ure.
"The noble beech and the mighty hemlock help define the forest I've spent my life wandering; that they are now facing ruin is one more sadness in the great sadness settling over the planet. One is enormously grateful to the author for capturing their meaning and beauty; we should do all that we can to keep them healthy."
"Palmer's prose is as vivid and beautiful as his photographs. Both capture and hold for future generations a little of what we are losing in our shady, magical beech and hemlock groves. This bittersweet celebration and elegy is not to be missed by anyone who loves nature."
"Two of America's great trees are being crippled, leaving our forested landscape poised for transformation. The photos in this volume capture the majesty and singular role of the eastern hemlock and American beech in settings across their range, while the insightful text offers the detailed story of their lives and our future loss."
"Tim Palmer's breathtaking photography perfectly captures the magic of Pennsylvania's state tree, whether seen in an ancient grove or meandering along streambanks and waterways in the Commonwealth. His images and prose will inspire us all to work on building resilience in adapting to the impacts of climate change and to do what we can to save these majestic trees."
"This volume is a compelling visual testament by a talented photographer that will appeal to many outdoor enthusiasts, natural historians, ecologists, and lovers of nature. [Palmer's] photographs inform us; they also touch our souls."
Tim Palmer, an award-winning author and photographer, has written and photographed twenty-six books about the environment, forests, and adventure travel. See his work at www.timpalmer.org.
Contents
Introduction: Into the Forest1. Twilight of Another Realm2. The Woods We Have Known3. Visions of Hemlocks and Beeches4. The World Transformed5. Survival and Restoration6. Lessons from a Beloved Forest7. Confronting Loss and Welcoming RenewalAcknowledgementsNotesSourcesAbout the Author and PhotographerAbout the PhotographsIndex
From the Introduction
"Into the Forest"
Step into a hemlock grove.Enter another world.The hemlock phenomenon can happen at any time of day, but is most vivid and memorable at twilight. Let's choose a summer evening when the Appalachian air settles thick with moisture aftera light rain, when the scent of rhododendron wafts flowery along the path. The trill of a wood thrush rings true and clear with the fluted music of time immemorial from a high branch somewhere in the distance—a deep, tall, green distance beyond the first monumental rows of hemlock columns and into the web of countless high limbs overhead that together arc like the ceiling of a cathedral. Like a ceiling, like a cathedral, but alive.
In moments like that, the rest of the world disappears.If you're willing to go—to enter not just the grove, but also its welcoming spell—this casual step into the forest can take you to another realm. At its foundation lie rock, soil, and invisible microbes too small for our acquaintance, but it extends impressively to the massive girth of skyscraping ancient trees along our trail.From the first page of this book to the back cover, all my efforts to describe and photograph these trees are a bit futile. The essence of the hemlock and beech forest is not about a thing, or even a life, but about a feeling conveyed as you walk among the trees. You have to go.There in the hemlock grove, everything appears to be different. Everything is different. On a hot day, I sigh with cool refreshment under the emerald canopy. Hemlocks create more shade than any other plant occurring across their wide geography. As little as 1 percent of light makes its way from the treetops through the dense crop of needles to the forest floor. Because of that, the temperature drops as much as ten degrees in the canopy and another five at ground level. Yet on starry winter nights the hemlock grove is warmer than its surroundings, owing to the protective web of limbs and foliage that traps the earth's warmth. Hemlocks moderate the climate around them.I'm not normally attracted to darkness, especially in the middle of the day. But here in the grove, with muted light, everything appears paradoxically more vivid. Green is greener. Responding to the hemlock's filtering of light on sunny days, on cloudy days, and even in the black-and-white moonlight of the night, my eyes adjust to see more. The scents of foliage, duff, and soil register more vitally as organic.My footsteps are muffled by the softness of the needle-filled mattress underfoot, giving extra springto my stride. The forest's silence opens possibilities for imagination otherwise too often hobbled by a junkyard of noise around us. My senses open to all that surrounds me, and something in my heart does the same. The trees absorb not only water fallen from summer's thunderheads and carbon extracted from the atmosphere, but also emotions that I'm eager to shed: impatience, worry, stress.
I'll even go a step further: the deep shade calls up a sense of reverence. In the trees' scented atmosphere, life is serene, soothing, protected. Standing among hemlocks, I can imagine the earth before we humans were born, a land governed by itself in wildness beyond anything we now know. Primeval.Ancient forests of many kinds can call up foggy memories such as these from deep in our genetic code and from our long-forgotten heritage on the blue-green planet, but hemlock forests do this resoundingly well. The archetypal enchanted forest of fairy tales might well have been set here. The dense cover overhead, the snags of dead limbs, the corrugation of bark in lines that lead the eye upward, and the shafts of sunlight angling back down all speak of another age when the woods held delights, mysteries, and paths to wisdom that are, in today's world, crowded out by trivia and swamped by the irrelevant, the pathetic, the narcissistic. Standing among hemlocks, I'm reminded of America's first great wildlands preservationist, John Muir, who wrote, "The clearest way into the universe is through a forest wilderness."
With all those successful old lives around me—their limbs graced above and their roots entwined below—I'm drawn back to the evolutionary legacy of our deep past and also forward to a future where one might expect utter tranquility, given the qualities evident as we walk down that forested path on our memorable summer evening. There, in the twilight, the ancient grove seems as permanent as anything in life.
Yet it's not.
Most hemlocks will not be with us for long.(Excerpt ends here.)
Mailing List
Subscribe to our mailing list and be notified about new titles, journals and catalogs.