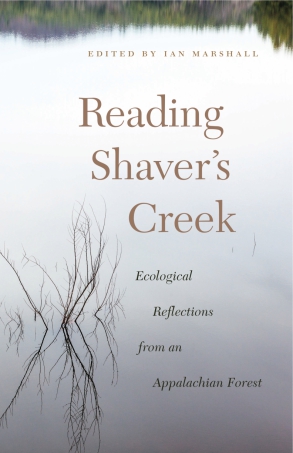 Reading Shaver's Creek
Ecological Reflections from an Appalachian Forest
Edited by Ian Marshall
BUY
Reading Shaver's Creek
Ecological Reflections from an Appalachian Forest
Edited by Ian Marshall
"What a pleasure to wander with some of America's finest environmental writers along the ferny edges of a Pennsylvania stream—to listen to birdsong with their educated ears, to see the stony past and stormy future through their discerning eyes, to explore the brambles and branches of their marvelous minds. Like Walden, Reading Shaver's Creek is testimony to the power of creative attention to a special place, and a rollicking good read."
Description

Reviews

Bio

Subjects
What does it mean to know a place? What might we learn about the world by returning to the same place year after year? What would a long-term record of such visits tell us about change and permanence and our place in the natural world? This collection explores these and related questions through a series of reflective essays and poems on Pennsylvania's Shaver's Creek landscape from the past decade.
Collected as part of The Ecological Reflections Project—a century-long effort to observe and document changes to the natural world in the central Pennsylvanian portion of the Appalachian Forest—these pieces show how knowledge of a place comes from the information and perceptions we gather from different perspectives over time. They include Marcia Bonta's keen observations about how humans knowingly and unknowingly affect the landscape; Scott Weidensaul's view of the forest as a battlefield; and Katie Fallon describing the sounds of human and nonhuman life along a trail. Together, these selections create a place-based portrait of a vivid ecosystem during the first decade of the twenty-first century.
Featuring contributions by nationally known nature writers and local experts, Reading Shaver's Creek is a unique, complex depiction of the central Pennsylvania landscape and its ecology. We know the land and creatures of places such as Shaver's Creek are bound to change throughout the century. This book is the first step to documenting how.
In addition to the editor, contributors to this volume are Marcia Bonta, Michael P. Branch, Todd Davis, Katie Fallon, David Gessner, Hannah Inglesby, John Lane, Carolyn Mahan, Jacy Marshall-McKelvey, Steven Rubin, David Taylor, Julianne Lutz Warren, and Scott Weidensaul.
"What a pleasure to wander with some of America's finest environmental writers along the ferny edges of a Pennsylvania stream—to listen to birdsong with their educated ears, to see the stony past and stormy future through their discerning eyes, to explore the brambles and branches of their marvelous minds. Like Walden, Reading Shaver's Creek is testimony to the power of creative attention to a special place, and a rollicking good read."
"Reading Shaver's Creek is an inspirational contribution to the growing genre of multivoiced, place-oriented community writing projects, sometimes called 'deep maps.' Its blend of environmental history, ecological understanding, and literary flair is all seasoned with a healthy love of place, whether that place is thought of as an out-of-the-way valley in the Allegheny Mountains or the whole of planet Earth."
"The journals of nature writers like John Burroughs and Henry David Thoreau provide a rich record of cultural and climate change. Now the Ecological Reflections Project has brought this approach to the eastern Appalachians. Over the next one hundred years, accomplished writers will experience and reflect on place, and this lively book samples the project's first decade. Brimming with beautiful insights, stories, and meditations, it will inspire anyone who loves the way wood, stone, wind, and water speak to the human spirit."
"Visit Shaver's Creek. Observe. Write. Like exquisite footprints meandering along a muddy shore, the 'best of' pieces in this ten-year compendium track the fascinating merging of mind and matter, words and wildness, people and place. After reading these reflections by scientists, local writers, and visiting authors, Shaver's Creek has become meaningful—and even a little magical—to me, and I hope that this book will inspire similar long-term ecological reflections projects in other special places."
Ian Marshall is Professor of English and Environmental Studies at Penn State Altoona.
Mailing List
Subscribe to our mailing list and be notified about new titles, journals and catalogs.