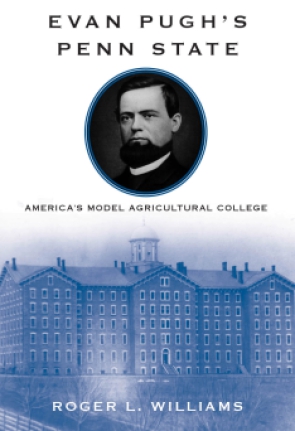 Evan Pugh's Penn State
America's Model Agricultural College
Roger L. Williams
BUY
Evan Pugh's Penn State
America's Model Agricultural College
Roger L. Williams
"The dedication of men such as Pugh to new frontiers in science and education helped create a vast educational system that is today the envy of much of the world."
Description

Reviews

Bio

Table of Contents

Sample Chapters

Subjects
When Evan Pugh became the first president of Pennsylvania's Farmers' High School—later to be known as The Pennsylvania State University—the small campus was in disrepair and in dire need of leadership. Pugh was young, barely into his 30s, but he was energetic, educated, and visionary. During his tenure as president he molded the school into a model institution of its kind: America's first scientifically based agricultural college.
In this volume, Roger Williams gives Pugh his first book-length biographical treatment. Williams recounts Pugh's short life and impressive career, from his early days studying science in the United States and Europe to his fellowship in the London Chemical Society, during which he laid the foundations of the modern ammonium nitrate fertilizer industry, and back to Pennsylvania, where he set about developing "upon the soil of Pennsylvania the best agricultural college in the world" and worked to build an American academic system mirroring Germany's state-sponsored agricultural colleges. This last goal came to fruition with the passage of the Morrill Act in 1862, just two years prior to Pugh's death. Drawing on the scientist-academic administrator's own writings and taking a wide focus on the history of higher education during his lifetime, Evan Pugh's Penn State tells the compelling story of Pugh's advocacy and success on behalf of both Penn State and land-grant colleges nationwide.
Despite his short life and career, Evan Pugh's vision for Penn State made him a leader in higher education. This engaging biography restores Pugh to his rightful place in the history of scientific agriculture and education in the United States.
"The dedication of men such as Pugh to new frontiers in science and education helped create a vast educational system that is today the envy of much of the world."
"An engaging and immensely readable biography of a figure important not only to the history of American agriculture, but to the modern shape of higher education in the US."
"Williams's book is an important reminder of the crucial role educators and educational reformers played in the formation of America's infrastructure for agricultural research and extension. By resurrecting a figure, an institution, and a moment that helped forge this system, Williams draws our attention once again to the importance of agriculture for the history of science in America."
"This pathbreaking biographical study of Evan Pugh shows convincingly why Roger L. Williams is considered one of the nation's outstanding historians of higher education. Using archival sources and heretofore neglected documents, Williams's analysis of Pugh's leadership at what we know today as The Pennsylvania State University shows how a president can make a difference and offers scholars a case study of how the distinctive American land-grant legislation and model came to fruition in the mid- and late nineteenth century."
"In this wonderfully readable and engaging biography, Roger L. Williams not only recovers the achievements of an important scientist and educational pioneer, but also gives us a much-needed deep history of the movement for land-grant universities. Scholars interested in the roots of public higher education, university-based scientific research, and agricultural modernization in the United States will welcome this outstanding contribution."
"Williams's study reminds us that chemistry was at the heart of the land-grant movement and that Evan Pugh was among its most persuasive leaders. Williams, a leading historian of the Morrill Land-Grant Act, weaves an important story about how higher education happened in America. The creation of Penn State—and land-grant universities generally—marked a significant departure in how the federal and state governments came together to foster their citizens' futures. It is a cautionary tale for those who long for the mythical days of rugged individualism in the building of the United States."
"With confident writing and astute analysis, Roger Williams resurrects Evan Pugh, international scientist, university reformer, and the formidable first president of Penn State. Readers seeking a fresh look at the history of the land-grant college movement will delight in Williams's latest work."
Roger L. Williams served as Associate Vice President and Executive Director of the Penn State Alumni Association, the world's largest, from 2003 to 2015 and as Affiliate Associate Professor in Penn State's Higher Education Program. He is the author of The Origins of Federal Support for Higher Education: George W. Atherton and the Land-Grant College Movement, also published by Penn State University Press.
List of Illustrations
Preface
1. Evan Pugh: A Young Man Enamored of Science and Education
2. Study in Germany and France, Research in England
3. A New School, a New President, a New Movement
4. Beginning the Presidency
5. The Institution Hits Its Stride
6. Pugh's Standing in the American Scientific Community
7. Campaigning for the Morrill Land-Grant College Act
8. The Disruptions of 1863
9. The Battle Royal
10. Death and Aftermath
11. Epilogue
Appendix A Report upon a Plan for the Organization of Colleges for Agriculture and the Mechanic Arts with Especial Reference to the Organization of the Agricultural College of Pennsylvania
Notes
Bibliography
Index
Mailing List
Subscribe to our mailing list and be notified about new titles, journals and catalogs.