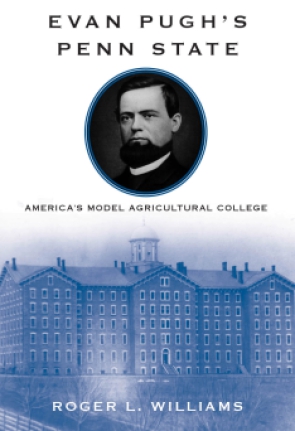 Evan Pugh's Penn State
America's Model Agricultural College
Roger L. Williams
Buy
Evan Pugh's Penn State
America's Model Agricultural College
Roger L. Williams
"The dedication of men such as Pugh to new frontiers in science and education helped create a vast educational system that is today the envy of much of the world."
Description

Reviews

Bio

Table of Contents

Sample Chapters

Subjects
When Evan Pugh became the first president of Pennsylvania's Farmers' High School—later to be known as The Pennsylvania State University—the small campus was in disrepair and in dire need of leadership. Pugh was young, barely into his 30s, but he was energetic, educated, and visionary. During his tenure as president he molded the school into a model institution of its kind: America's first scientifically based agricultural college.
In this volume, Roger Williams gives Pugh his first book-length biographical treatment. Williams recounts Pugh's short life and impressive career, from his early days studying science in the United States and Europe to his fellowship in the London Chemical Society, during which he laid the foundations of the modern ammonium nitrate fertilizer industry, and back to Pennsylvania, where he set about developing "upon the soil of Pennsylvania the best agricultural college in the world" and worked to build an American academic system mirroring Germany's state-sponsored agricultural colleges. This last goal came to fruition with the passage of the Morrill Act in 1862, just two years prior to Pugh's death. Drawing on the scientist-academic administrator's own writings and taking a wide focus on the history of higher education during his lifetime, Evan Pugh's Penn State tells the compelling story of Pugh's advocacy and success on behalf of both Penn State and land-grant colleges nationwide.
Despite his short life and career, Evan Pugh's vision for Penn State made him a leader in higher education. This engaging biography restores Pugh to his rightful place in the history of scientific agriculture and education in the United States.
"The dedication of men such as Pugh to new frontiers in science and education helped create a vast educational system that is today the envy of much of the world."
"An engaging and immensely readable biography of a figure important not only to the history of American agriculture, but to the modern shape of higher education in the US."
"Williams's book is an important reminder of the crucial role educators and educational reformers played in the formation of America's infrastructure for agricultural research and extension. By resurrecting a figure, an institution, and a moment that helped forge this system, Williams draws our attention once again to the importance of agriculture for the history of science in America."
"This pathbreaking biographical study of Evan Pugh shows convincingly why Roger L. Williams is considered one of the nation's outstanding historians of higher education. Using archival sources and heretofore neglected documents, Williams's analysis of Pugh's leadership at what we know today as The Pennsylvania State University shows how a president can make a difference and offers scholars a case study of how the distinctive American land-grant legislation and model came to fruition in the mid- and late nineteenth century."
"In this wonderfully readable and engaging biography, Roger L. Williams not only recovers the achievements of an important scientist and educational pioneer, but also gives us a much-needed deep history of the movement for land-grant universities. Scholars interested in the roots of public higher education, university-based scientific research, and agricultural modernization in the United States will welcome this outstanding contribution."
"Williams's study reminds us that chemistry was at the heart of the land-grant movement and that Evan Pugh was among its most persuasive leaders. Williams, a leading historian of the Morrill Land-Grant Act, weaves an important story about how higher education happened in America. The creation of Penn State—and land-grant universities generally—marked a significant departure in how the federal and state governments came together to foster their citizens' futures. It is a cautionary tale for those who long for the mythical days of rugged individualism in the building of the United States."
"With confident writing and astute analysis, Roger Williams resurrects Evan Pugh, international scientist, university reformer, and the formidable first president of Penn State. Readers seeking a fresh look at the history of the land-grant college movement will delight in Williams's latest work."
Roger L. Williams served as Associate Vice President and Executive Director of the Penn State Alumni Association, the world's largest, from 2003 to 2015 and as Affiliate Associate Professor in Penn State's Higher Education Program. He is the author of The Origins of Federal Support for Higher Education: George W. Atherton and the Land-Grant College Movement, also published by Penn State University Press.
List of Illustrations
Preface
1. Evan Pugh: A Young Man Enamored of Science and Education
2. Study in Germany and France, Research in England
3. A New School, a New President, a New Movement
4. Beginning the Presidency
5. The Institution Hits Its Stride
6. Pugh's Standing in the American Scientific Community
7. Campaigning for the Morrill Land-Grant College Act
8. The Disruptions of 1863
9. The Battle Royal
10. Death and Aftermath
11. Epilogue
Appendix A Report upon a Plan for the Organization of Colleges for Agriculture and the Mechanic Arts with Especial Reference to the Organization of the Agricultural College of Pennsylvania
Notes
Bibliography
Index
Chapter 1
Evan Pugh: A Young Man Enamored of Science and Education
The world into which Evan Pugh was born on February 29, 1828, was peaceable, well established, and relatively secure and stable, though life was far from easy. His ancestors, Welsh Quakers, had been in Pennsylvania for five generations, stretching back to the late 1600s when the Welsh immigrated to southeastern Pennsylvania in droves. They came mainly out of the desire for religious liberty and the prospect of establishing their own autonomous community within the larger confines of William Penn's Quaker (and thus exceptionally liberal and tolerant) proprietary colony. The Welsh settled to the west and north of Philadelphia, in what was called the Welsh Barony or Welsh Tract, located in the original Philadelphia and Chester counties and the later carve-outs of Montgomery and Delaware counties.
According to family records, the first Pugh to settle in Pennsylvania was the Quaker Ellis Pugh, who arrived from Wales in the late 1680s, only a few years after Penn had established the colony in 1682. Beyond his work as a farmer and blacksmith, which for Pugh males became their two-pronged working tradition for generations, history provides no additional information about Ellis Pugh. John Pugh, Ellis's son, bought 500 acres near the village of Oxford, Chester County, and established the family homestead and farm for the ensuing generations. Located in the extreme southwestern corner of Chester County, Oxford is about twenty-seven miles southeast of Lancaster, sixty-five southwest of Philadelphia, and only a few miles north of the Mason- Dixon line.
John and his wife bore five children, one of whom was William, who married Mary Brown in 1742. They in turn bore six children, one of whom, Jesse, born in 1772, became Evan Pugh's paternal grandfather. Jesse married Elizabeth Hudson in 1795, a union that produced ten children, including Evan's father, Lewis Pugh, born in 1796. Lewis married Mary Hutton in 1822 and they begat six children: Rebecca, born in 1823 and dead a month later; Susannah, born in 1824; Elizabeth, Evan's closest sibling, who was born in 1826 and died in 1847; Evan, born in 1828, on February 29 in that leap year; Enoch, born in 1830; and John, born in 1832 and dying accidentally in childhood, in 1834.
Upon their marriage, Lewis and Mary Pugh moved into a two-story farm- house at Jordan Bank, near Oxford, on a tract of fifty-six acres that his father, Jesse, had carved out of the family homestead and deeded to Lewis. Having apprenticed as a blacksmith in the family tradition, Lewis quickly constructed a blacksmith shop on the property. To power the shop's tilt-hammer forge, he built a dam across nearby Jordan Creek. Between the farm and the smithy, Lewis and Mary prospered financially, and "life appeared happy and secure." But shortly after Evan's birth in 1828, the family suffered a reversal of fortune. In September 1830, Lewis was working in the shop, over the fire, "and had a fit and fell into the fire and was so badly burned before he was taken out that he lost his sight; but parcially [sic] got over the burn but could never see after." Mary and her children took on increasing responsibilities as Lewis's health deteriorated. After his accident, the epileptic seizures continued every two to three weeks and eventually killed Lewis on July 20, 1840. Evan was twelve years old and, as the eldest son, suddenly became head of the household, but only for the moment. The family was forced to split apart. The two eldest children, Elizabeth and Evan, went to live at the neighboring farm with Jesse and his two unmarried daughters, Adrianna and Mary. The two daughters not only were Jesse's housekeepers but also conducted a small school for girls. Meanwhile, the two younger children, Susanna and Enoch,
remained with their mother, Mary, at the family home.
The plan was for twelve-year-old Evan, obligated to carry on the family tradition, to follow in his father's footsteps and become a blacksmith's apprentice when he reached his sixteenth birthday. As he recounted it: "Considering the success of my father in the business, the prospect before him at the time and the lamentable sumination [sic] of all his hopes and prospects in the accident of fifteen minutes—the gradual decline of everything he had erected to carry out his designs—the dependant [sic] state of my mother, it was natural that my friends should look to me as the eldest son, as one who should carry out the frustrated designs of my father."
In the meantime, he continued his education in the township's elementary schools, and also accepted tutoring by his aunt, Adrianna Pugh, who taught him algebra, geometry, geography, history, Latin, and stenography. In addition, the Pugh family was always active in Quaker meeting, and Evan and his siblings were steeped in its religious training, supplemented by added religious instruction at home. Adrianna was a cut above the norm. Her wide-ranging studies and store of knowledge provided Evan with an early advantage, and she remained a strong proponent of his plans to acquire more education. Pugh attributed much of his success in life to the education he received at the hand of Adrianna.
Evan had been imbued with a strong sense of obligation and duty to his family. But, at the threshold of puberty, his mind began to wander in different directions. He has been described as "reflective and even melancholy," given to daydreaming, and "inquisitive and adventuresome," and, though Quaker, not averse to looking elsewhere for religious inspiration. Not long after his father's death, Evan came into contact with some Mormons who had decamped in Chester County before traveling west to Ohio. When they left, Evan followed, but soon returned to his grandfather's home, confirming Jesse's faith in his "good sense and morality." Jesse was a Quaker of the "more liberal school," his father being "not governed by their dogmas, yet approved of their principles." Still, he could not fathom Evan's attraction, however evanescent, to Mormonism.
At an early age, Evan developed the lifelong habit of talking to himself. "Having passed my life from my 5th to my 15th year almost entirely without other associates of my own age except a sister, I embraced hours for this gratification," he said. He began reading at age seven, his first intellectual foray into the world beyond Oxford being Sir William Wallace, about the thirteenth-century leader of the Scottish Wars of Independence, from which he got his "first idea of heroism, of patriotic fire." Pugh read other books, from Babes in the Woods, his first and only novel, to antislavery tracts. He also began to imaginatively mount the rostrum and give public speeches: "They were always in defence [sic] of some unpopular, yet what I considered a just cause."
When he was sixteen, however, his sense of familial duty and tradition reasserted itself. And so in 1844 Pugh entered into apprenticeship to become a blacksmith. It was not a happy episode. His apprenticeship lasted two years and ended in disaster. Pugh soon grew to hate his master, a certain Samuel Townsend, whom he deemed stupid and insensible. Pugh persevered, but later branded his apprenticeship an utter waste of time. Still, the experience haunted him, the sense that he had deserted his post, abandoned his destiny, and failed in his responsibilities to his family. As Pugh later reflected, this "idea"—of taking his father's place as a blacksmith—"fought with me" for the seven years following his apprenticeship, not receiving its final "death blow" until the late summer of 1853, just before Pugh was to leave for Germany.
In 1847, death came to those closest to Pugh—first, his beloved sister Elizabeth, followed three months later by his grandfather, Jesse. Dreaming of Elizabeth years later as he crossed the Atlantic, Pugh lamented that her "absence . . . has left a heavy vacuity in my lonely moments . . . which no living form can fill."
This turn of events, coupled with Aunt Adrianna's encouragement, induced Pugh to leave Chester County and enroll at Whitestown Seminary near Utica, New York. Whitestown was a manual labor school where, among other things, Pugh evolved some of his later theories on the practical applications of science in education. At Whitestown he studied analytical geometry, differential and integral calculus, applied geometry, astronomy, botany, physics, geology, and chemistry. He also studied Pitman shorthand, an arcane and nearly forgotten variant of standard shorthand, and in fact kept his journal for the entire Whitestown year in Pitman.
His Whitestown education, coupled with his wide-ranging intellect, childhood experiences, and natural curiosity, kindled an interest in scientific agriculture and teaching. Seeking to broaden his horizons, Pugh traveled to Utica, Albany, Niagara Falls, and New York City. He returned to the family farm in December 1848 with a new life's purpose. Thus, he began teaching during the spring of 1849 at an elementary school in nearby Blue Ball Tavern, Maryland, just across the Mason-Dixon Line.
In the fall of 1849 Pugh took another leap and opened his own school—the Jordan Bank Academy for boys—on the family farm. He used the second floor of the blacksmith's shop for classrooms. His mother provided room and board at the farmhouse for some of his pupils. He taught the usual studies, with laboratory and fieldwork in botany, analytical chemistry, geology, and mineralogy. True to the Quaker ethos of gender equality, Pugh opened his lectures and demonstrations to his aunt's pupils in the "Misses Pughs' Pleasant Valley Seminary for Girls." Pugh's students could also learn the "art of photographic reporting," a combination of Pitman shorthand with some phonetically spelled longhand.16 To the untutored eye, Pugh's writings in this style present an indecipherable communications code as esoteric as Runic or Sanskrit. But through this self-devised system, he was able to take notes copiously and accurately.
Pugh thrived as headmaster of Jordan Bank. For one thing, he got an early taste of the exhilaration of operating a school, whetting his appetite for what would come later, on a grander scale. He had time and equipment to experiment in chemistry, by now his greatest scientific passion. He also prospered financially and in the thrifty Quaker tradition salted away his profits for future needs. He fairly reveled in teaching and learning, composing a Jordan Bank ditty titled "Education," which exemplified the noble quest for knowledge on which he led his students:
The elements that form our globe, by chemistry we'll know,
The truths this science will unfold, Analysis will show;
The soils and minerals of our globe, beneath our eyes shall fall,
And we will never stop to rest, till we have learned them all.
At Jordan Bank, Pugh's talent for versifying found larger and longer expression in "Osseology," a poem sung to the tune of "Auld Lang Syne" that covered the 208 bones in the human body. A sample:
'Tis of the human bones we'll sing, 208 we name,
Which give us form, so neat, complete, and constitute our frame; Of these, the Head has 26—the Teeth we don't include,
Which, by themselves, will form a class, to which we must allude.
Eight bones in the skull we next will find, arch'd o'er the brain complete, And 'neath their concave tablets here, the mind has her retreat:
Occipital behind the head, where social feelings lie, And o'er it the parietal bones their tablets do apply.
Jordan Bank Academy was successful on all counts, drawing students from well beyond Oxford. A roster from winter 1853 shows twenty-five enrollees. Of these, seventeen were boarding students and eight were day students. The seventeen boarding students included seven from Lancaster County, six from Chester County, two from Cecil County, Maryland, one from Wilmington, Delaware, and one from England. Of the eight day students, six came from Chester County, one from Baltimore, and one from Washington, D.C. Much of the academy's allure lay in its scientific offerings. In February 1853 Pugh promoted the academy thus: "The summer term of this institution will open on the Fourth of the fourth month to continue twelve weeks. The course of instruction embraces all the branches of learning of a thorough English education, including the art of phonographic reporting and chemical analyses. Particular attention will be given to the sciences of Mineralogy, Geology and Botany which can be pursued successfully at no other season of the year. . . . Students in analytical chemistry are allowed the use of apparatus and reagents in analyzing soils, minerals . . . for an extra charge of $10.00."
(Excerpt ends here)
Mailing List
Subscribe to our mailing list and be notified about new titles, journals and catalogs.