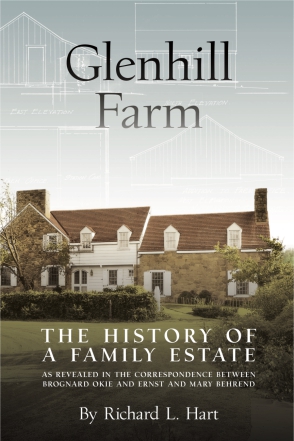 Glenhill Farm
The History of a Family Estate, as Revealed in the Correspondence Between Brognard Okie and Ernst and Mary Behrend
Richard L. Hart
Buy
Glenhill Farm
The History of a Family Estate, as Revealed in the Correspondence Between Brognard Okie and Ernst and Mary Behrend
Richard L. Hart
"Hart's analysis of the large trove of correspondence between a wealthy client and a Philadelphia architect provides an intimate view of the creation of this beautiful estate. Anyone who has ever done archival research will find Hart's methods instructive, as he ferrets out the numerous details from these letters from which he constructs his narrative."
Description

Reviews

Bio

Subjects
By 1930, having developed a highly successful business, the innovative paper manufacturer Ernst Behrend and his wife Mary purchased a number of existing houses and farms to give them sufficient acreage to create a large estate. In 1948 this property became a campus of Penn State University. Known as Penn State Behrend, to this day it retains the original buildings at the historic center of the campus.
Based on archival materials, including copious letters between the Behrends and their Philadelphia architect, R. Brognard Okie, this book recounts the planning and development of a unique residence as the country headed into the Great Depression. Letters between the key figures give the reader a glimpse into their thoughts and concerns, including the selection of an architect, the choice of an architectural style, issues involved in planning the estate, and the features and design of the buildings that were constructed or modified. Vintage and modern photographs help convey the nature of the buildings that Okie designed as well as a sense of the Behrends' lifestyle in the 1930s.
An absorbing microhistory of what is now Behrend College, Glenhill Farm provides a window onto a period when new money from industry supported lavish lifestyles, and it reveals how this particular project, conceived and constructed during the Great Depression, was affected by its extraordinary economic circumstances.
"Hart's analysis of the large trove of correspondence between a wealthy client and a Philadelphia architect provides an intimate view of the creation of this beautiful estate. Anyone who has ever done archival research will find Hart's methods instructive, as he ferrets out the numerous details from these letters from which he constructs his narrative."
Richard L. Hart is Director Emeritus of the Lilley Library at Penn State Behrend.
Mailing List
Subscribe to our mailing list and be notified about new titles, journals and catalogs.