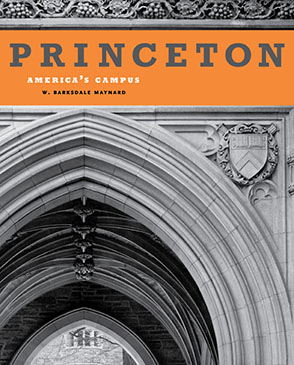 Princeton
America's Campus
W. Barksdale Maynard
Buy
Princeton
America's Campus
W. Barksdale Maynard
"Anyone interested in universities, architecture, and social history will want to read this fascinating book."
Description

Reviews

Bio

Table of Contents

Sample Chapters

Subjects
Founded in 1746, Princeton is the fourth-oldest university in the country. It has been called "a national treasure" and is considered by many to be the loveliest campus in America. The very word "campus" debuted there in the eighteenth century, and over time, Princeton's has ceaselessly evolved, passing through a series of distinct identities. Architectural critics have lavishly praised it, and careful stewardship by administrators and architects has preserved its appeal from generation to generation. Thousands of alumni return every year to march in the gaudy P-rade, which twists among the buildings in a veritable tour of campus history, from Nassau Hall (1756) to the twenty-first century's Bloomberg Hall. And yet, if one wants to learn more—to go deeper than the beautiful surface and explore the history of these buildings or the complex development of the campus—it can be surprisingly hard to do so. Although Princeton resembles an outdoor museum, explanatory markers are few, written sources are out of print and scattered, and sophomore tour guides cheerfully mix fact and myth. No plaques help the curious visitor who wishes to follow in the footsteps of James Madison, Aaron Burr, James McCosh, Albert Einstein, John Foster Dulles, Bill Bradley, or Michelle Obama, and the stories of the buildings themselves are known to few.
Princeton: America's Campus
offers a way in. Neither a straightforward architectural history nor a simple guidebook, it weaves social history and the built fabric into a biography of a great American place.
To create this work, Barksdale Maynard conducted an ambitious series of interviews with major architects active at Princeton over the past forty years, including Robert Venturi, Denise Scott Brown, Charles Gwathmey, Michael Graves, Tod Williams, Hugh Hardy, Perry Morgan, Rodolfo Machado, Henry Cobb, Frances Halsband, Demetri Porphyrios, Harold Fredenburgh, Alan Chimacoff, Robert A. M. Stern, and Rafael Viñoly. He also interviewed educational leaders, including deans at Princeton, MIT, Cooper Union, and Yale, in addition to university presidents Goheen and Bowen of Princeton, Gutmann of Penn, and Rudenstine of Harvard. The book is thus not just a guide and a history; it is also an archive of the living recollections of the people who built Princeton's majestic campus.
"Anyone interested in universities, architecture, and social history will want to read this fascinating book."
"An eloquent history of the distinguished Princeton campus. Thank you, Barksdale Maynard."
"This unprecedented history of the Princeton University campus is fascinating. W. Barksdale Maynard uses the evolution of the campus architecture and landscape as a window onto the evolution of higher education in America, the country's social and political milieu, and the context of contemporaneous architectural interests. All of these topics are interwoven with animated stories of influential characters: university leaders, faculty and administrators, important alumni, and students, as well as many architects, landscape designers, and artists. Beyond simply providing an account of an extraordinary campus with a stunning variety of buildings, the stories Maynard tells reveal the rich and interesting evolution of American architecture from the mid-eighteenth to the early twenty-first centuries."
"As I began to read Barksdale Maynard's meticulous opus on the architecture of Princeton, I sensed that it would be a marvelous excursion into radiant nostalgia. Moving deep into its engrossing pages and pictures, I realized that the book allows us to discover a deliberately aesthetic environment, one that even alumni may not have noted on their pedestrian routes through campus. All in all, the sentinels over at the admissions office had better hold Princeton: America's Campus close to their vests—unless, that is, they wish for applications to double."
"The Princeton campus is indeed what most of us think a campus should be—an architectural gem. Barksdale Maynard's superb book matches the subject—it is a literary gem. Alumni and non-alumni alike will find it absorbing."
"The finest study I know of the architecture and planning of an American campus."
"Barksdale Maynard has produced a thoroughly entertaining account of the Princeton campus—a national treasure—from its rural beginnings to its current metropolitan situation. It documents three hundred years of 'the conviction that aesthetic surroundings deeply impress the young and help shape their character and outlook.' Princeton University's history tracks American civilization, contributing wisdom and leadership in all arenas, not least in architecture."
W. Barksdale Maynard is the author of five books on American history, architecture, and landscape. Trained as an architectural historian, he has taught at Johns Hopkins and Princeton.
Contents
Introduction
Part 1: The Rural Campus, 1746–1895
1 Going Back to Nassau Hall
2 Phoenix
3 Era of McCosh
4 The Golden Age of College Life
5 Oxford in New Jersey
Part 2: Triumph of Collegiate Gothic, 1896–1932
6 The Poetry of Cope and Stewardson
7 Wilson and Cram
8 Spires and Gargoyles
9 Gothic as a Living Style
10 A Paradise for WASPs
11 Cram's Magnificent Chapel
Part 3: Arguing About Modernism, 1933–1979
12 God Deliver Us from Chromium and Concrete
13 Goodbye Gothic
14 Goheen Goes Modern
15 Co-Ed
Part 4: The Rise and Fall of Postmodernism, 1980–2010
16 Complexity and Contradiction with Venturi
17 Neomodernism in the Age of Affluence
18 A Surprising Reversion to Gothic
19 The Gehry That Landed on Ivy Lane
Acknowledgments
Appendix: Buildings of Princeton University, 1754–2010
Notes
Bibliography
Illustration Credits
Index
Introduction
The lanky kid from western Pennsylvania had his heart set on the Naval Academy, but his dad had a different idea. A proud Princeton alumnus, he hung a piece of the Nassau Hall bell clapper in the window of his hardware store as a reminder of the fabled exploits of the Class of 1898. As they worked together behind the counter, he told his son how each entering class tries to steal the clapper and silence the college bell.
They took a tour of universities together, father and son, with Tigertown saved until last. The boy would remember all his life how his dad "introduced me to Princeton the best way anybody can be introduced: through the front gate, Nassau Hall rising up ahead, the sun set perfectly in the morning sky. I'll never forget it. And I suppose that was the whole idea to begin with." So Princeton gained one of its most distinguished and loyal graduates, the actor Jimmy Stewart, Class of 1932.
Princeton's great architecture—especially its Collegiate Gothic spires and gargoyles—are familiar to millions from magazine ads for fancy cars and clothes, from A Beautiful Mind and other Hollywood films, from best-selling novels such as F. Scott Fitzgerald's This Side of Paradise. The very word "campus" debuted at Old Nassau in the eighteenth century, so it is fitting that the place embodies everybody's mental image of what a campus should be.
Careful stewardship by administrators and architects has preserved its appeal from generation to generation, to the delight of 730,000 visitors annually. As Stewart often did, thousands of alumni return every year to march in the gaudy P-Rade, which twists among the buildings in a veritable tour of campus history, from Nassau Hall at the start (1756) to Bloomberg Hall at the end (2004). All along the way there is something fascinating to look at, something beautiful to admire.
For its extreme age, picturesque beauty, and endless variety—and for having coined a term now used for college grounds everywhere—Princeton has earned a high reputation as one of America's greatest campuses. This book tells the story of how a remarkable place came to be.
A Place of Superlatives
Founded in 1746, Princeton is the fourth-oldest university in the country, after Harvard (1636), William and Mary (1693), and Yale (1701). "Old Nassau" belongs to an elite group of nine schools established before the Revolution (the others are Columbia, Penn, Brown, Rutgers, and Dartmouth). Six of these plus Cornell form the prestigious Ivy League, a term invented by sportswriters in the 1930s. Princeton is comparatively small, with five thousand undergraduates. The total student population is just seventy-five hundred, compared to twenty thousand at Harvard.
College rankings often put Princeton at number one. Its strengths are notable: brilliant faculty (eighteen have won the Nobel Prize), cutting-edge labs for research, huge endowment, tranquil location. But how does its architecture measure up?
In a remarkably small compass, Princeton exhibits stunning variety, with examples from almost every decade and major style. "About the most attractive architectural Mecca in the United States," critic Montgomery Schuyler proclaimed a hundred years ago, pointing to the contributions of top architects Robert Smith, Benjamin Henry Latrobe, John Haviland, John Notman, George Post, Richard Morris Hunt, and William Appleton Potter.
And this was before the appearance of some of the leading architects of the twentieth century: Ralph Adams Cram, Frank Miles Day and partner Charles Z. Klauder, Minoru Yamasaki, I. M. Pei, Robert Venturi, Henry Cobb, and (most recently) Frank Gehry and Michael Graves.
Princeton was among the biggest colleges of the late nineteenth century—one of just eight with an enrollment of a thousand—and the sheer number of old buildings is gratifying. Twenty survive from before 1900, compared to (for example) just four at the University of Delaware, a school more than twice as large. No wonder alumna architect Elizabeth Plater-Zyberk, designer of Seaside, Florida, and a top expert on livable places, calls Princeton "a national treasure."
A few buildings are nationally important in themselves:
—Ivy-draped Nassau Hall, briefly the Capitol of the United States, was the most influential American college edifice of the eighteenth century. A National Historic Landmark, it is much larger than equivalent survivals at Harvard and Yale and more intact than William and Mary's Wren Building.
—Chancellor Green Library is one of the best examples of High Victorian Gothic in the country, a rare survivor of a style that has often been demolished elsewhere.
—Blair Hall and the other Collegiate Gothic dormitories form one of the most extensive collections of that important mode to be seen outside of Britain. They instantly connote both "Princeton" and "higher education." Truly memorable is Holder Hall with its high and elegant tower.
—Among school chapels, University Chapel by Cram stands behind only King's College Cambridge and Valparaiso University as the largest in the world; it is one of the most beautiful Gothic Revival structures anywhere, along with Cram's enchantingly medieval Graduate College.
—Wu Hall by Venturi is a key landmark of postmodernism.
—In the twenty-first century, Whitman College brought Collegiate Gothic back from the dead and attracted international attention, along with some controversy. It forms a vivid contrast with a very different building constructed at the same time, futuristic Lewis Library by Gehry.
The (Sometimes) Conservative Character of Princeton
Over more than 260 years, the university has passed through a series of identities, each leaving their trace on the campus. At first, it was the staunchest of the Puritan colleges in America, bastion of "New Light," what we would today call evangelical Christianity. Then a famed School for Statesmen in the Revolutionary period. In the early nineteenth century, a training ground for gentleman farmers, clergy, and professional men from North and South alike. In the Gilded Age, "the pleasantest country club in America" and haunt of millionaires' sons, a flavor perfectly captured in Fitzgerald's novel. Up to the Vietnam War, the most conservative and blue-blooded of elite universities.
Since coeducation, all has changed profoundly. Striving to redress old social wrongs, Princeton has rubbed away many quirks and eccentricities, and its outlook has come to more or less resemble its major rivals Harvard and Yale. Its demographics no longer recall a country club grillroom but rather the lobby of the United Nations. It aims for excellence and has earned a world-class reputation.
Some old habits have persisted despite the many changes. Princeton has always been a proud, self-conscious place, with lofty ideals—a high-mindedness running vaguely back to the Presbyterian college. In some ways it remains traditional, clinging proudly to its 1890s Honor Code, senior "step sings," Cannon Green bonfires and Class Day, a stone for each graduating class at Nassau Hall, a college cheer that has hardly changed since the Civil War. Students and alumni have kept the eating clubs of Prospect Avenue alive for more than a century, and they continue to draw seventy percent of upperclassmen as members despite a degree of administrative disapproval and charges of snobbery (several remain selective). Even as it embraced the digital age, Princeton could not quite bring itself to discard the much-thumbed card catalogue at Firestone Library. And it is proud of the preceptorial system, instituted more than a hundred years ago by its president Woodrow Wilson, whose Quad Plan of four-year residential colleges was instituted, very belatedly, in 2007.
Ever since the eighteenth-century presidency of John Witherspoon, Princeton has emphasized a close connection between pedagogue and pupil, and today its student-teacher ratio of five to one is among the best anywhere. For generations it has adhered to the "liberal studies" principle and frowned, at least officially, on pre-professional training. It has always been a residential university—nearly every student lives and dines on campus, not in boarding houses or apartments in town. It has maintained a semirural (now suburban) quality; the place has been kept "walkable"; there are few Brutalist high-rises; because sports remain important here, there are playing fields right at hand.
Back when Princeton was a bastion of Christian conservatism, its presidents were all Presbyterian ministers, including firebrand Jonathan Edwards. (But even then, it was officially nonsectarian, theoretically open to all.) Out of more than two thousand students graduated under pious James McCosh in the nineteenth century, only six dared call themselves atheists. Conservative trustees were hesitant to appoint Wilson president because he wasn't a cleric; when he later tried to reform the place, they branded him a radical and chased him out of town, eventually into the White House.
As the evangelical heritage faded, WASP conservatism remained. Students in 1917 were so pro-war, they petitioned Congress to start a draft. And even in the radicalized moment of 1936, in the trough of the Depression, only a bare majority of the faculty voted Democrat. No left-leaner until LBJ ever won a mock election.
Conservatism favored the Collegiate Gothic that dominated the campus landscape for forty years or more—a stolidly genteel, Anglo-Saxon style. It also helped ensure that relatively few Princeton buildings were bulldozed: old structures, even "ugly" ones like Alexander Hall, are valued, and no progressive-minded planner has ever dared raze them by the score (as happened with Yale's Old Brick Row). The university was slow to embrace architectural modernism, and when it did, it usually tried to temper it with some quasi-historical allusion: the much-derided Gothic filigree—or "bike racks"—atop 1960s-era Butler College, for example, or Yamasaki's Parthenon-like Robertson Hall. The delightfully retrograde plunge into Collegiate Gothic at Whitman College cheered many alumni (the most sentimental of creatures) and undergraduates (those little aesthetic reactionaries), but architectural critics scratched their heads in disbelief. What was next, one asked, a "laptop computer with gargoyles, a microwave oven in the shape of an ogee arch"?
"The Best Old Place of All"
Wide-eyed freshman Fitzgerald first watched a P-Rade in 1914. Under a Class of 1869 banner "a few gray-haired men sat and talked quietly," he recalled, "while the classes swept by in the panorama of life." Their modern successors are the most engaged alumni in the country: an incredible sixty percent give money in a typical year, compared to twelve percent at the average school. Coming back for a visit after one year or seventy-five, they want things to remind them of their vanished youth, without changes. Stand in the shadow of venerable Edwards Hall on the P-Rade route and you will see men a hundred years old pointing a crooked finger up to their junior-year dormitory window and whispering their reminiscences as the golf cart whisks them by.
Architect Klauder, responsible for so much 1920s Princeton Gothic, understood the phenomenon: "Many an old grad has reflected that students may come and go, classes enter and graduate, but that venerable walls and carved chimney-pieces, picturesque gables and vaulted archways endure forever."
In his Nassau Literary Magazine short story "The Spire and the Gargoyle," young Fitzgerald put it another way: Holder Tower seems eternal compared to "the transiency and relative unimportance of the campus figures except as holders of a sort of apostolic succession." The gazing student learns to feel "a deep and almost reverent liking for the gray walls and Gothic peaks and all they symbolized in the store of the ages of antiquity."
We think of Fitzgerald as the consummate Old Grad (although he never graduated). All his life, he kept a chart that showed what became of his fellow members of the Class of 1917, and his booze-weakened heart finally gave out one afternoon as he read the football page of the Princeton Alumni Weekly. His college friend Edmund "Bunny" Wilson commented on the craziness Tigers exhibited: "Affection for Princeton sometimes became quite maudlin," as when his uncle burst into tears "because Princeton had lost the big game. Examples of this childish loyalty—always, accompanied by extreme conservatism in regard to old college usages and strong opposition to 'liberal' ideas—still turn up in the correspondence columns of the Princeton Alumni Weekly." (The same is true in PAW today.) Enthusiastic university historian Freddy Fox liked to joke about how many Princetonians it took to handle a lightbulb: "One to change the bulb, and six to talk about how great the old one was."
In days past, fervent loyalty sprang from the small size and homogeneous makeup of the student body. Traditionally adding to the familial feeling were the many brothers enrolled: at various times there were five Firestones, Fishers, Dickinsons, and Jacksons and six Poes (all on the varsity football team). Eighty years ago there were only 15,000 living Princeton grads, nearly all professional men and heavily concentrated in New York and Philadelphia: it seemed everybody knew everybody or had married some fellow Tiger's sister or daughter. Even today, when things have gotten larger, the entire cadre of 82,000 living alumni could fit in a single good-sized football stadium. By comparison, there are nearly twice as many Yale grads and more than three times as many Harvardians.
Alumni sons were given preferential treatment in admission, which explains how the 271 members of the Class of 1895 sent 90 boys. (Quite typically, Edmund Wilson lived four years in a Gothic dormitory, Hamilton Hall, that his father's class donated.) Alumni bragged about who had the most Tiger relatives. When an Imbrie proudly listed 19 of his kin educated at the school, he was put in his place by a Dodd with 50, a Carter with 77, or a Clagett with 107. Today, administrators increasingly frown on these "legacy" admissions, but they are part of the fabric of the place. For many families, Princeton is a second home—they get married in University Chapel, push baby strollers in the P-Rade, bundle up for fall afternoons at the stadium, attend alumni conferences, and even (as happened a few years back) ask to have their ashes scattered amid the Class Ivy at Nassau Hall. So it is no wonder that they care passionately about the campus and want to see it preserved.
A Train Ride from Gotham
A key factor in the development of Princeton's architecture has been its proximity to New York, forty-two miles by convenient railroad connection: close enough to take advantage of the city's wealth and talent, far enough away to remain unspoiled. It is why the nineteenth-century school was able to attain such a high level of architectural sophistication in a bucolic setting. Princeton has long seemed a fashionable outlier of Manhattan—the first advertisement for the college ran in the New-York Gazette in 1748—and in recent years it has appeared in some New York City guidebooks even as an increasing number of professors live in that metropolis, catching "the Dinky" at Princeton Junction daily. Some of the top New York architects after the Civil War—Post, Hunt, Potter—were active in Princeton, and dozens more came in the twentieth century and right up to today.
Although slightly closer to Princeton, Philadelphia has always played a secondary role. (In 1930, there were just 721 alumni in the Quaker City, compared to 2,574 in New York.) And yet Philadelphia architects have been crucial to the development of campus, a who's-who having provided superb designs. In the early period came Smith, Latrobe, Haviland, and Notman. Then Princeton's transformation into America's Collegiate Gothic showpiece owed everything to the genteel, Main-Line-Philadelphia vision of Cope and Stewardson, who were succeeded in turn by the architectural firms of Day and Klauder and Zantzinger, Borie, and Medary. Finally in the twentieth century came the brilliant Philadelphia architect Robert Venturi, Class of 1947.
"In Princeton, almost everything was amenity," Edmund Wilson discovered as a freshman before the First World War. "Green campus, flowering shrubs, new buildings with Gothic fancywork, agreeable eating clubs, undergraduate elegance and gaiety." The aesthetic excellence was deliberately crafted by people of refinement and vision, men who benefited in turn from the great wealth of alumni donors, especially New Yorkers. They created beautiful buildings and beautiful spaces for many reasons, but chief among them was the conviction that aesthetic surroundings deeply impress the young and help shape their character and outlook. There is deep pedagogical purpose to the Princeton campus and its architecture.
They Built the Campus
In this noble campaign of building, certain key figures appear again and again, thinkers and designers who played especially critical roles. In the antebellum era, Professors John Maclean and Joseph Henry were the first to visualize an expanded campus around a quadrangle, funded by generous alumni. After the Civil War, President James McCosh had the vision to transform the place from plain and austere into a realm of aestheticism, aiming to someday rival Oxford and Cambridge.
Woodrow Wilson as president of the university in the first decade of the twentieth century tried to carry out McCosh's visions, convinced that young minds could best be shaped in Gothic quadrangles. The remaking of Princeton in Collegiate Gothic (starting at the 1896 Sesquicentennial by Cope and Stewardson) was spearheaded by wealthy trustees Moses Taylor Pyne and Henry B. Thompson, as well as Dean of the Graduate School Andrew Fleming West, all deeply conservative Anglophiles.
Thompson hired Ralph Adams Cram as Supervising Architect of the Campus, who steered its development for decades and created two of his masterpieces here, the Graduate College and the University Chapel. Landscaping was provided by talented Beatrix Farrand. Cram was followed in the 1930s by alumnus Stephen Voorhees and other progressives, who brought International Style modernism amid fierce debates.
The subsequent history of Princeton architecture has not featured towering individual tastemakers so much as committees, but one must cite the role of President Robert Goheen in the 1960s in carrying out an enormous campaign of building. His efforts were eventually dwarfed by the multi-billion-dollar expansion under presidents Harold Shapiro and Shirley Tilghman.
Into the twenty-first century, the Trustees' Committee on Grounds and Buildings continues to shape the direction of the place, in conjunction with one of Cram's latter-day successors, now called University Architect. Until his retirement in 2008, this was alumnus Jon Hlafter, who supervised thousands of projects big and small for forty years (most of that time as Director of Physical Planning), insisting on the skillful blending of new with old and leaving an indelible stamp.
Not to be overlooked are the workmen. In the Handicraft Age of pre-1930, these were talented stonemasons—many from Scotland or Italy—who learned painstaking skills from their fathers. Their names are forgotten, but their descendants still live in Princeton today, and the spectacular carving and stone-laying we see on every side attests to their enduring artistry. We appreciate them now more than ever: the Age of the Machine has long been upon us, and whatever its benefits, it yields an architecture of prefabricated parts bolted and glued together; gone is the "touch of a hand chisel" that Cram wanted to see in every course of stone.
There is no better place than Princeton to study, side by side, the products of these two architectural epochs and debate the question, "Can modern construction ever satisfy the soul like handicraft does?" As a gift to those who answer "no," Whitman College of 2007 was built in neo-Gothic for an extra charge of many million dollars.
To tell the story of this campus is not easy. Though relatively small, it nonetheless features more than one hundred sixty buildings at its core, with more constantly rising. The complex tale involves not only architects, but educators, administrators, trustees, and alumni—sometimes cooperating but often squabbling, because the stakes are high: no one wants to spoil The Great American Campus. Architectural trends in nation and town must be factored in. And one must consider the lives of the students who spend four years with these buildings as a colorful backdrop, for their dynamic energy brings brick and stone to life.
Again, one thinks of Fitzgerald: "They paused by Little and watched the moon rise, to make silver of the slate roof of Dod and blue the rustling trees. 'You know,' whispered Tom, 'what we feel now is the sense of all the gorgeous youth that has rioted through here in two hundred years.'"
Fascinatingly intricate, ancient yet always new, full of aesthetic surprises, this campus is truly a living entity. One deeply feels the presence of a dozen past generations here, the 120,000 young men and women who have walked these flagstone paths from the eighteenth century to today. Novelist-professor and Nobel Prize winner Toni Morrison put it well in a speech at Nassau Hall for the university's 250th birthday: "Every doorway, every tree and turn is haunted by peals of laughter, murmurs of loyalty and love, tears of pleasure and sorrow and triumph." Running our fingers over the brownstone walls and the ivy, we feel history come alive.
Mailing List
Subscribe to our mailing list and be notified about new titles, journals and catalogs.