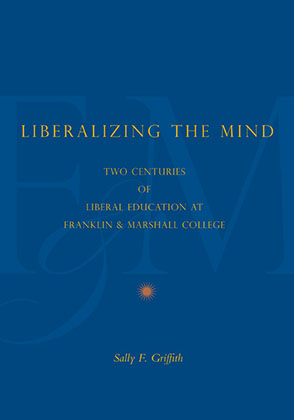 Liberalizing the Mind
Two Centuries of Liberal Education at Franklin & Marshall College
Sally F. Griffith
Buy
Liberalizing the Mind
Two Centuries of Liberal Education at Franklin & Marshall College
Sally F. Griffith
"Franklin & Marshall exemplifies a unique American academic gem—the liberal arts college. Griffith insightfully chronicles a two-century commitment to an educational mission that remained remarkably consistent through changing intellectual currents and social conditions. This volume details how unlikely ventures launched by small German minorities in southeastern Pennsylvania eventually morphed into a nationally recognized institution. The book offers an affectionate description of the struggles and successes of one small college that will delight members of the Franklin & Marshall community, while also locating the story in a national context that will inform scholars."
Description

Reviews

Bio

Subjects
With its roots in the German Reformed denomination of Protestantism, Franklin & Marshall College has the distinction of being the first institution of higher learning in America founded (in 1787) for the purpose of educating students of German ethnic background. Liberalizing the Mind is a comprehensive narrative history of Franklin & Marshall College's transformation from that tiny classical college for German American students into one of the nation's preeminent liberal arts institutions. It combines analysis of historical context and institutional development with richly detailed accounts of dramatic periods such as the Civil War and the rebellious 1960s.
"Franklin & Marshall exemplifies a unique American academic gem—the liberal arts college. Griffith insightfully chronicles a two-century commitment to an educational mission that remained remarkably consistent through changing intellectual currents and social conditions. This volume details how unlikely ventures launched by small German minorities in southeastern Pennsylvania eventually morphed into a nationally recognized institution. The book offers an affectionate description of the struggles and successes of one small college that will delight members of the Franklin & Marshall community, while also locating the story in a national context that will inform scholars."
Sally F. Griffith is an independent scholar. Among her previous publications are Home Town News: William Allen White and the Emporia Gazette (1989), an edition of The Autobiography of William Allen White (1990), and Serving History in a Changing World: The Historical Society of Pennsylvania in the Twentieth Century (2002).
Mailing List
Subscribe to our mailing list and be notified about new titles, journals and catalogs.